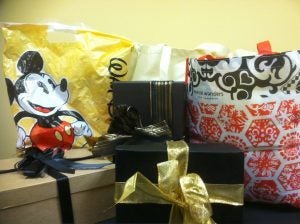 As Black Friday super sales start earlier and earlier, does the biggest shopping day of the year still matter?
"While long lines of pre-dawn shoppers and mad dashes for doorbusters make great TV, they don't necessarily reflect the state of the economy," said University of Central Florida economist Sean Snaith. "Big crowds Friday could simply mean that budget-conscious shoppers are looking for deals to make limited funds stretch."
The earlier start of some of those specials (several stores will open Thanksgiving night this year) and Cyber Monday have eroded the importance of Black Friday itself, Snaith said. Cyber Monday is Black Friday's online counterpart.
And the hype often outperforms the actual results.
Last year's record Black Friday sales gave way to a much smaller gain in overall holiday sales. This has been the case for the past several years, and Snaith predicts this will likely happen again this year.
"Make no mistake, retailers are looking for good numbers, but they'll have to wait until the full holiday shopping season is complete to really know how it all shakes out," Snaith said.
Black Friday, the day after Thanksgiving, earned its name not from the moods of the retail workers who face hordes of crazed shoppers, but because it is traditionally the day when retailers start to turn a profit for the year, i.e. when they are "in the black."
"I forecast a modest 2-percent growth in overall consumer spending during the fourth quarter and slower retail spending growth than last year," Snaith said. "And while that's no Christmas miracle, it's not a lump of coal in the stocking either."
Snaith is the director of UCF's Institute for Economic Competitiveness. He is a national expert in economics, forecasting, market sizing and economic analysis who authors quarterly reports about the state of the economy. Bloomberg News has named Snaith as one of the country's most accurate forecasters for his predictions about the Federal Reserve's benchmark interest rate, the Federal Funds rate.
Snaith also is a member of several national forecasting panels, including The Wall Street Journal Economic Forecasting Survey, CNNMoney.com's survey of leading economists, the Associated Press Economy Survey, the National Association of Business Economics Quarterly Outlook Survey Panel, the Federal Reserve Bank of Philadelphia's Survey of Professional Forecasters, the Livingston Survey, Bloomberg U.S. Economic Indicator Survey, Reuters U.S. Economy Survey and USA Today Economic Survey Panel.
The Institute for Economic Competitiveness strives to provide complete, accurate and timely national, state and regional forecasts and economic analyses. Through these analyses, the institute provides valuable resources to the public and private sectors for informed decision-making.