Managing large disasters involves having robust plans and moving resources quickly to the right place.
Often, it also means giving people a way to find closure. After the 2010 earthquake that killed more than 300,000 people in Haiti, UCF Associate Professor Abdul-Akeem Sadiq worked with a team to figure out how to manage all the unidentified bodies recovered from the rubble.
"My colleagues and I developed a new strategy that involves taking photographs of the deceased, burying the deceased in shallow graves, and creating a numbering system that matches pictures of the deceased to their respective graves where they were temporarily buried," he says. "When a deceased individual is identified by their loved ones through the picture, his or her body can be exhumed from the corresponding grave and properly buried or cremated. This strategy helps to prevent burying unidentified bodies in mass graves and making it difficult for victims' families to have closure."
It's remembering that human beings are at the heart of disasters that motivates Sadiq, an emergency management expert who specializes in mass fatality incidents and in helping governments, companies, and nonprofits prepare for emergencies.
"I'm fueled by wanting to make a difference in people's lives," he says. "Most of my publications provide practical recommendations to public, nonprofit, and private organizations with the hope that if those recommendations are implemented, they will lead to a better society."
Sadiq recently published a study that looks at the Federal Emergency Management Agency (FEMA) Community Rating System (CRS) program and why less than 5% of eligible communities participate. The voluntary program is aimed at reducing flood impacts.
"We found that a major obstacle to participating in the CRS is a lack of resources, like the staff needed to fill out the paperwork and apply to join the CRS," Sadiq says. "So, we recommended that FEMA should provide free staff support to communities that are not participating to help them with their paperwork and application process. In doing so, we may be able to increase participation and reduce disaster impacts on communities."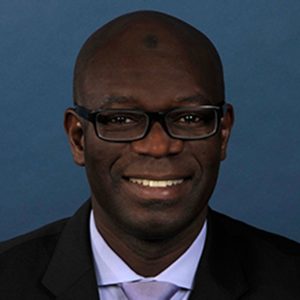 Sadiq's career in emergency management almost didn't happen.
"I actually stumbled onto the field of emergency management," Sadiq says. "Initially, my interest as a Ph.D. student was in environmental policy and health policy. Unfortunately, I could not find an assistantship in either area. One of my professors, who received a (U.S.) National Science Foundation grant to study earthquake preparedness among organizations in Memphis, Tennessee, interviewed me and offered me a graduate research assistantship. This was how I fell in love with emergency management.
Today, he and a team of students are working on research related to COVID-19. The researchers are looking at managing mass fatalities during COVID-19 and how to promote community resilience during these kinds of global pandemics.
Sadiq, of Nigeria, joined UCF in 2017. Previously he worked at Indiana University-Purdue University Indianapolis (a partnership between Indiana University and Purdue University) and as a research and policy analyst for various universities. He holds a doctorate in public policy from a program run jointly by Georgia State University and Georgia Tech. He also has master's degrees in economics and business administration in addition to a bachelor's degree in agricultural economics and farm management. He has more than 40 published journal articles, is a reviewer for several academic journals and is a frequent speaker at national and international conferences. In 2021 he was elected Chair of American Society for Public Administration (ASPA) Section on Crisis and Emergency Management. ASPA is the main professional association for the discipline.