In times of trouble, Fred Rogers always advised looking for the helpers. Sometimes, though, even the helpers need assistance.
And as the world watched Russia invade Ukraine in February, Gulnora Hundley '04MA '08PhD — associate lecturer in the Department of Counselor Education and School Psychology — knew she had to do something to help.
An Uzbekistan native and mental health counselor, Hundley also speaks Russian and has been monitoring social media comments and posts from the mental health communities in Russia and the Ukraine. She saw various colleagues' calls for help providing free mental health services to Ukrainian clients, but Hundley wanted to give mental health professionals their own safe space with resources on coping with and processing trauma, too.
Hundley says she chose to help mental health professionals because they are trained to self-regulate, meaning they have the ability to monitor and manage their emotions, thoughts and behaviors themselves. If someone who is not trained in self-regulation experiences a trigger, she couldn't be there in person to help them through it. This ultimately could be harmful to the client.
"I wanted to start with psychologists who, because of the training we have, know how to self-regulate. If they're too upset, they know what to do in the moment," she says.
That's when she decided to post a message offering her services to colleagues and help the helpers. Within hours, it had garnered so much interest that she began scheduling group therapy sessions to help these professionals through recent trauma.
Hundley uses a psychotherapy treatment called EMDR Group Traumatic Episode Protocol (G-TEP), an early-intervention approach designed to alleviate stress associated with traumatic memories. Her Saturday sessions take place via telehealth, and each lasts about two-and-a-half hours. Participants tune in from Poland, Ukraine and other places nearby.
"It's very appropriate and timely for what is happening with Ukrainian colleagues," she says. "The purpose is not to process all traumas in two-and-a-half hours. The purpose of this methodology is to help them to reduce the intensity and distance themselves from the effects of trauma. They're surrounded by trauma every day, and nobody can remove that as of yet. What we are tapping into is the ability to cope with what they have, because it's their reality. It's all about resilience, coping and bravery to get through this."
Hundley's first session took place March 12 with 10 participants. Since then, she has been able to offer her services to more than 60 Ukrainian mental health professionals, with another 50 on a waiting list.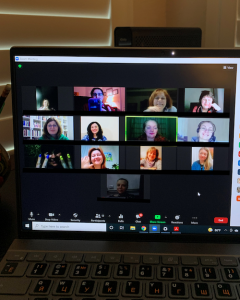 Each session involves taking participants through a series of exercises in which they use eye movements and special charts to help them process specific traumatic experiences. The goal is to desensitize unpleasant memories and focus their attention on future positive outcomes.
Participants have the option of sharing their experiences and situations. Hundley says they have talked about grief, loss and being separated from loved ones. Some stayed behind to care for elderly parents, while others have husbands there who are fighting. One person in Kyiv attended the session from a bathtub underneath a mattress because it was the safest place available with internet access. Another therapist had a client who was killed when his building was bombarded. Even making simple decisions such as whether to go outside or take the dog for a walk is traumatic due to the ever-present fear of attacks.
Others, she says, almost become numb to what's happening as a defense mechanism. Some said spending time in their session allowed them to forget about the war for a while and focus on themselves — a rarity for professionals in a field centered on helping others.
Through each session, Hundley is also collecting data to see how participants' level of disturbance changes. When a person is impacted by recent trauma, they go through a process of emotional fragmentation. Early intervention helps reduce traumatic damage down the road.
Hundley also doesn't take for granted the knowledge that her participants are trusting and opening up to a stranger in the United States. She says it's a humbling experience to witness their bravery and resilience, along with each group's collective strength and willingness to empower each other.
"One group member said, 'I feel like my individual hope is not enough.' That entire group then said, 'You have my hope,' " she says. "At the end, everybody came together and said, 'We have collective hope, and that will get us through.' What amazes me is that they're still helping. They're on the phone helping their clients, helping anybody who needs it. They are very appreciative of any type of help that is provided to them, and they're amazed by how many people are offering that support. Sometimes that's just what they need — hope. This work is my small contribution for a slightly better world."
Hundley graduated from Tashkent State Medical School in Uzbekistan and earned her doctorate in psychiatry from the Institute of Mental Health in Moscow, Russia. She immigrated to the United States in 1994 and earned a master's in mental health counseling and doctorate in counselor education at UCF. Hundley has more than three decades of experience in the mental health field and has experience treating adults with a variety of mental health issues in both the United States and the former Soviet Union. She is an EMDR-certified therapist, EMDR consultant, a licensed mental health counselor, licensed marriage and family therapist, and qualified clinical supervisor. She currently practices in Winter Park.