GLENDALE, Ariz. (UCFKnights.com) — Senior defensive lineman Titus Davis took a knee on the 35-yard-line, his silence only interrupted by teammates who approached to extend their hand or a hug.
Senior linebacker Pat Jasinski hugged quarterback McKenzie Milton and told him he loved him like a brother.
Senior punter Mac Loudermilk thanked a slew of teammates one by one before taking a moment for himself to stand near the end zone and reflect on the past five years.
The No. 7 UCF football team didn't get the ride-off-into-the-sunset ending it was hoping for in its 40-32 loss to No. 11 LSU at Tuesday's PlayStation Fiesta Bowl.
But this journey was something they'll never forget.
"I wouldn't trade this for anything in the world. Do I wish this game would have come out a little bit differently? Yeah. It's bittersweet," Loudermilk says. "What I want is for people to know this team pushes through any adversity there is, no matter what it is. I hope we stir the pot for expansion. I hope we've opened some people's eyes that we play real ball, and we can play with anybody. There is no limit to this team."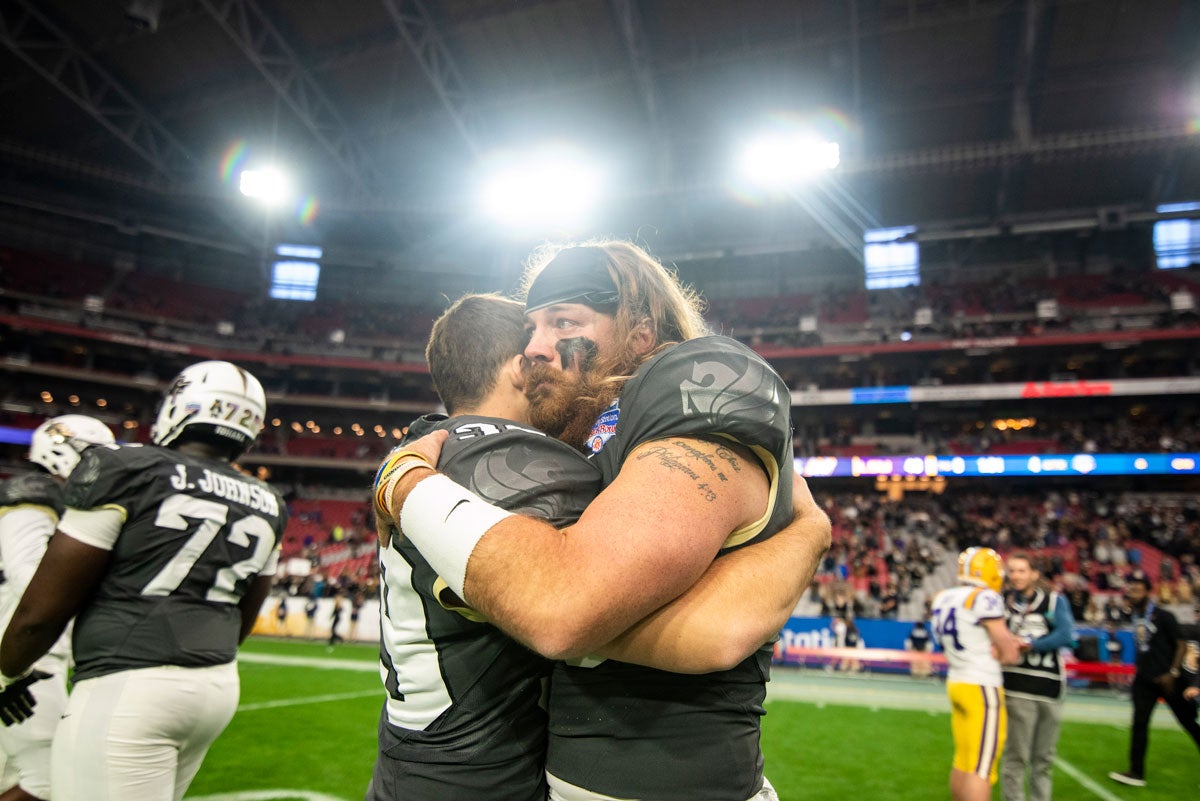 The Streak Knight Nation Will Always Remember
The Knights' spectacular win streak came to an end after 25 games and a span of 745 days, dating to Aug. 31, 2017. The accomplishment will be listed in the NCAA record book among the longest win streaks ever recorded and marks the fourth-longest win streak this millennium (Miami, 34 – 2000-03; Florida State, 29 – 2012-14; Alabama, 26 – 2015-16).
During the last two years, the Knights won two War On I-4 rivalry matchups against USF. They bested four different nationally-ranked opponents. They set an American Athletic Conference record for all-conference honorees in a single season. They welcomed ESPN's iconic show College GameDay to campus for the first time. They won back to back conference championships. They won the 2018 Chick-fil-A Peach Bowl and celebrated a national championship season.
And despite all that, those accomplishments will always fall second to the brotherhood and family they gained.
"I told the team in the locker room, 'You wipe y'all's tears.' I know it's hard for some of these seniors. It's their last game. But football doesn't last forever. It's just a game. It's going to end," linebacker Nate Evans says. "The memories that we have together as this UCF football team (are) going to last forever."
In It Until the End
UCF got off to a hot start and commanded a 14-3 lead thanks to sophomore running back Greg McCrae's 25-yard touchdown run and sophomore defensive back Brandon Moore's 93-yard interception return for a touchdown. It set the record for the longest interception return in Fiesta Bowl history and was the fourth-longest in UCF program history.
But uncharacteristic penalties proved to be a major setback for UCF. LSU capitalized by scoring on three straight drives to claim a 24-14 lead with 7:11 remaining in the second quarter.
Still, the Knights regained some momentum just before heading into the locker room at halftime. Freshman quarterback Darriel Mack Jr. connected for a 32-yard touchdown pass to sophomore wide receiver Gabriel Davis, bringing the score to 24-21.
The Knights are known for their second half comebacks, but this time, the magic came a little too late. UCF's only touchdown of the second half came off of a Taj McGowan 2-yard run with 2:24 remaining in the game. A two-point conversion pass from Mack to Otis Anderson gave the Knights life.
Trailing by eight, the Knights were hopeful when they got the ball back with 49 seconds left.
"We knew we were still in the fight. As long as there is still time left on that clock, there's always a possibility," Loudermilk says.
Unfortunately, LSU safety JaCoby Stevens dashed that hope when he intercepted a deflected Mack aerial with less than 30 seconds to go.
UCF extended its streak of scoring at least 30 points to 26 games, which is the longest run by any team in college football over the last eight decades. Outside of LSU's seven-overtime game against Texas A&M, the Knights' 32 points were the most any opponent has scored against the Tigers all year.
UCF head coach Josh Heupel says he believes the program's success over the last two years is just the beginning.
"[My first message to the team] about next year was handling the adversity of this football game," Heupel says. "This program's not accustomed to losing. No one in that locker room has lost in a couple of years. How we handle that today, tonight, in the week before we get back on campus and we first start our off-season, all of those things will speak to who and what we're going to be moving forward. I expect the kids to handle it in a great way."
So how long will the next streak last?
"Hopefully four years," Loudermilk says.