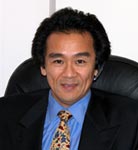 Researchers at the University of Central Florida (UCF), in partnership with Florida Hospital, have identified a specific gene marker present in brain tumor stem cells that is not present in normal brain stem cells.
Now researchers know how tumor stem cells are different from normal stem cells and they may be able to find ways to stop the tumors from developing.
"This is significant because it gives us a clue," said UCF Professor Kiminobu Sugaya, who worked on the research project. "Tumor stem cells are thought to play a critical role in making malignant brain tumors resistant to current treatments such as chemotherapy and radiation therapies. In the future, we may be able to block or target this gene and improve patient survival, especially of the most aggressive form of brain cancer called glioblastoma."
The team that made the discovery includes UCF's Sugaya and Florida Hospital doctors Melvin Field, Sergey Bushnev, Nicholas Averopoulos and Angel Alvarez.
Melvin presented the team's findings at the Congress of Neurological Surgeons annual conference in New Orleans this week. The team's work earned the Congress' BrainLAB Neurosurgery Award.