The UCF football team is going to a New Year's Six bowl game for the second straight season. A day after they beat Memphis to repeat as champions in the American Athletic Conference title game, the Knights accepted their invitation Sunday to play in the 2019 PlayStation Fiesta Bowl.
The No. 7 Knights will take on No. 11 LSU on Tuesday, January 1, 2019, at 11 a.m. MT at State Farm Stadium in Glendale, Arizona.
"It's another opportunity to show the world what we can do and ball out," says senior defensive lineman Titus Davis."I'm looking forward to my team being together for another month, creating a bigger bond than we already have and just playing together one more time."
This is UCF's third straight appearance in a bowl game, second straight in a New Year's Six bowl and 10th overall, dating to 2005. Last season, the Knights defeated Auburn, 34-27, in the Chick-fil-A Peach Bowl to complete their undefeated national championship campaign.
UCF is one of four undefeated teams in the nation this season but was ranked eighth in Sunday's final College Football Playoff Rankings. The Knights hold the longest active winning streak in the nation at 25 games.
"We're just going to try to go 1-0 one more time." — UCF senior Wyatt Miller
"We're excited to go against a good opponent [and get] to showcase the talent that we have," says senior offensive lineman Wyatt Miller."A lot of people don't get to go to a bowl game. A lot of teams don't get to cherish this, especially not a New Year's Six bowl. We're excited for this opportunity and especially against an SEC power. We're grateful for the opportunity, and we're going to make the most of it.
"We're just going to try to go 1-0 one more time."
The Knights have fond memories at the Fiesta Bowl, where they upset Baylor in 2014. With that victory, UCF became the youngest school (1963) and football program (1979) to win a BCS bowl game.
Buy Tickets Through UCF
Tickets for the Fiesta Bowl are available now and fans are encouraged to purchase through UCF for a number of reasons.
The number of tickets UCF sells for a bowl game can help the athletic department present the best possible bowl scenario for the Knights. It is critical that UCF fans purchase bowl game tickets from UCF, as institutional ticket purchases can impact future bowl opportunities. Here are a few reasons to order through the university:
Strengthen UCF's candidacy for major bowls selection in the future.
By waiting to get tickets through secondary websites, you could impede UCF's profile and standing.
Purchasing through UCF Athletics directly benefits your Knights financially.
It's important that we show the country how great UCF fans are.
Know where you are sitting without risking secondary markets.
Thousands of good tickets are available now. Get the best seats among multiple levels with fair prices.
Everyone who orders bowl tickets through UCF will receive a commemorative ticket and back-to-back perfect season gift.
To purchase tickets now, call 407-823-1000 or visit UCFKnights.com. You can also learn more about the ticketing process by reading the 2018 Bowl Game Frequently Asked Questions webpage.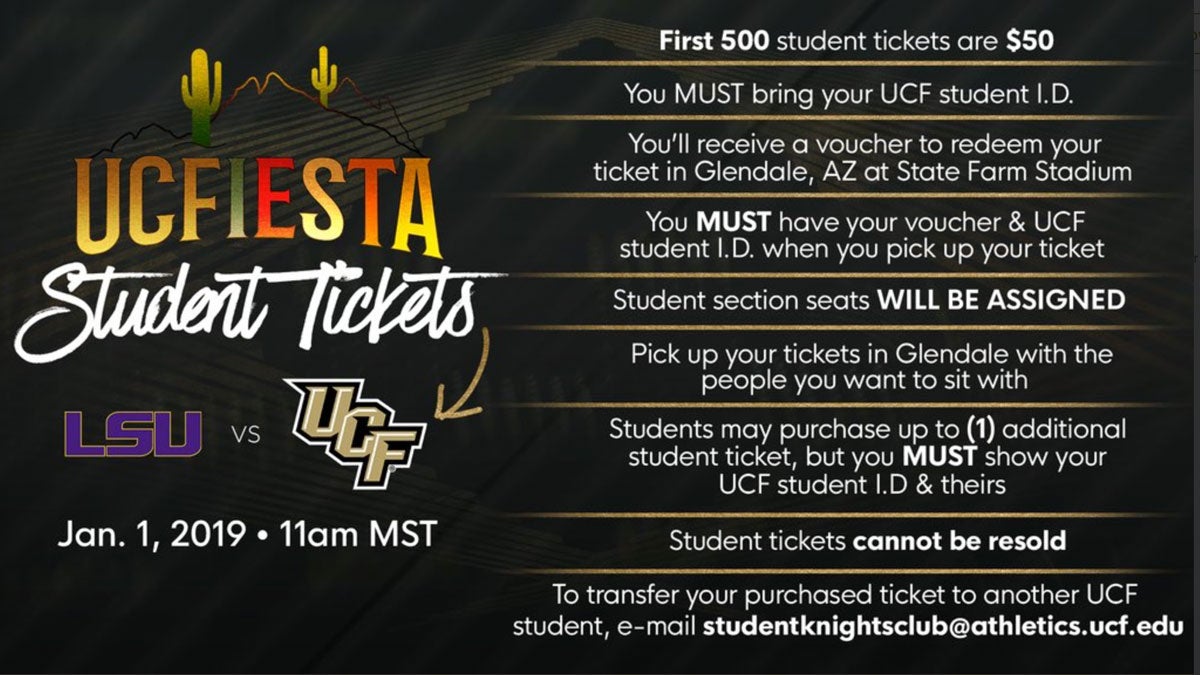 Student Tickets
Student tickets will go on sale Tuesday, Dec. 4, at 9 a.m. at the Spectrum Stadium ticket box office. UCF announced the first 200 students to come to the Spectrum Stadium ticket box office will receive free tickets to the game.
After those 200 tickets are distributed, the next 300 student tickets are $50. After those are sold, if general tickets from the UCF allotment are still available, they can be purchased for $95. Student tickets are expected to sell quickly. Limit one student ticket per UCF ID.
Once you buy your tickets at the Spectrum Stadium Box Office:
You will receive a voucher to redeem in Phoenix. Students must have their voucher and UCF ID to pick up their student section ticket.
Information of locations to pick-up your ticket at State Farm Stadium will be released soon.
Student section seats are assigned so you will want to pick up your tickets in Phoenix with the people you want to sit with.
No transfers. Must be present to redeem.
Student Knights Club members
Student Knights Club members may purchase their tickets as well on Tuesday, Dec. 4, from 9 a.m. until 5 p.m. at the Spectrum Stadium Ticket Office for $50. Tickets at this price will be reserved for Dec. 4 only. Starting Wednesday, Dec. 5, any tickets not purchased by Student Knights Club members will be released to the general student population.
UCF Fan Events and Travel Packages
UCF ChargeOn Tailgate
McFadden's Restaurant and Saloon (9425 W. Coyotes Blvd., Glendale, AZ)
UCF Alumni will host the official UCF ChargeOn Tailgate on Tuesday, Jan. 1, from 7 a.m. until 10 a.m. MST. All alumni, friends and fans are invited to join. A hearty brunch buffet will be included along with drink tickets and appearances by UCF fan favorites. Advanced registration is required. More details to come, but registration is now open. Register for the UCF ChargeOn Tailgate.
Travel Packages
UCF Alumni and UCF Athletics are partnering with Anthony Travel to offer Knights fans the ultimate experience to Arizona. This travel package offers hotel accommodations, admission to the UCF ChargeOn Tailgate and round-trip game day transportation to the stadium from the hotel.