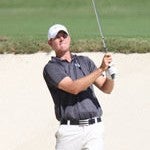 On Tuesday, the UCF men's golf team claimed its second-straight Conference USA Championship at the RedTail Golf Club, earning the league's automatic bid to the NCAA Regionals. The Knights finished the 11-team tournament at 6-under 858, 18 shots ahead of Rice and Southern Miss, who tied for second place.
Three Knights – junior Nuno Henriques (Funchal, Portugal) and sophomores Connor Arendell (Cape Coral, Fla.) and Brad Schneider (Valrico, Fla.) – tied for second individually as four of the five UCF golfers posted top-10 finishes.
The Knights entered the final round with a five-shot lead over Rice. UCF led the entire duration of the three-day tournament and recorded a 10-under 278 as a team Tuesday. Rice and Southern Miss concluded play at 876 (+12).
"We pretty much had to win the conference championship to make it to NCAA Regionals," first-year UCF head coach Bryce Wallor said. "Our guys had their backs up against the wall, and they took care of business. I am very proud of them. It was a huge team effort. Everybody played well. Guys are starting to peak for us."
Henriques, Arendell and Schneider all finished the tournament at 2-under 214. Henriques entered the final round tied for 15th, but posted a 6-under 66 on the last 18 to move into the top five. Arendell carded a 67 Tuesday. Senior Simon Ward (County Monaghan, Ireland) tied for sixth at 216 (E). Ward was the tournament champion in 2009.
Rice's Christopher Brown took medalist honors at 7-under 209.
With the tournament title this year, the Knights became the first back-to-back C-USA champions since TCU won in 2004 and 2005. The victory was the second of the season for the Knights, who also claimed the Rio Pinar Invitational in Orlando in March.
UCF and the Central Florida Sports Commission were hosting the championship at RedTail for the second-straight year.
NCAA Regional play will begin on May 20. UCF's final regular season event is the one-day Golden Ocala Invitational, which is set for May 6.
For the latest news on the Knights, log on to UCFAthletics.com – the official site for UCF varsity sports. The site, which also contains ticket and Golden Knights Club donor information, is also the home of UCF's new online apparel store. Also visit UCFPhotos.com, the exclusive fan source for UCF action sports pictures.
Team Standings
1. UCF 292-288-278=858 (-6)
T2. Southern Miss 304-292-280=876 (+12), Rice 295-290-291=876 (+12)
3. SMU 303-291-285=879 (+15)
4. Tulsa 297-295-291=883 (+19)
UCF Individuals
T2. Nuno Henriques 74-74-66=214 (-2), Connor Arendell 73-74-67=214 (-2), Brad Schneider 73-68-73=214 (-2)
T6. Simon Ward 72-72-72=216 (E)
T54. Reid Martin 85-77-81=243 (+27)