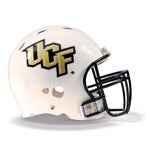 The No. 25/23 UCF football team was a double honoree on Monday as true freshman quarterback Jeff Godfrey (Miami, Fla.) and junior linebacker Josh Linam (Tavares, Fla.) were recognized by Conference USA with its Offensive and Defensive Player of the Week accolades respectively for their performances in UCF's 40-33 win at Houston on Friday night.
It is the first C-USA award of either's career. It marks the third time in UCF's Conference USA history that Knights have won this weekly award for both offense and defense in the same week, joining Oct. 31, 2005 when Mike Sims-Walker (offense) and Augustus Ashley (defense) were honored after a 30-20 win over East Carolina and Nov. 26, 2007 when Kevin Smith (offense) and Cory Hogue (defense) each received accolades for their role in a 36-20 win over UTEP.
UCF has been no stranger to these awards in 2010. This marks the second week in a row that a Knight has won the offensive honor after tailback Ronnie Weaver claimed the prize last week. It is the team's fourth defensive honor as Linam joins Kemal Ishmael (Oct. 11) and Darius Nall (Sept. 20 and Oct. 25) as 2010 recipients.
Godfrey completed 15-of-19 passes for 294 yards and a pair of touchdowns while also rushing for 105 yards and a touchdown, giving him 399 yards of total offense in the win, UCF's 11th consecutive victory in conference play. Godfrey's 243.66 passing efficiency on the night was a UCF FBS-era single game record and narrowly missed UCF's overall benchmark. It was just the second 100-yard rushing game by a UCF quarterback in school history, a feat that Daunte Culpepper never accomplished. Godfrey's rushing touchdown was his sixth of the year, topping Culpepper's UCF freshman quarterback benchmark. His 105 rushing yards give him 499 on the season which is a UCF record for a quarterback in one season.
Houston is tough at home and Godfrey is the first true freshman quarterback to win a game there since Cincinnati's Gino Guidugli in 2001. With his efforts against Houston (243.66) and ECU (232.97), Godfrey now has two of the Top 33 games in the nation this year for passing efficiency. Only Andy Dalton (TCU), Cam Newton (Auburn) and Denard Robinson (Michigan) also have two games this year with at least a 232.97 efficiency rating. Known for its defense the past few years, Godfrey has helped the Knights average 41.4 points per game in their first five C-USA outings, all wins.
Linam played nearly the whole game in both UCF's base and nickel packages and was all over the field. The first-year starter at middle linebacker led UCF with 17 tackles against the Cougars. Linam also added1.5 tackles for loss and broke up a pass for the Knights on Friday night. The 17 tackles were not only six better than UCF's previous seasonal high as a team (11 by Josh Robinson last week) but more than doubled his previous career high of seven. The sum was the most by a Knight since Atari Bigby stopped 17 Hokies on Aug. 31, 2003 at Virginia Tech. It was also the fourth-best total in the C-USA this fall.
Linam entered 2010 with just 21 career tackles over his first two seasons as a Knight. He is now third on the team with 54 tackles, including 6.5 tackles for loss.
The Knights (7-2, 5-0 C-USA) will play host to Southern Miss (6-3, 4-2) on Saturday for Senior Day. The Golden Eagles received a pair of votes in the coaches poll today. Tickets are still available, including the special "UCF Fan Pack Built by Centex" which gives fans a very specially-priced $20 package of a game ticket in sections 217-219, a hot dog, a box of popcorn and a soft drink, a value of $35 for just $20. The special "UCF Fan Pack Built by Centex" can be purchased either online at UCFAthletics.com or over the phone at (407) 823-1000 while supplies last.
The game could also prove historic for the Knights as well. If UAB were to defeat East Carolina on Thursday night, then UCF would be able to clinch the C-USA East Division with a win over the Golden Eagles on Saturday at Bright House Networks Stadium.
Media Contact: Leigh Torbin; ltorbin@athletics.ucf.edu, mailto:ltorbin@athletics.ucf.edu; (407) 823-0994