The University of Central Florida hosted a new graduation event this month to celebrate a growing community at the university: Latino students.
Fifty students and their families gathered in the Live Oak Center for Nuestra Graduación [Our Graduation], which was a celebratory event put on by the Latino Faculty & Staff Association. More than 2,000 Latinos, who represented about 25 percent of nearly 7,900 students who graduated May 4-6, were invited to the celebration. Available space limited the event to the first 50 respondents.
"What made Nuestra Graduación so special was that it was all about the families. The family members that were present walked alongside their graduates to the podium and placed a medallion on their graduate," said Cyndia Muñiz, president of the Latino Faculty & Staff Association and assistant director of the Multicultural Academic and Support Services. "They were so touched that they were included in the program."
That was the case for Luz Higuera, mother of Laura Estupinan, who graduated May 5 with an educational specialist degree in school psychology.
"I thought it [Nuestra Graduación] was great," said Higuera, who tried in every way to be part of Estupinan's education. "I tried to participate in school meetings, be aware of her tasks, celebrate her awards, support her needs and most importantly, support her with love. It was very good [to be part of the ceremony]. I feel that our work as a family is important."
The Latino Faculty & Staff Association felt it was important to host a Latino graduation celebration because UCF is an emerging Hispanic Serving Institution, a distinction given by the U.S. Department of Education. Colleges, universities, systems or districts with at least 25 percent Hispanic enrollment qualify as a Hispanic Serving Institution. It's events such as Nuestra Graduación that help demonstrate how Latino students are valued at UCF, Muñiz said.
"I decided to attend because I am a proud Latina and a proud immigrant," said Estupinan. "My family and I have worked very hard to get me to where I am today and I thought it was a beautiful thing to celebrate our accomplishments in such an intimate and familial environment. I had family come from Colombia to watch me graduate. They don't speak English, but when they heard Dr. Muñiz speak in Spanish, they were so excited. It was important for me to show them how much I appreciate their support and sacrifice."
Undergraduate and graduate students from all disciplines were invited to attend the ceremony that was on May 3. Students with differing Latino backgrounds, including Puerto Rican, Peruvian, Cuban, Colombian, Chilean and more were represented at the ceremony.
Latino faculty and staff ranging from art history to social work also were part of the ceremony and shook the hands of each of the graduates and their families as they made their way to the podium.
The association intends to host a Latino graduation celebration each spring semester. The plan is to secure a larger venue in the future to accommodate more students, Muñiz said.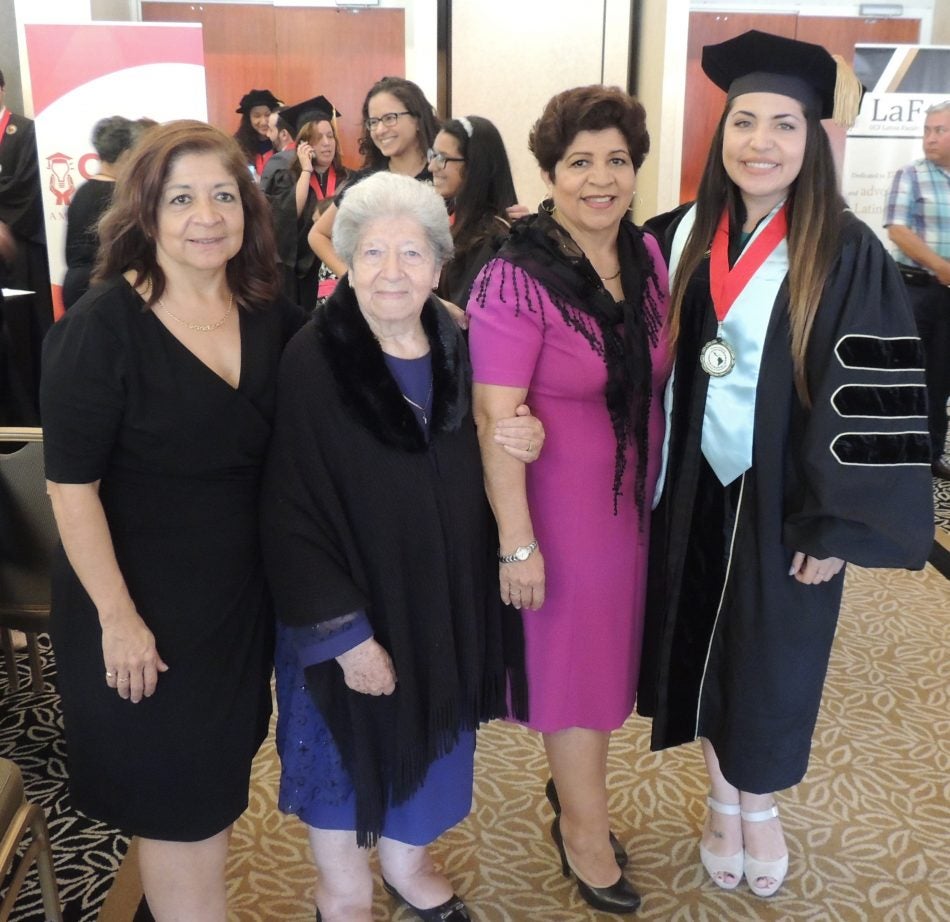 Estupinan and her family at Nuestra Graduación.