While many in the United States will be rooting for the U.S. women's national team to repeat as FIFA Women's World Cup champions this summer, UCF fans may also throw their support behind Jamaica, Brazil and Scotland.
Four Knights will represent their home countries when the tournament kicks off June 7 in France, marking a major milestone for UCF and the women's soccer program.
Previously, just three Knights had ever been named to a FIFA Women's World Cup roster in the 28-year history of the championship: Lena Petermann, who played one season at UCF in 2013 before turning pro and competing for her native Germany in the 2015 Women's World Cup; Amy (Allman) Griffin '88, a 1991 champion; and legend Michelle Akers '89, who was a part of three World Cups and led Team USA to two championships in 1991 and 1999.
Rising senior Konya Plummer will be the first UCF student-athlete to compete on soccer's biggest stage while still enrolled in school. As Jamaica's co-captain, the Epsom, Saint Mary, native led her country to become the first Caribbean nation to qualify for the Women's World Cup.
She will be joined in the tournament by Sophie Howard '15, who helped Scotland qualify for the first time, while Aline Reis '11 and Kathellen Sousa will both suit up for their native Brazil.
Brazil and Plummer's Jamaica will go head to head in their first round matchup June 9 at 9:30 a.m.
"Participating in the World Cup or winning a World Cup championship is the equivalent to competing at the Olympics or winning a gold medal. It's a dream that any soccer player is going to have. That's the pinnacle of your career," says UCF head coach Tiffany Roberts Sahaydak, who won Olympic gold and the World Cup alongside Akers on the U.S. national team. "We are so proud of our student-athletes that come into this program and then leave and go after their dreams and make it to the highest level. It really puts UCF on the map when you get to see the Knights playing in the World Cup."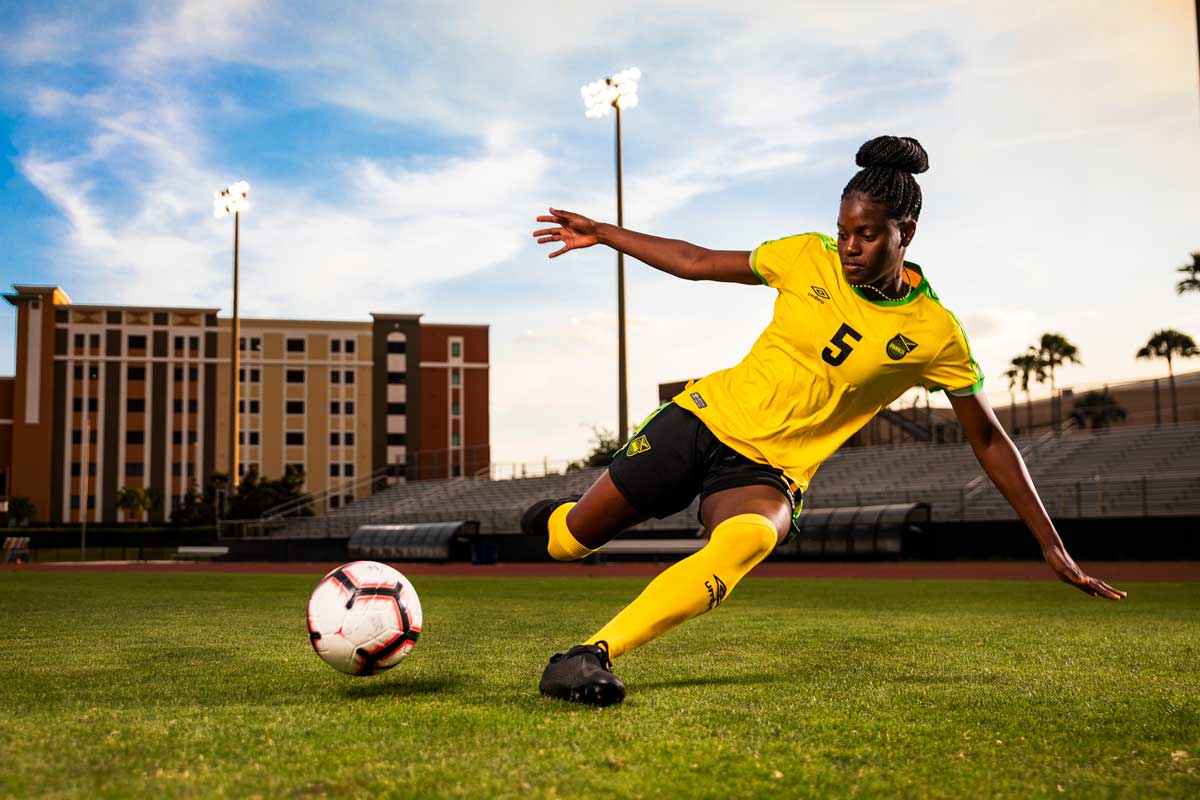 Konya Plummer
Jamaican tradition and norms dictate that young girls stay indoors to play, but Plummer bucked tradition and grew up playing soccer with boys. It wasn't easy to earn her place on the field, but when she did, she shined.
In 2013, she made her first appearance on the field for Jamaica as part of the country's Under-17 squad.
"When the national anthem played and my parents were in the stands cheering, I cried," she says. "The feeling of wearing your country's jersey and having all this support, it doesn't get any better than that."
Soon after, she worked her way up to the senior national team as a center back defender and was named captain. Jamaican national team coach Hue Menzies says although Plummer may be young on paper — she will turn 22 in August — her maturity and leadership qualities are evident in the way she carries herself.
"We have players on the team who are 33 years old and look up to her. It's just who she is as a person," he says. "She is Jamaica. She is what Jamaica is about."
Plummer, an interdisciplinary studies major, transferred to UCF in 2018 from Lakeland's Southeastern University and appeared in nine matches for the Knights last season. She missed eight UCF matches while she led Jamaica to qualify for the Women's World Cup at the 2018 Confederation of North, Central America and Caribbean Association Football Championship.
Plummer says at times she feels like it's hard to know where she fits in when she's constantly being stretched between two teams, but she has never once felt a lack of support from her UCF teammates and coaches.
She says they help her stay on top of any classes she misses when she's traveling. They remind her of her strength when she's doubting herself. And they certainly will be cheering for her this month when she makes history representing Jamaica at the World Cup.
"Learning things from UCF has helped me to go back to my country and … be a better leader." — Konya Plummer
"It just brings me joy to be a part of this family. They are the ones that push me every day to be where I'm at today," she says. "We make team goals and everyone lives up to them. We don't have just one leader. We are all leaders because everybody keeps each and every one accountable. As a captain of the Jamaican women's national team, being here, learning things from UCF has helped me to go back to my country and help in so many ways, encouraging others and be a better leader."
When the World Cup is over, Plummer will return to UCF for her senior season, which kicks off in the fall semester.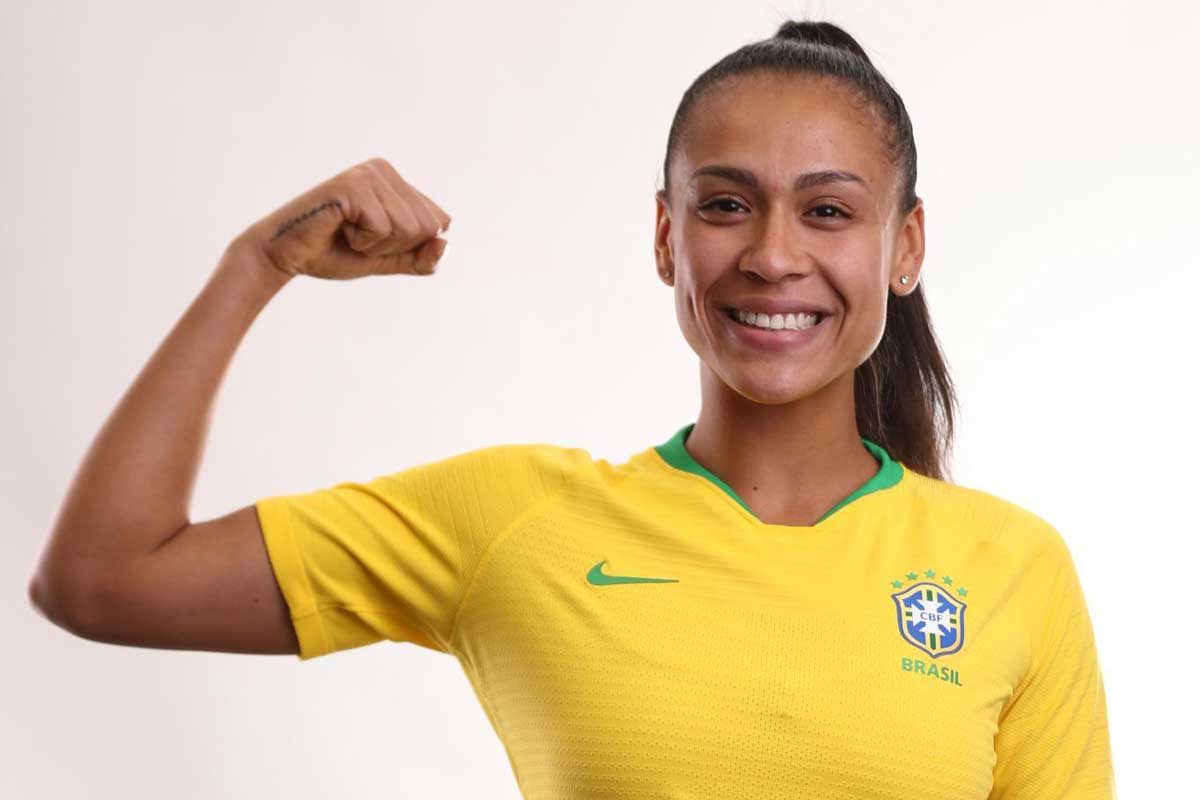 Kathellen Sousa
Sousa transferred to UCF in 2017 for her senior year after initially playing for Monroe College in New York and at Louisville. In her one season with the Knights, she made a huge impact.
Sousa was named the American Athletic Conference's Defensive Player of the Year, an all-conference first-team honoree and an all-region selection. She helped the Knights earn their 22nd conference championship title and 21st NCAA Tournament appearance in school history.
"I will do my best for all the kids in Brazil who dream to play for the national team because I was one of them." — Kathellen Sousa
In 2018, she earned an opportunity to play professionally overseas in France for FC Girondins de Bordeaux. The Sao Vincente native was called up by Brazil's women's national team for her first training camp in June 2018 and a month later, made her first appearance on the field for the squad.
"It gives me great pride to say I'm going to defend for Brazil's national team in the World Cup. Any athlete would love to be on this roster," Sousa says. "I will do my best for all the kids in Brazil who dream to play for the national team because I was one of them."
Sousa is still working toward completing her interdisciplinary studies degree at UCF through online courses.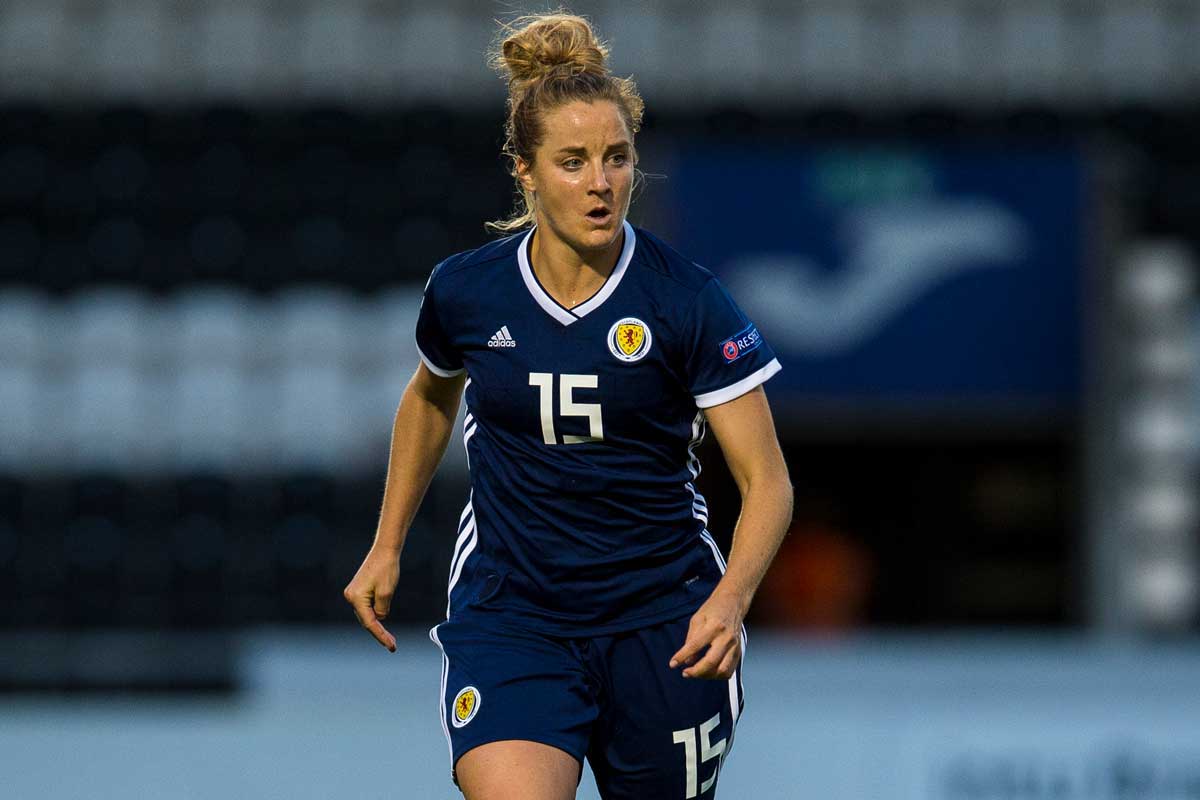 Sophie Howard '15
As a Burnett Honors Scholar, Howard graduated with a bachelor's degree in sport and exercise science in 2015 with cum laude honors. Following graduation, she returned to Germany, where she grew up, and played in Germany's top professional league with TSG 1899 Hoffenheim. She also earned a master's degree in sports and exercise science at the Karlsruhe Institute of Technology before eventually accepting an offer in July 2018 to play for Reading Women FC in the English Football Association Women's Super League.
Although she was born in Germany, Howard also has Scottish family ties through her maternal grandfather. She has appeared in 13 matches for Scotland's national team as a defender, including a 2-1 victory over Albania on Sept. 4, 2018, which qualified her team for the World Cup for the first time.
"There were a lot of happy tears after that whistle blew. Now having been selected as part of the squad that will be going to France, my feelings and excitement have just exploded," Howard says. "It is something you dream of growing up. Not only I am happy and excited, but I feel extremely honored to have been given the chance to live my dream. The fact that this is Scotland's first ever World Cup makes it all extra special. These are moments and feelings I will cherish for a lifetime."
"These are moments and feelings I will cherish for a lifetime." — Sophie Howard
Howard competed for the Knights from 2012 to 2014 and helped UCF earn two conference regular season championships, two league tournament championships and three berths to the NCAA Tournament, which included a run to the Sweet 16 in 2014.
During her tenure, Howard was named to the 2012 Conference USA Freshman Team, the 2013 American Athletic Conference All-Tournament Team and the 2014 AAC Second Team. She also excelled in the classroom as a two-time conference all-academic team selection.
"At UCF, I learned to become a better self in all aspects of my life," she says. "In my eyes, that's been a fundamental part of getting to where I am today."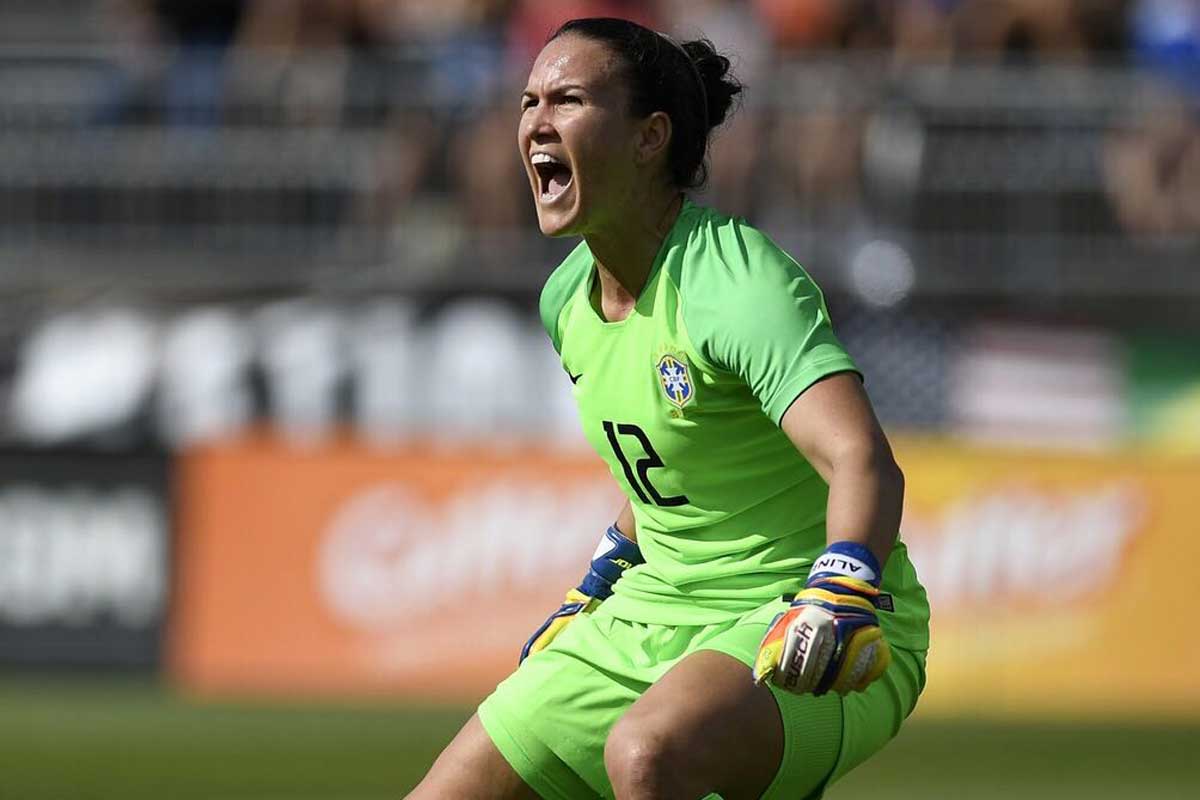 Aline Reis '11
Reis graduated in 2011 as one of UCF's most decorated student-athletes and was inducted into the UCF Athletics Hall of Fame in April. She earned her degree in interdisciplinary studies with cum laude honors.
A native of Campinas, Brazil, Reis was recognized as an All-American goalkeeper both on the field and in the classroom during her career at UCF from 2007 to 2011. She also led UCF to the NCAA Tournament in four consecutive seasons, which included the program's first trip to the Elite Eight in more than two decades in 2011.
Following graduation, Reis served as a volunteer goalkeeper coach for UCLA's women's soccer team before she decided to chase her dream of earning a spot on Brazil's women's national team ahead of the 2016 Summer Olympics in Rio de Janeiro.
Reis was named to one of the two goalkeeper spots for the Olympic roster and had her shining moment on Aug. 9, 2016, when she received a starting nod against South Africa and recorded a shutout for her team.
Reis says that after the Olympics ended, she spent a few weeks reflecting on what the experience meant to her and how it has impacted her life.
"There's so many barriers to break in Brazil, and for me, that was the biggest feeling. I get to put on this jersey and represent my country and represent the women of my country. I get to be a role model for the girls. It's a big responsibility, but it's a good feeling," she says. "We need more people to talk about the changes that need to be made, and I get the chance and platform to do that — to be one of the people taking action."
When she's not with the national team, Reis plays professionally in Spain for UDG Tenerife. She says with all the talk about gender equality — including the U.S. women's national team's much-publicized push for fair compensation — she believes that the increased exposure and attention will lead to more respect for the women's game.
"Having all these Knights in the World Cup — it's certainly an accomplishment but not surprising. UCF made us." — Aline Reis
"I think this is going to be the best World Cup that we've ever seen, and it's going to be amazing to be a part of," she says. "I'm looking forward to showing the world what women's soccer is all about."
She says she's also excited to share the experience alongside fellow Knight, Kathellen Sousa. Reis says she did not know the defender before she joined the national team but immediately sought her out to discuss their UCF connection. Their relationship since has grown thanks to Sousa's role as a defender and Reis' command in goal.
As all four Knights prepare to represent their nation's colors in front of the entire world, they know that they'll also be representing the black and gold with pride, too.
"I think the UCF brand is growing so much, not just in women's soccer, but across all of the sports," Reis says. "Having all these Knights in the World Cup — it's certainly an accomplishment but not surprising. UCF made us. If it wasn't for my years at UCF, I wouldn't be where I am today. I'm sure if you speak with Konya, Sophie and Kat, I think they're going to share similar thoughts. From now on, you're going to see more and more Knights on the biggest stage."