Four UCF medical students have early matched into highly competitive urology and ophthalmology residencies — programs that pick their applicants before National Match Day, this year on March 17.
Naser Mubarak, Danny Stirt and Deep Gandhi matched into urology. Aaishwariya Gulani matched into ophthalmology.
All the students say they chose their specialty because it allows them to perform surgery as well as provide long-term patient care. One was inspired by his mother's cancer diagnosis, another by caring for uninsured patients at the student-run KNIGHTS Clinic at Orlando's Grace Medical Home.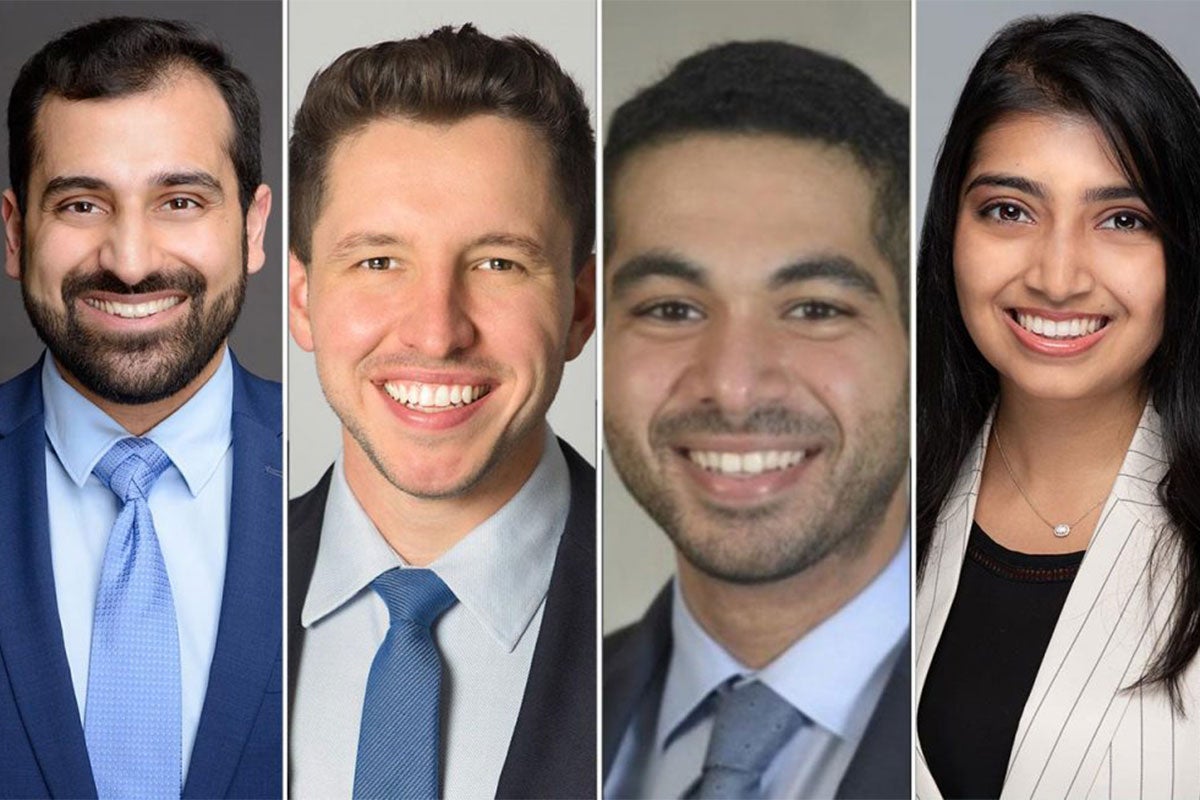 Gandhi, born in India and raised in northern Virginia, is heading to the University of Mississippi Medical Center in Jackson, Mississippi, for his urology residency. He says he was inspired to choose the specialty after helping a KNIGHTS patient with a urological condition.
"What I love most is that not only does urology focus on saving lives, it also improves them," he says.
Daytona Beach, Florida, native Mubarak says choosing urology was a personal and professional decision. He will attend the University of Minnesota.
"I had early exposure to the field of urology through my mother's diagnosis of renal cell carcinoma prior to medical school and got to see firsthand how important a role a urologist plays in the lives of many patients," he says.
Medical school graduates cannot practice medicine independently until they finish residency training, which takes three to seven years depending on the specialty. During their fourth year of medical school, students interview with residency programs and then rank their choices. Residency programs do the same. Then a computer matches the two. Residency matches are kept secret until a specified time. A few specialties, including urology, ophthalmology and military residencies have early match. The rest of the nation's fourth-year medicine students — more than 30,000 — will find out their graduate medical education destinations at exactly noon EST on March 17.
This year, residency programs had only 365 training spots nationwide in urology and attracted over 550 applicants.
Stirt, who is from Gainesville, Florida, will do his five-year urology training at UT Southwestern in Dallas, Texas. A member of the urology interest group at the UCF's College of Medicine, he says he chose the specialty because it will help people suffering from conditions ranging from prostate cancer to incontinence. He says Talia Helman, a med school graduate who is now a second-year urology resident at Emory University encouraged him to pursue a career in that field.
Gulani says she was inspired to seek ophthalmology as a career because of its opportunity for innovation and because of ophthalmology research she conducted with her mentor, Naazli Shaikh from the Orlando VA Medical Center. She will do her training at the University of Tennessee Memphis.
"The one aspect that I have always been drawn to is the innovation side of ophthalmology," says the Jacksonville, Florida, native, "I've had the opportunity to engage with thought leaders and the industry and realized that there is so much to do in this field and so many ways to impact patient care."
Nationally, ophthalmology is considered one of the most competitive residencies. Each year, more than 650 medical students apply for only 460 residency positions.
Marcy Verduin, associate dean of students, expressed pride in the early match results.
"I am so excited for our students who matched into ophthalmology and urology," she says. "These were highly competitive matches this year, and we are incredibly proud of how well UCF medical students continue to do in the matching process. "It's one of the most highly anticipated times of year for our senior students."