Eating healthy foods can prevent chronic diseases from diabetes to cancer, and UCF medical students are learning how to guide their patients to eat for better health.
The fourth-year students were enrolled in a Culinary Medicine elective course that combines the science of food and nutrition with healthy cooking techniques. Their faculty included physicians, dieticians and chefs, with the goal of teaching future doctors the role food plays in good health and management of disease.
Students met weekly at UCF's Rosen College of Hospitality Management, where they received hands-on training from chef Jay Judy on a range of topics from knife skills to making a healthy and tasty vinaigrette. During a recent class, they learned to prepare avocado salad and grilled chicken.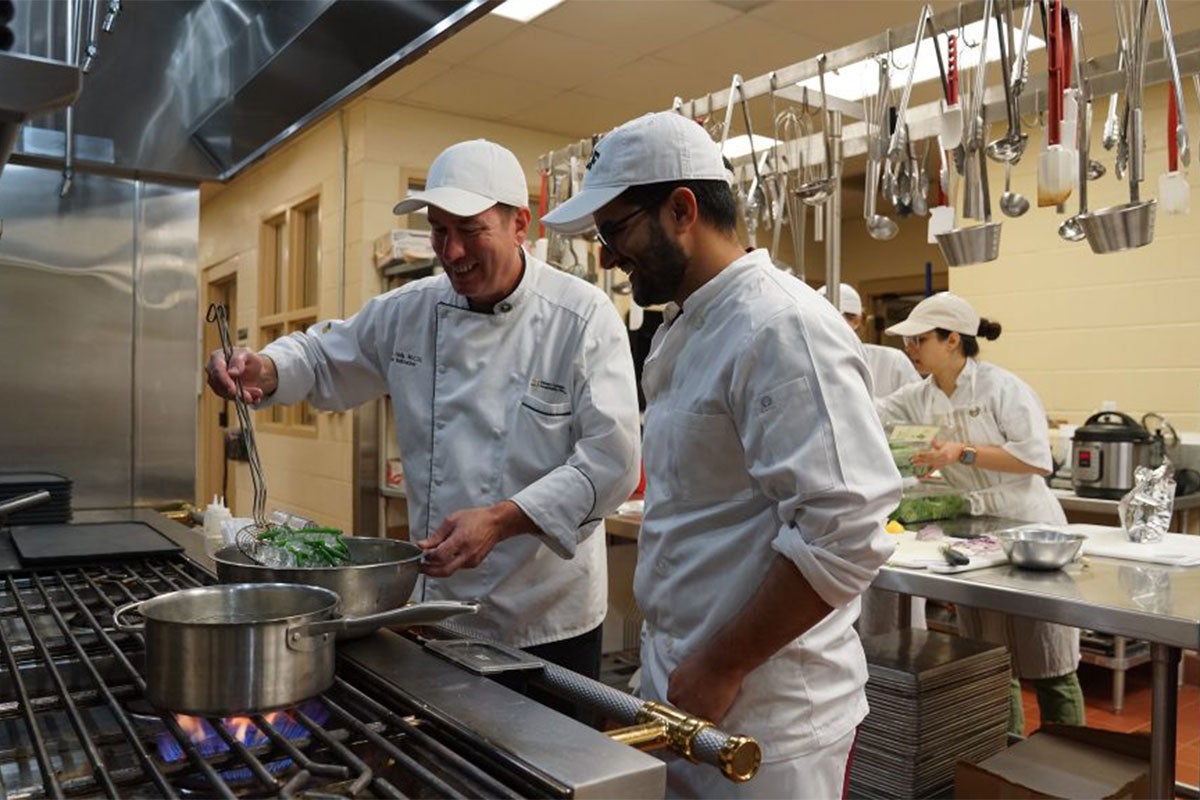 The elective began five years ago, but was virtual for the past several years because of COVID-19. This was the first year it had returned to in-person training under the direction of Sharon Wasserstrom, a lifestyle medicine faculty physician who cares for patients at UCF Health, the College of Medicine clinical practice. The course examines food as medicine — how a patient's diet can lead to disease and also help with healing.
"We're looking at certain diseases and their dietary recommendations and going through patient scenarios and taking a deep dive into each disease," Wasserstrom says. "We have a breast cancer radiation oncologist that focusing on cancer and nutrition, a pediatric gastroenterologist to focus on celiac disease and food allergies, an internist on irritable bowel syndrome and GERD, and an OB/GYN focusing on diet and pregnancy."
Robert Karch, director of the Florida Department of Health in Orange County, helped develop the elective when he was a physician at Nemours Children's Health and a College of Medicine affiliated faculty member. He points to studies that show 80% to 90% of chronic diseases — including cardiovascular disease, diabetes, kidney disease, high blood pressure and some forms of cancer — are rooted in a person's lifestyle. But lifestyle medicine is just emerging as a specialty, as physicians focus on preventing disease rather than just treating it with prescriptions.
"When I was in medical school, nutrition was discussed for maybe two weeks during biochemistry," he says. "Today, we know that lifestyle has a direct impact on health. We're not training medical students to be chefs. We want them to be competent in the science of food and nutrition to they can communicate better with their patients."
Course topics include healthy vs. unhealthy oils, ways to cut salt and sugar from dishes, and encouraging patients to eat more vegetables. A recent class featured a family medicine physician who discussed pressure cookers as a way to help busy families cook healthy foods fast. Judy explains that no one is going to eat healthy foods if they don't taste good and shows students ways to use herbs and other ingredients to create flavor instead of fats, salt and sugar. The course is made possible with a $25,000 grant from the Ardmore Institute of Health.
As part of their elective, the UCF medical students are also getting experience teaching others as they go into the community to share what they have learned.
One of their recent stops was to the Orlando VA Medical Center, where they cooked with veterans and discussed ways to swap healthier foods for popular dishes. They substituted black beans for red meat in hamburgers and made baked sweet potato fries instead of the regular fried version.
"Veterans somewhat mimic the general population, and in some instances have a higher percent of metabolic disorders, hypertension, diabetes, hyperlipidemia and cancers," says VA dietician Mary Lu Williams, one of the elective's teachers, who is getting certified in lifestyle medicine.
Veteran David Murray says learning about nutrition and interacting with the medical students has been part of his recovery. Murry is part of the VA's domiciliary program that provides services and housing for veterans while they recover from illness or substance use and get help with life skills.
"It's a great way to learn communication skills and nutrition and how to follow directions and work as a team," Murray says of the healthy eating effort. "I love it. I enjoy it very much. I'm putting in the work over there because I want to get clean and get my life back on track."
Rachel Nyenhuis was one of seven students taking the elective and says working with veterans has special meaning. "I picked this elective because I have had a couple of family members and friends developed health problems that are really attributable to lifestyle choices and I wanted to be able to help them make better choices," she says. "My dad is an Air Force veteran so it's close to my heart."
The students and Wasserstrom and Karch did cooking demonstrations for families and children at Nemours Children's Health, with the goal of helping the youngsters understand that healthy food can taste good too. They started an edible educational experience for 10 local high school students and learned from experts at AdventHealth's Center for Nutritional Excellence.
Hebni Nutrition Consultants, a nonprofit kitchen in Orlando's Parramore community, provided another teaching and learning opportunity, with special guests Florida Lieutenant Governor Jeanette Núñez and Surgeon General Joseph Ladapo who showed community members ways to cook healthy, culturally diverse dishes.
Wasserstrom and Karch hope to expand the program to include more healthy lifestyle programs for the public — both adults and children. Next fall, thanks to the partnership with Rosen Dean Dr. Youcheng Wang, the elective will also be offered to Rosen students.
"The Culinary Medicine elective was conceptualized as a way to inform medical students about the importance of food beyond just nutrition, but rather as an essential component of health," says Jeff LaRochelle, associate dean for Academic Affairs at the College of Medicine. "The fact that it will be available to learners in the Rosen College is a testament to the importance of nutrition and health from an inter-disciplinary perspective."
Medical student Henry Mancao hopes to be an internal medicine specialist and says the culinary medicine elective will help him help his patients. "This gives me inspiration to be able to talk to patients in a way that is building their health and making nutrition accessible to them," he says. "I'm not just giving them medical jargon. I have concrete examples and recipes I can hand them."