Veronica Paneque, a mechanical engineering student, came to get a better idea of what Día de los Muertos is all about. Shayna Soares, a computer science major wanted to feel more connected to UCF. And Macarena Gutierrez, an elementary education major, wanted to showcase some of her artistic skill by dressing up in traditional Mexican attire and face paint worn on the Day of the Dead.
"I heard there was a costume contest," Gutierrez said. "I thought it would be fun. I had no idea I'd catch so much attention."
Gutierrez's face was decorated like a traditional Mexican skull complete with red stones. Her chest also had skeleton painting and on her head, she wore a red veil with flowers. She's said she was part Peruvian and part Nicaraguan. But her clothing seemed authentic because she studies anything she's going to portray artistically, she said. Several people, including families, asked her if they could be photographed with her.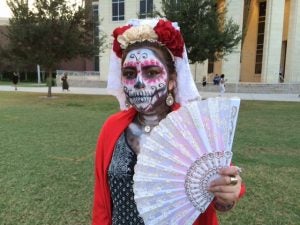 Macarena Gutierrez
For Paneque, who is Mexican-American and Soares, who is Portuguese, the Día de los Muertos observance on Memory Mall was a wonderful opportunity to learn more about Mexican culture.
"My mom really didn't do much other than put up my aunt and cousin's pictures and their favorite foods," Paneque said about how her family observed the day during her childhood. "I thought it always looked pretty. Now I have a better understanding."
Soares said she enjoyed seeing non-Hispanics at the event because it provided an opportunity to all be inclusive — part of the UCF family.
An altar set up to honor the dead, sugar skull designs, a face painting tent, Mexican food and music drew hundreds of people to the event from 6 to 8 p.m. Thursday, Sept. 29.
The Multicultural Student Center (MSC), Student Government Association and the Latin American Student Association (LASA) partnered this year to observe the Day of the Dead, a holiday celebrated in Mexico Nov. 1-2 and in many parts of Latin America. Many people across the United States also participate. The day celebrates life and honors friends and family who have died.
The student groups agreed to organize the event ahead of the official days for UCF's Hispanic Heritage Month.
"We wanted it to be fun, but we also have a serious side," said Elizabeth Santiago, president of LASA. "This day is to honor and celebrate the life of those who have gone before us. It also gives us a great opportunity to help educate people about our different Hispanic cultures."
As part of the observance, attendees were able to write notes honoring those who died at the Pulse nightclub shooting this past summer. The notes were then tacked onto a giant Skull mask made out of paper. There were lines for the amazing face skull painting, for food and even for the trivia table where people had a chance to win Mexican candy.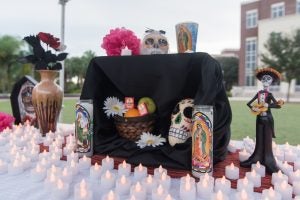 Students from the organizations began planning the event this past summer. Volunteers will be on hand to explain the history of the day and the significance of some of the traditions, such as the altars set up to honor the deceased.
"It's a chance for students to learn about the important original history behind this holiday, and what it signifies, while also enjoying face painting, altars, music, food, and games," said Shaya Morgan, director of culture at MSC.
Felix Ospina, a business administration major who is actively involved in many of the Hispanic clubs on campus said he was thrilled to see this new event draw such a crowd.
"This is amazing," Ospina said. "They should do this more often. I'm Columbian and I have a lot of friends from Mexico and I learned some new stuff here today. I think this builds understanding and unity. And today, that's more important than ever."
Santiago agreed.
"It is important to integrate into our community," said Santiago, a psychology major who was born in Puerto Rico. "With every generation, we're all assimilating and that's great, that's the strength of our country. But it is important to integrate our culture, recognize it in our everyday life and celebrate who we are. That's what this event is all about."