Eight days after earning its third consecutive American Athletic Conference regular season championship, the No. 20 UCF men's soccer team clinched the league's tournament championship trophy for the first time in program history and punched its ticket to the NCAA Tournament.
"It's absolutely incredible what this group has done," says head coach Scott Calabrese. "When you look at the rough start to the season and then how the team responded to that, it's a great feeling and I'm super proud of this group. They've shown such resilience."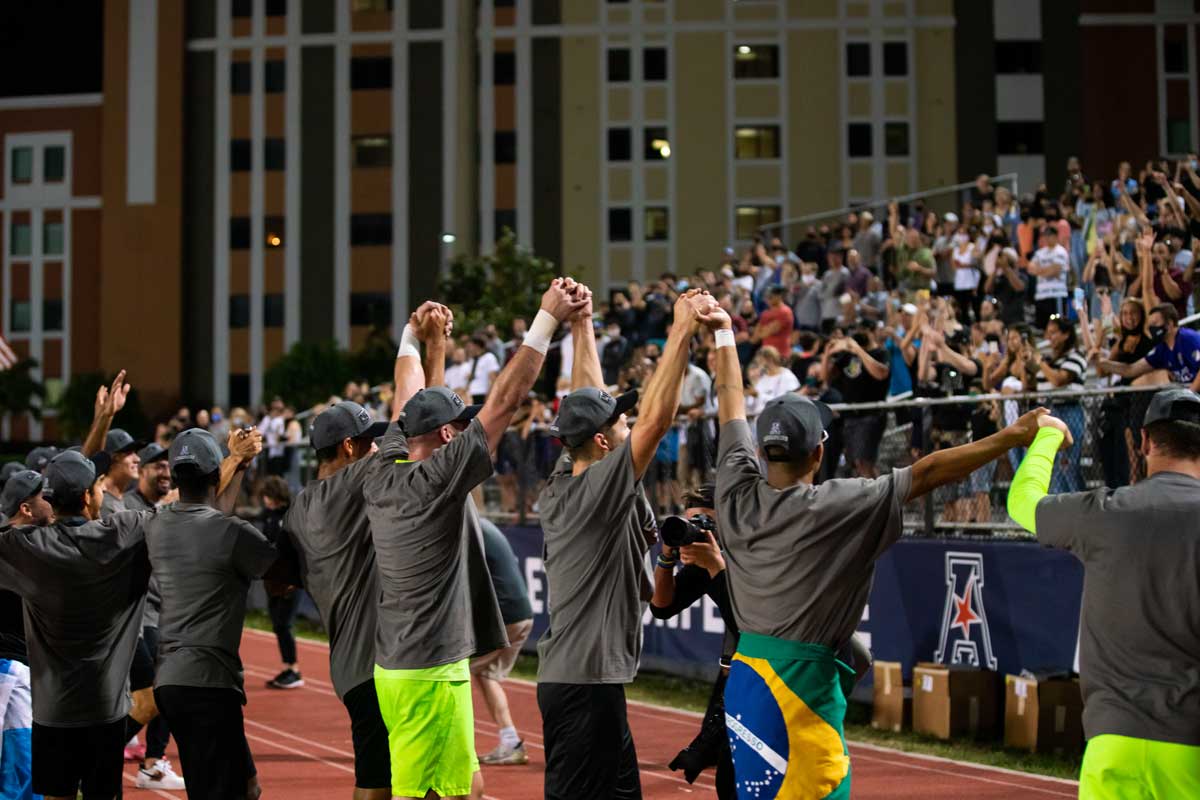 UCF's journey to the top of The American this season hasn't been easy. Typically played in the fall, the season was postponed until the spring due to the pandemic. The Knights started out with a 1-3 record, falling to South Florida at home and falling to Tulsa twice. The Knights rebounded and won their final six matches of the regular season, outscoring opponents 14-2 over that run on their way to a third straight regular season conference title.
The Knights reached the AAC Tournament championship game for the fourth straight season in dramatic fashion after besting SMU in penalty kicks in the semifinal matchup April 15. Over the last three years, UCF had advanced to the title game but came up short in those matches with losses to SMU. On Saturday, UCF finally broke through on its home turf with a 1-0 victory over Tulsa to claim the program's first conference tournament trophy since 2004 when the Knights were part of the Atlantic Sun.
UCF's number of total conference championships rises to seven as the Black and Gold have tallied three regular season titles over the last three years plus this year's triumph in the tournament.
Tournament awards were distributed after the match as senior goalkeeper Yannik Oettl was named the Most Outstanding Defensive Player of the Tournament while freshman forward Lucca Dourado was named the Most Outstanding Offensive Player. The All-Tournament Team consisted of six Knights, as Oettl, Dourado, Yanis Leerman, Mauricio Villalobos Vega, Beto Ydrach and Gino Vivi all received nods to the squad.
UCF will return to NCAA Tournament for the third consecutive season.It is the first time the Knights have gone to three straight NCAA Tournaments since they did it in 2002-04. It will be the team's eighth overall appearance in the NCAA Tournament.
UCF will face James Madison in the Second Round on May 2.