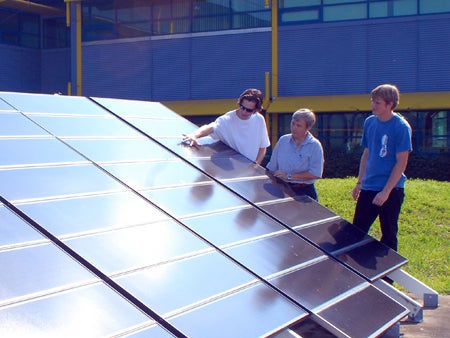 UCF's Florida's Solar Energy Center (FSEC) is offering a webinar series on how to design, build and operate a Zero Energy Home — a home that produces as much energy as it uses.
The series offers practical education from building science experts with more than 30 years of research and experience. The courses are appropriate for architects, builders, contractors, designers, educators, energy auditors, energy raters, engineers, prospective homebuyers and utility representatives.
Participants will learn how to maximize energy-efficient design, make the best "green" choices, and optimize performance from solar and home energy management systems.
"A unique feature of our Webinars is that most courses will include a video case study, showing the successful implementation of green building strategies — from design to occupancy," said Rob Vieira, buildings research director at FSEC.
Participants who attend 10 of the Webinars and pass a quiz will receive a Certificate for Zero Energy Home Building. The complete list of courses offered include:
Defining a Zero Energy Green Home, June 3
Designing a Zero Energy Green Home, June 17
Highly Efficient Water Heating Choices, July 1
Selecting Solar Water Heating for Zero Energy Green Homes, July 15
Selecting Windows and Walls for a Zero Energy Green Home, August 5
Constructing Roofs and Attics for a Zero Energy Green Home, August 19
HVAC Systems for Zero Energy Green Homes, September 2
Selecting Appliances and Plug Loads for a Zero Energy Green Home, September 1
Sizing and Selecting Solar Electric Systems for a Zero Energy Green Home, October 7
Using Your Home Solar Electric System for Emergency Power, October 21
Installation Considerations for Solar Electric Systems, November 4
Monitoring and Operating the Zero Energy Green Home, November 18