Latina breast cancer survivors and their partners may benefit from a more personalized virtual couples-intervention program thanks to a new, $2.7 million study co-led by UCF.
Sejal Barden, associate professor of counselor education in UCF's College of Community Innovation and Education will adapt online couples-intervention program, OurRelationship (ORI), for Latina breast cancer survivors and their partners. UCF will be awarded $400,000 as part of the research initiative.
Patient-Centered Outcomes Research Institute (PCORI), an independent nonprofit organization authorized by Congress in 2010, is providing the three-year funding support. Its mission is to provide patients, caregivers and clinicians with the evidence-based information needed to make better-informed healthcare decisions.
Barden says her interest in the research stems from her experience as a doctoral candidate at a cancer center in North Carolina, where she worked as a clinical therapist doing couples counseling and facilitating survivorship groups for cancer survivors.
"I realized that even though my community was actually quite diverse, the only people who were really accessing these free services were Caucasian breast cancer survivors," she says. "That pushed me to get into the research to see what was going on. I discovered that minority cancer survivors experience heightened levels of psychological distress, anxiety, depression, body image and intimacy issues, but they're also the least represented in any type of psychological intervention to help alleviate their concerns."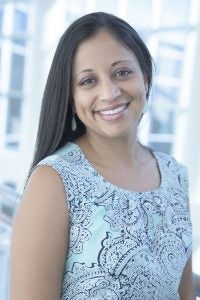 Barden added that of all the minority groups, Latina cancer survivors reported the highest levels of distress, lower quality of life, poorer physical health, and more depression and fatigue than non-Latinas. It also takes a toll on Latina survivors and their partners, who also experience increased distress and physical symptoms.
"They tend to have higher levels of help-seeking stigma," Barden says. "There typically also is a very strong spiritual, faith or belief foundation, which is a huge strength, but oftentimes, Latinas will report feeling resentful and angry toward their spiritual leaders and beings. That keeps them stuck in their journey in terms of seeking help."
Barden says culturally adapting the ORI program for Latinas is a critical first step to engaging them and their partners in the intervention process and ultimately improving their quality of life. The study will be done in two phases, with the first based on yielding the community's perspectives.
The research team includes University of South Florida Associate Professor Dina Martinez Tyson, who is the study's principal investigator, and University of Miami Professor Brian Doss. According to Martinez Tyson, Latinos also are the fastest-growing and largest ethnic minority group in the U.S., with one in three receiving a diagnosis of cancer during his or her lifetime.
The team is anticipating to begin the three-year study in mid-February. It will begin with hosting several focus groups with different Latina community organizations who work with cancer survivors to better understand their unmet needs. Researchers will spend several months gathering feedback from these focus groups and use those findings in the process of culturally adapting the program, which will be called Juntos Después del Cancer (JDC).
"This work is bridging empirical research with community perspectives," Barden says.
From there, the team will move into a clinical-trial phase and work with its cancer-center partners to recruit Latina cancer survivors, primarily from across the state. Barden says the goal is to have several focus groups, or about 30 survivors, in the first phase. The team then plans to enroll around 240 couples for phase two.
"We're also looking at some participant feedback regarding the feasibility and usability of the new intervention: Did the information seem relevant? Was it feasible?" Barden says.
The team aims to establish effective strategies that can be implemented in clinical and community settings to improve psychological functioning, relationship functioning and quality of life. They also are excited about the potential for the adapted program to easily reach Latina cancer survivors around the nation due to the online format and ease of access from any location.
"I think it's really exciting and important that PCORI recognizes the work and that we share the similar value that new interventions have to come driven by and with feedback from the community to really be effective," she says. "We're especially grateful to be funded by PCORI because our work is really in line with what they value, which is getting our community's feedback in terms of developing something that will hopefully be sustainable when the funding is gone."
Collaborators include community-based organizations like LUNA, Inc. and Faces of Courage; the Moffitt Cancer Center; UCF; AdventHealth Orlando, the University of Miami; and Sylvester Cancer Center.
Barden is an associate professor in the Department of Counselor Education and School Psychology and also serves as executive director of the Marriage and Family Research Institute at UCF. She received her doctorate in counselor education from the University of North Carolina at Greensboro. Her research interests include supporting healthy relationships for individuals and couples from underserved populations; communication and quality of life for cancer survivors and chronically ill persons; and reducing mental health disparities.