Wanda Raimundi-Ortiz is a renowned interdisciplinary artist and associate professor who seeks to use art as a medium for social awareness and change. As a woman of Puerto Rican descent, she creates from an autobiographical place that reflects what she has endured and witnessed.
In her most recent art project, she considers the topic of violence against people of color and addressing anti-blackness in the community at large. She examins this in the context of the COVID pandemic.
In the beginning of quarantine, she began to experiment with sculptures made from expanding foam, a blend of beauty and texture that embodies the black community's desire for growth in the midst of this cultural moment, especially as a metaphor for culture clashes and the pressure as a reaction to that kind of pressure. These sculptures were featured in January at the Art & History Museums – Maitland.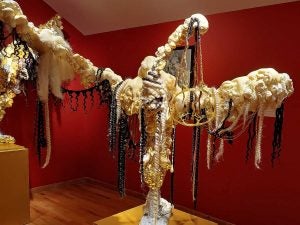 "People have been taken with my willingness to show the underpinnings and the goop and the oddity of it all, with the precious metals and beads," says Raimundi-Ortiz. "These sculptures capture black hair and the ways it is treated or managed can be just as applicable to society's call to manage blackness all together."
But this project is just a part of her more than 20 years of creating art that expresses her identity as part of a community of color and a woman.
"Being a woman is featured time and time again in my work because all of my work comes from a feminine and feminist point of departure," she says, "I am a Puerto Rican woman from the Bronx. I bring all of that with me."
She seeks to teach through authenticity and to open doors, especially for those who may be 'on the fringe,' she says. It is always her goal to bring the artistic voice of her students into the arts community and to validate their voice within the academic realm, as well.
"As an artist and a scholar, it is important for me to maintain my position, especially for the young women of color," she says, "It is important for me to be sitting at the desk so students can see themselves reflected. There's a lot of critique in creative spaces as a woman, but once I gave myself permission to be an artist with a full-throated voice there was no going back."
Raimundi-Ortiz joined UCF in 2010. She is an associate professor in the School of Visual Arts and Design. She has won multiple awards and one of her performances was presented as part of the Smithsonian National Portrait Gallery's IDENTIFY: Performance as Portraiture series.