Twenty-six nonprofits from Lake, Orange and Sumter counties are running more effectively thanks to a federally funded program offered by UCF's Center for Public and Nonprofit Management.
The nonprofits make up the first group to participate in the Strengthening Communities in Central Florida Program, funded with a $1 million grant awarded to the center by the U.S. Department of Health and Human Services.
During the 10-month program, representatives of the nonprofits attended workshops on areas known to enhance nonprofit effectiveness: leadership development, organizational development, program development and evaluation effectiveness.
The monthly workshops were held from February to December at UCF's South Lake Campus in Clermont.
Among the specific workshops offered were "Grant Writing — The Art and Science" and "Your Organization and Volunteers —Finding the Right Fit."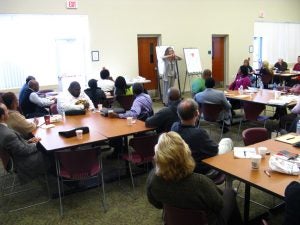 The final workshop, held Dec. 3, focused on collaboration and community engagement and was facilitated by Hildy Gottlieb, author of The Pollyanna Principles: Reinventing "Nonprofit Organizations" to Create the Future of Our World.
At the conclusion of the workshop, the center recognized the participants for their successful completion of the program and achievements. In addition, several participants gave testimonials about their experiences. They said the knowledge gained during the program both challenged and revived their organizations.
Thanks to a generous donation from the Community Foundation of Central Florida, the workshop's 68 attendees enjoyed a catered luncheon as well.
Early assessments of the program indicate a positive relationship between training in three areas — leadership, organizational development, and collaboration and community engagement — with increased organizational effectiveness and networking and collaboration among the nonprofits.
A second group of nonprofits will begin the Strengthening Communities in Central Florida program in January 2011.