UCF CREATE (Center for Research and Education in Arts, Technology, and Entertainment) and Page 15 have been awarded a $100,000 grant from Walt Disney World Resort to create new workshops, summer camps and afterschool programs for K-8 students in Central Florida. This grant is one of five presented to nonprofit organizations throughout Central Florida.
The new programs will promote literacy and writing skills through creative activity. Starting this summer, Page 15 and CREATE will design and implement new curricula for "Writing + Animation" and "Writing + Podcast."
About the New Programs
In the animation program, students will use creativity and technology to bring stories to life. In two-week workshops within Page 15's after-school, in-school and publishing programs, students will begin by editing, revising and completing a short story, poem or piece of nonfiction writing. Working alongside CREATE instructors, students then learn to storyboard, film a stop-motion animation, edit and add background sound/music/narrative to a short stop-motion animated film inspired by their writing.
In the podcast program, students will explore the popular publishing format of podcasting by drafting, writing, and recording a three-part "digital story." Support for the content will be provided by trained Page 15 staff and local podcasters, and production design, recording and musical compositions will be supported by the CREATE team.
Stella Sung, director of CREATE, says these programs will encourage creativity and wellbeing in children, while also providing an innovative environment for learning outside the classroom.
"One of our primary goals is to ensure that school-aged children become comfortable in a university environment," she says. "It's doubly rewarding to see them develop a keenness for UCF and hear them talking about one day becoming a Knight. These students are UCF's — and Central Florida's — future."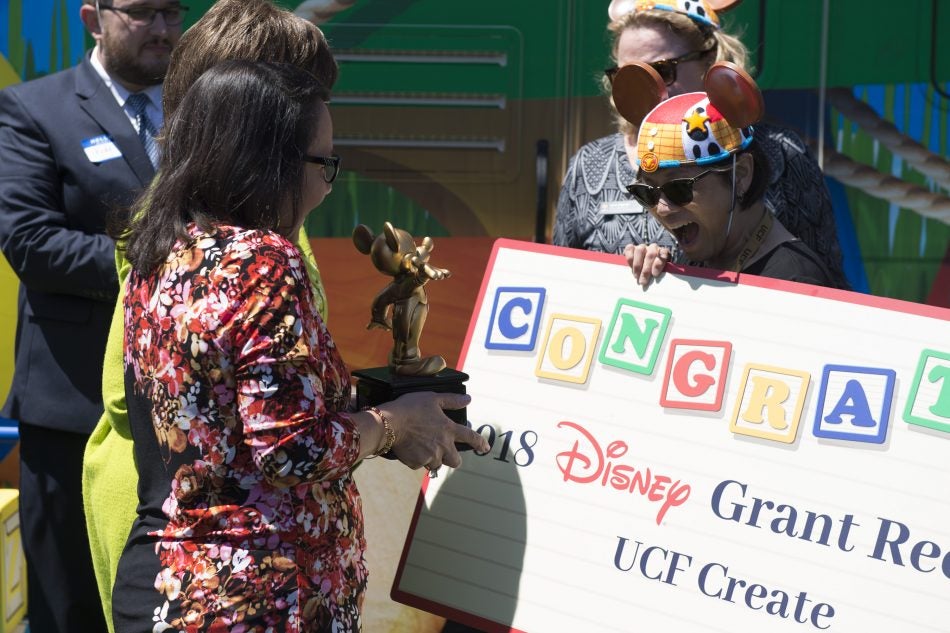 About the Grant
The other organizations that were "granted by Disney" this year include Central Florida Commission on Homelessness, Heart of Florida United Way, Zebra Coalition and Homeless Services Network of Central Florida; Boys & Girls Clubs of Central Florida; Orange County Library System, Hero Spark, Inc. and ArtReach Orlando; and Second Harvest Food Bank of Central Florida. Walt Disney World surprised each of the five grantees with a Toy Story-themed celebration and ceremony.
For decades, Walt Disney World Resort has remained committed to Central Florida, investing in the community in ways that directly improve the lives of children and families. This infuses the same unique magic seen of the Disney theme parks and resorts into the day-to-day lives of Central Floridians who need it the most, helping to strengthen children and families and bring positive, lasting change to the community. In 2018, Disney plans to invest more than $34 million in local organizations, and more than 200,000 volunteer hours through the efforts of Disney VoluntEARS.
About UCF CREATE and Page 15
UCF CREATE is a unique center within the UCF College of Arts and Humanities wherein internal and external programs apply interdisciplinary curriculum through S.T.E.A.M., arts integration, technology and entertainment to K-12 learners. Under the direction of Sung and located at the UCF Center for Emerging Media, part of the future UCF Downtown campus, the affiliated faculty and students of CREATE explore a wide range of educational, research and creative topics.
Page 15 is a program of the Urban Think Foundation, a 501(c)(3) nonprofit dedicated to enriching Central Florida's cultural landscape by developing and growing educational and creative literary arts programs.
To watch a Disney-themed celebration for the grants, click here.