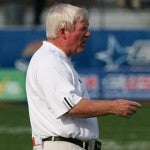 George O'Leary became head coach at UCF because he wanted to take the challenge of turning the program around. He has had success, but he never really had consistency.
One season would be good. The next would be bad.
Until now.
The Knights (9-3) have posted back-to-back winning seasons for the first time since O'Leary took over in 2004. What's more, they have earned the first poll ranking in school history and host SMU (7-5) in the Conference USA title game Saturday — their third appearance in the game since 2005.
But beyond all that, UCF has put together a better season than in-state big shots Florida and Miami. If FSU loses to Virginia Tech and the Knights win, then UCF would be the only ranked team in the polls from the state.
"The biggest thing that we fight right now is that we just don't have that 80, 100-year tradition that the other schools have where the kids may grow up being another fan of another school," O'Leary said at a news conference in Orlando this week. "That's the fight that we have to fight, but I think the one thing that really has helped us has been the stadium on campus and then the factor that when they come on campus we have great facilities from a time management standpoint."
The other fight, of course, is being outside one of the automatic qualifying conferences. Miami, Florida State, Florida and USF all have that advantage. UCF would love an opportunity to join the Big East, and has lobbied for that chance for years. Having back-to-back years of success obviously helps, and so does over $200 million in upgrades on facilities, stadiums and dorms.
The potential has always been there for UCF to rise up because of its location, and its access to top recruits. But the progress has been slow to come.
"I think it took probably a year or two longer than I would have liked, but we are getting depth in the program," O'Leary said. "That is what the key is, playmakers coming up. Most of the playmakers, when you look at the offensive line there are two guys gone out of 10 so there [are] a lot of people back. The running backs are all back and Brynn Harvey, who didn't play this year. The receiving corps we have some good young kids coming up, the quarterbacks are back so I think there are a lot of things to work with."
The first task, of course, is winning the conference championship, something UCF did in 2007. If the Knights win one more game, they would tie that 2007 team and the 1990 team for most wins in FBS school history with 10.
"We're not going to let this one slip away," UCF linebacker Derrick Hallman said. "I don't want my last memory of Bright House Networks Stadium to be me walking off the field with my head down and I don't want another team celebrating on my field with a championship trophy."
Beyond that, UCF will be making its fourth bowl appearance since 2005, all under O'Leary. But the Knights are 0-3, and got embarrassed by Rutgers last year in the Beef 'O'Brady's St. Petersburg Bowl. If they win C-USA, they would most likely play an SEC team in the Liberty Bowl. The next step would be getting a bowl win, and beating teams from the AQ conferences.
UCF is 2-45 against teams from those automatic qualifying conferences since it joined FBS in 1996, and is winless against in-state teams Miami, Florida and USF. The Knights lost to Florida State in 1995, the year before it moved up to the highest level.
So there is much more work to be done. But first, they must win a conference title.
Source: ESPN, by Andrea Adelson, UCF seeks to build on success