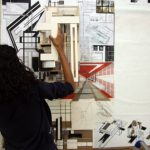 The University of Central Florida has launched its new bachelor of design in architecture program, created in partnership with Valencia Community College and the University of Florida.
The inaugural class, which began Aug. 23, has 41 students. Students in the program take two years of classes as Valencia students and two years as UCF students. They then can move on to obtain their master's degree, potentially by staying in Orlando and enrolling in a University of Florida College of Design program based at UCF's Center for Emerging Media in downtown Orlando.
The Valencia and UCF classes are taught at the University Center building shared by the two schools at Valencia's West Campus. The local chapter of the American Institute of Architects has worked closely with Valencia, UCF and UF to develop the program.
Source: Orlando Business Journal, UCF starts new architecture program