When Netflix dropped Beyoncé's Homecoming at 3 a.m. April 17, Fabron Alexis immediately pulled up the documentary and stayed awake until 5:30 a.m. to watch his favorite artist's latest project.
Like so many others around the world, the UCF entertainment management student was in awe of the music, the concept and the behind-the-scenes footage and commentary of the superstar's iconic 2018 Coachella headlining performance.
So on his day off from work April 19, Alexis decided to go into Lake Nona's Movez Dance Studio, where he is an instructor, to put together a dance to the closing song of the documentary, "Before I Let Go."
He called his friend, and former Knight, Fred Barthell to come into the studio to collaborate. The pair knocked it out in 20 minutes, recorded it and uploaded the video to Instagram.
"I didn't post it to get attention. I posted it because I loved the song, and I thought it was cool, and I felt like she wanted us to enjoy it and dance like that," Alexis says.
Alexis' life got a little more interesting Monday when Beyoncé officially announced the "Before I Let Go" challenge on her first ever Instagram story, encouraging her fans to submit their original dance videos. The first clip she posted to her story? Alexis and Barthell's labor of love.
Alexis took time to share more about his dancing background, how Queen Bey inspired his degree track and the first thing he did when he found out he was going to be interviewed on Access Hollywood and Good Morning America.
Why do you love dancing?
Honestly, dance is my passion. It's a way for me to exert any negative energy that I have. That's my way of translating any pain that goes on within my life. It's just a way for me to express myself. I started dancing in middle school and by the end of middle school, I was taking it more seriously. I graduated from Miami Arts Charter School. I'm predominantly a hip-hop dancer but, I am also trained in modern, ballet and jazz.
Why did you enroll at UCF and choose entertainment management?
This is the only school I applied to. Something was calling me here. I think it's the aspect of diversity. That's something that I've always been into. And I picked my major, honestly, because of Beyoncé. I grew up listening to Beyoncé because of my mother. Destiny's Child was her favorite group at the time and then when Beyoncé went solo, it's all she listened to. I've grown up watching Beyoncé's concerts and they're honestly like no other. The way she puts on a show and the production and the piece as a whole — I really want to be part of that process some day and see what it takes to do something like that.
You posted your video on a Friday evening. How was your video received when you posted it initially, and what happened after Beyoncé added it to her story Monday?
We finished recording by 5 p.m. and I edited it on my laptop and posted it to Instagram (@imfabron) an hour later with the intent of making it a challenge. Initially, no one was really interacting with it. I went to sleep and when I woke up, it was up to 5,000 views*. I thought, this is awesome. But she has 127 million Instagram followers. I am at UCF with 1,000 followers — no way she's going to see this.
I was downstairs with my roommate while she was cooking. We were actually listening and dancing to the Homecoming album, and my phone kept buzzing, and I looked at a comment that someone left and they're like, "Hey, dude, Beyoncé just posted you on her story." I thought they were lying. I checked her story, and I couldn't believe it. I was screaming in my head. I shed out a few tears. I can't even describe it.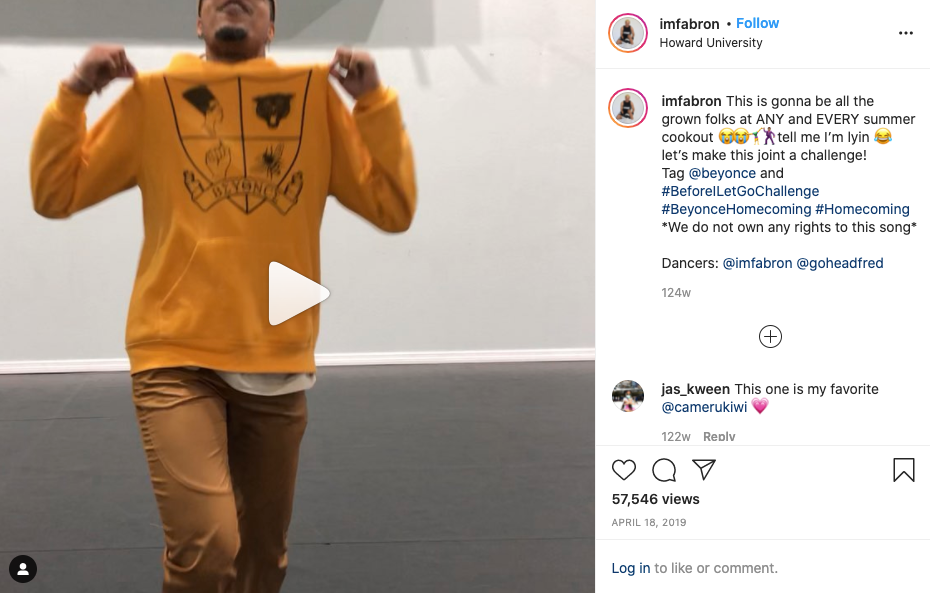 *At the time this story was published, his original video had garnered more than 40,000 views. He says he geotagged Howard University because of the many references to historically black colleges and universities in Homecoming.
What do you think about the other videos that yours inspired?
A lot of people have been tagging me. It's crazy to see how powerful Beyoncé is because I'm getting tagged by people from places like Brazil and France. It's extreme. I can't believe that choreography my friend and I made is reaching different parts of the world.
What did you think when Access Hollywood and Good Morning America called you?
On Tuesday, I was on my way to main campus from Rosen campus with my coworkers for a banquet. My supervisor was with us. As we were riding in the car, I got a direct message on Instagram from a lady named Katie, and she said, "I'm from Access Hollywood. Do you grant me permission to do an interview with you? Are you in Los Angeles?" I said, "No I'm all the way in Orlando." She said, "That's OK. We can do a Skype or FaceTime interview." I thought it was fake, but it was real. I didn't know what to think — am I really about to be interviewed for this?
"I ran into the barber shop and said, 'Hey I know this is a lot to ask, and you have people in line, but is there any way you can give me a haircut … because I have to do an interview for Access Hollywood at 2 p.m.' " — Fabron Alexis
I had to run from The Venue to John C. Washington Center to get a haircut. I ran into the barber shop and said, "Hey I know this is a lot to ask, and you have people in line, but is there any way you can give me a haircut and finish by 1 because I have to get back to Rosen to do an interview for Access Hollywood at 2 p.m." He said, "Yeah, I got you." While I was getting a haircut, I got a direct message from Good Morning America that asked if I could contact them ASAP. Everyone was so in a rush to get in contact with me. He said, "We really want to get you on. Can we contact the dance studio to set something up so we can get you filmed?" I said, "Yeah, definitely." I was agreeing to anything despite my work schedule. My days have just been unbelievable. Everyone has been really supportive, so I'm very thankful.
The interviews were nerve-racking for the first couple of minutes before the cameras went on, but then as soon as the cameras went on, I just had a good time. They asked me questions and I just spoke about Beyoncé, which is what I do all the time anyway so that was easy. I felt like a natural.
What has been the best part of this experience?
Just the support I'm getting from everyone, and the support from the Bey Hive, specifically. I've gained friends through social media. Complete strangers are direct messaging me and saying they're so proud of me and they can tell by my pictures that this is what I've been waiting for. I've just been networking. I've been in contact with other people that got reposted by Beyoncé. We all want to meet up to do a huge video.
If you got to talk to Beyoncé, what would you say to her?
I'd want to thank her so much because she has no idea how she has impacted my life and how much she has an impact on what I'm studying at UCF. I'd want to thank her for what she's doing for the black community, especially. She's creating a voice for us and letting us know that anything is possible if we follow our dreams and work hard enough. I admire her work ethic.
"She's creating a voice for us and letting us know that anything is possible if we follow our dreams and work hard enough."
Besides your passion for Beyoncé and dancing, you're a member of several organizations on campus. How has that shaped your experience here?
The first thing I got involved in was the RUKUS Entertainment dance team on campus. That's where I made the majority of my friends my first year. Then I got into Orientation Team, and that changed my opportunities a lot for the better. Because of O Team, I have my position in First Year Experience as a student assistant. O Team also helped me become the Pegasus Palooza carnival director, and I am UCF's 2019 Homecoming Concert Knight director.
Any hints at who Concert Knight's headliner will be?
I can't. I can't. My hope is to get Beyoncé. Now that this is going on, I'm encouraged to get Beyoncé. This is a sign. I need her. We're going to Spectrum Stadium. We're going to sell this thing out. (laughs)