It started with an aversion to math. And now Nisha Phillip Malahoo '21MEd is fostering a community of learning. A teacher for nearly a decade at Pinewood Elementary, a Title I school in Orange County, Malahoo works to create a classroom experience that's both exciting and engaging for students. That desire stems from her own background in school.
"I wanted to find a way that allowed students to embrace math rather than see it as something scary."
"Growing up, I was never great at math. In fact, I actively despised it. I did not like teaching math either," Malahoo says. "I wanted to find a way that allowed students to embrace math rather than see it as something scary."
Motivated to find new strategies and ways to present material that would help students embrace and enjoy their studies, Malahoo decided to apply for graduate school. A former scholar of the Lockheed Martin/UCF Academy — an education, industry and community partnership aimed at improving mathematics, science and technology education in Central Florida — she earned a master's in K-8 mathematics and science education this summer.
"Graduate school allowed me to learn, unlearn and relearn," she says. "The professors at Lockheed Martin Academy helped me understand the concepts behind math instead of just memorizing processes. It was like a light bulb went off. I took that confidence back into the classroom and shared it with my fellow teachers. Now I have a model classroom that other teachers visit to see how I instruct my kids."
Helping Others Amid a Pandemic
In addition to her daily role as mom, teacher and student, Malahoo is a strong advocate for her local community. Most recently, she jumped into action after seeing the toll of the coronavirus pandemic.
"When the pandemic hit, I noticed some parents lost their jobs and saw how it affected the kids," she says. "I live in the same neighborhood as my students, so I observed their needs firsthand and knew that I needed to help."
One of her first efforts last spring focused on literacy.
"After school went virtual, I would check in on my students," she says. "Many of them would tell me that they didn't have access to books. They weren't reading."
So Malahoo, who is also a technology trainer at the Orange County Public Library, gathered books and started lending them to students. After finishing one book, they would return it to her house and get another one.
But when Florida afternoon storms soaked several books left on Malahoo's porch, she explored other solutions that would provide a safe shelter to keep the book-sharing endeavor going. That's when she learned about the Little Free Library, the world's largest book-sharing movement. After being awarded a grant, Malahoo put together a Little Free Library in her front yard. Today, the small wooden structure — almost like a birdhouse for free books — provides a space for her neighbors to gather, catch up and find the next book to dig into.
Connecting with fellow neighbors also provided Malahoo a glimpse into their lives. Through conversations, she learned about their needs — from food insecurity to homelessness, among other struggles to make ends meet. When students shared that they were going to skip Thanksgiving because they didn't have food. Malahoo sprang into action again, this time reaching out to local organizations. That's where she met and partnered with the non-profit organization Above and Beyond for Change. Together, they were able to secure more than 45 pre-cooked Thanksgiving Dinners from Publix. On Thanksgiving eve, she set up a table in her driveway and distributed the pre-cooked dinners.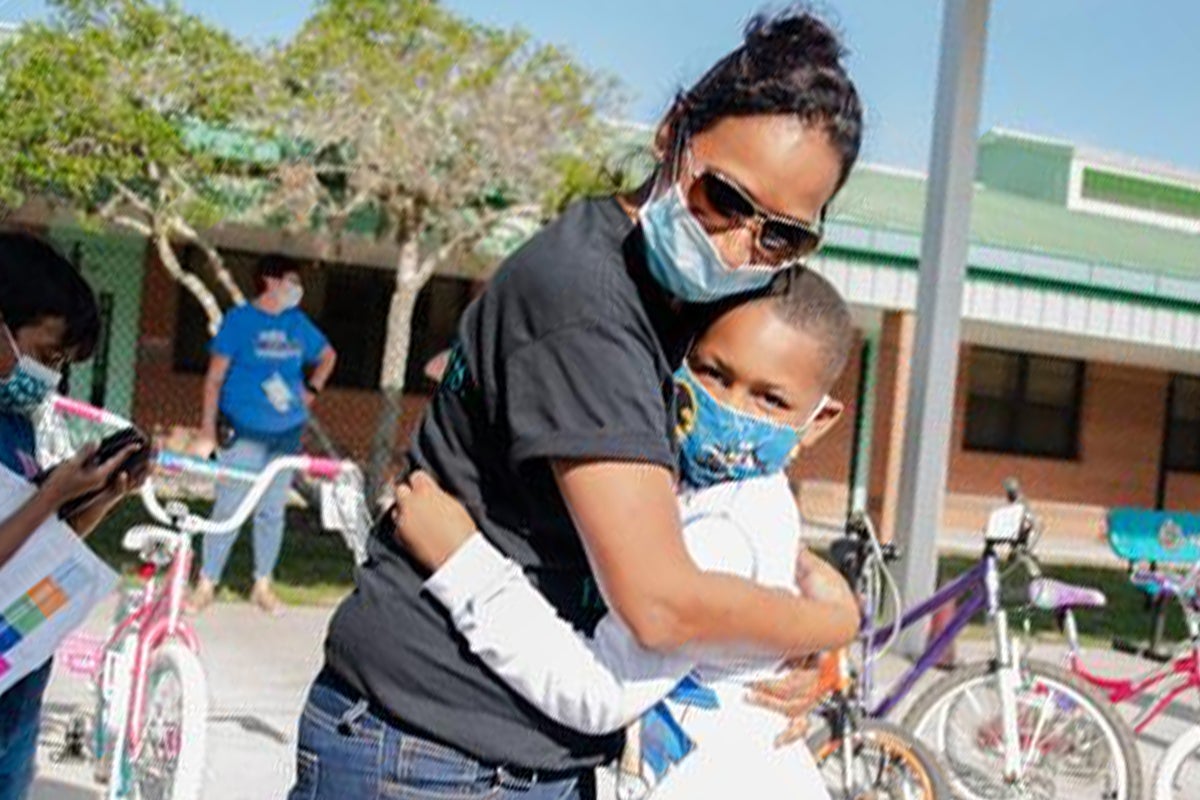 Fostering a Culture of Giving Back
Malahoo's community events and efforts soon became a monthly happening. With the continued assistance from Above and Beyond for Change, she distributed dozens of coats and jackets last December to help keep students warm in colder temperatures. Several months later, she prepared small packages of snacks as a Valentine's Day gift. Then, ahead of spring break, she rallied community members to assemble boxes of food that would ensure students and their families had at least three meals per day.
The events have not only helped serve those in need but have brought the community together. Local organizations, including the Orlando Police Department (OPD), join in the efforts in getting involved and giving back.
"I invite OPD to many of these events because I know there's a need to build positive relations between our law enforcement and our community," Malahoo says. "They even brought their patrol horses and K-9s out to the event, which the kids loved."
In the final weeks of the 2020-21 school year, Mahaloo achieved another dream: to donate 100 bikes.
"The Florida weather can be tough on students walking home. A bike makes their trek much easier," she says. "It's also a great way to keep kids active and gets them outside more."
Mahaloo also partnered with Bike Walk Central Florida to secure a helmet for each child.
And while school was out for the summer, she spent months organizing her most recent event, a Back-to-School Bash. The event, which saw nearly 200 children and families and hosted 20 vendors, kicked off the start of a new schoolyear. Vendors provided support and information on a wide range of services, including information about mental health awareness, food and nutrition, safety, literacy and more.
"I have a heart to serve. I'm so grateful to have received so much support, especially from the organization nonprofit organization Above & Beyond for Change," Mahaloo says. "They've helped with funding each of my initiatives — I couldn't do this without them. I want to continue garnering support from other community members, too. If we all wrap our arms around these underserved kids, just imagine what they could do."
Looking Toward the Future
Mahaloo is looking forward to welcoming her students back to the classroom this fall. This year, she'll be teaching third grade after spending nine years with first graders and kindergarteners.
"I look forward to meeting my students and applying many of the same concepts that I've learned in school to a testing grade," she says.
She also plans to launch a STEM club for students.
"Working at a Title I school, we have limited resources," she says. "But I wanted to put something together for students who have a desire and willingness to get involved in STEM-related activities. I've secured snap circuits, a 3D printer and Lego WeDo, and am working to get other materials that will provide fun, hands-on experiences for kids."
"You know you're doing something good when it's the end of the school week and you tell the kids, 'I'll see you Monday' and they say, 'Wait … no school tomorrow?' That's worth it to me."
And after the final bell rings at school and everyone leaves for the day, Mahaloo will transition from teacher to student. Recently accepted into a doctoral program at UCF, she starts working toward her EdD in curriculum and instruction this fall.
"My entire goal in life is to positively impact my society, my community," she says. "I want to empower students to take control of their world. They're no longer a passive participant just sitting in listening to me. You know you're doing something good when it's the end of the school week and you tell the kids, 'I'll see you Monday' and they say, 'Wait … no school tomorrow?' That's worth it to me."