Not many people would move to a town strictly for a gym, but then again, not many people are like UCF hospitality management senior Allison Fleming.
Fleming felt at home from the moment she stepped into AMP Training about two years ago. After a few months of nearly 100-mile round trip commutes daily to Daytona Beach from Altamonte Springs, she made the decision to move so she could really commit to her biggest passion ­— Olympic-style weightlifting.
That commitment materialized into a dream that few ever have the chance to experience. Fleming was chosen as a member of Team USA for the 2018 World University Weightlifting Championships held Sept 20-23 in Poland. She placed sixth in snatch as the top American finisher in the 63kg weight class.
"I'm super honored to represent the USA and UCF. I'm excited to represent the national champions while I'm [in Poland]."
"I'm super honored to represent the USA and UCF. I'm excited to represent the national champions while I'm over there, and I'm just really honored because I feel like UCF has helped me figure out what I'm going to do next with my life," she said before competing. "Even when I graduate in the spring, I'll be a Knight forever."
As a student at Longwood's Lyman High School, Fleming was a cheerleader and says she was always preoccupied with staying thin and light enough for her teammates to throw her in the air for stunts.
It wasn't until her senior year when she tried out for the weightlifting team at her teacher's suggestion that she realized how empowering it felt to put on muscle.
"I did not have very good self-esteem or body image when I was younger," she says. "When I got into weightlifting, I started to notice compositional changes that I actually really liked: 'Wow, my legs are getting bigger. I can lift a lot of weight. I like how I look now.' "
She found a CrossFit gym in Orlando to continue weightlifting when she arrived on UCF's campus in 2014. She continued to progress as her coach taught her proper techniques for weightlifting's two main lifts: snatch, and clean and jerk.
"I realized that I loved to lift weights more than I loved to do anything else," Fleming says.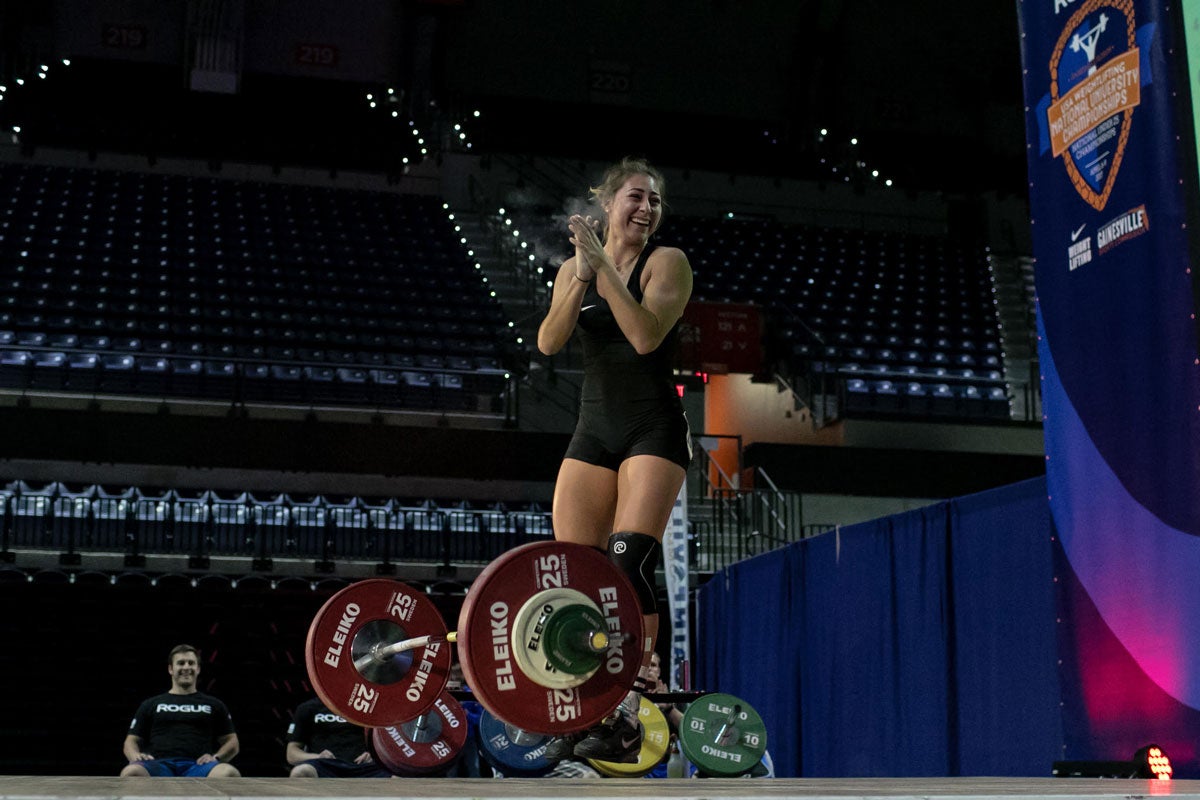 Taking It To The Next Level
She competed in her first meet in April 2015. She averages four or five competitions a year and has quickly risen to one of the top competitors in her 63kg (139 pounds) weight class. She finished first at the National University & Under 25 Championships in 2017 and again in 2018.
Which all led her to the day earlier this year when she received a phone call at her gym from a representative of USA Weightlifting.
Fleming stepped outside, away from the blaring music, and heard the question: Do you want to travel to Poland with Team USA?
"I put the phone away from my face and let out a little breath of air ­— like, wow this is actually happening," Fleming recalls. "It was an unbelievable moment."
She spent 16 weeks training for the World University Championships. She works out five days a week for sessions that last up to three hours.
"Allison is one of the strongest collegiate athletes in America," says Mike Gattone, USA Weightlifting's senior director of sport performance and coaching education. "I know she will represent the United States in Poland with poise, grace and utmost sportsmanship."
The rest of her days are spent completing her online coursework for the Rosen College of Hospitality Management and serving tables at Longhorn Steakhouse.
"Allison is one of the strongest collegiate athletes in America."
She also worked on self-funding the trip by starting a GoFundMe account and hosting fundraising nights at restaurants like Chipotle. She credits her family, her gym and her town's support for helping raise all the money she needed in order to go.
Her coach at AMP Training, Andrew Mattox, traveled with her.
"It's my first trip internationally so I'm super excited that it's for a sport that I love. I'm excited that I'll actually get a stamp in my passport," she said before boarding the plane.