UCF has announced the speakers for the university's Summer 2021 In-Person Commencement Ceremonies. The ceremonies will be held on August 7, culminating four days of graduation-celebration activities, occurring Aug. 4-7.
The summer commencement speakers are Beverly Seay, the immediate past chair of the UCF Board of Trustees; Thomas Weichart '04MS, a renowned healthcare leader and family nurse practitioner; and Sheila Amin Gutiérrez de Piñeres, the dean of the Burnett Honors College and a professor of public administration.
Biographical information on each commencement speaker follows:
Beverly Seay | 9 a.m. Ceremony
Beverly Seay is an entrepreneurial senior executive with global experience and a Fortune 500 track record in domestic and global business operations with a unique blend of strengths to include start-up, turnaround, high growth and acquisition. She currently enjoys advising and connecting companies, universities and investors in modeling and simulation, cybersecurity, blockchain and computing technologies.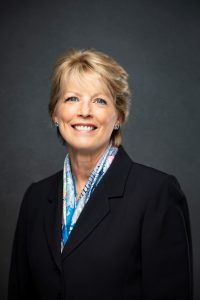 Inducted into the National Center for Simulation Hall of Fame and selected as one of Florida's most influential business leaders by Florida Trend, Seay is a recognized leader in innovative and creative technologies with strong university ties through personal commitment and industry collaboration. She is a member of the UCF Board of Trustees having recently served as chair.
Seay is past and present chair of the Deans' Industry Advisory Boards at the UCF College of Engineering and Computer Science and the Georgia Tech College of Computing. She is also vice-chair of the board of Association of Governing Boards of Universities and Colleges.
Seay is the Southeast Regional Director for the National Security Innovation Network (NSIN), a program within the U.S. Department of Defense. In this role, she is leveraging talent through new partnerships with major universities and the venture community to drive national security innovation.
In December 2020, Seay was recognized as i4 Business Magazine's Business Leader of the Year. In February 2021, she was recognized as Orlando Business Journal's Businesswoman of the Year.
Bev has a B.S. in mathematics and M.S. in computers, information and control engineering from the University of Michigan.
Thomas Weichart '04MS | 2 p.m. Ceremony
Thomas "Tom" Weichart '04MS is a healthcare leader, family nurse practitioner and pastor, who values service, integrity, and persistence. As a decorated army veteran, Weichart had the privilege to have served in Desert Storm, the Balkan War, and in Iraqi Freedom. Additionally, he had the unique opportunity to serve as a Presidential Executive Nurse at the White House Medical Unit, caring for President George W. Bush. Weichart has held numerous positions in healthcare, in leadership, and in ministry earning him numerous awards and honors.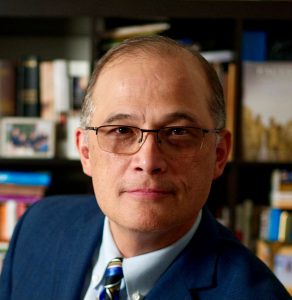 Weichart received his bachelor's degree in nursing from the University of Florida. He has also earned a master's in healthcare administration from Central Michigan University, a master's in nursing from the University of Central Florida, a master's in theological studies from Liberty University, and graduate certificates in healthcare education and as a family nurse practitioner both from the University of Central Florida.
Weichart is originally from Taegu, South Korea, and became a U.S. citizen in 1976. He was raised in the foster care system in Georgia and Florida, which taught him many life lessons. His determination and persistence drove him to avoid a life of poverty and self-pity, which motivated him to face and overcome obstacles and distractions.
He currently serves as the senior pastor of Church at the Well and as a family nurse practitioner for World Clinic and Advent Health.
Sheila Amin Gutiérrez de Piñeres | 7 p.m. Ceremony
Sheila Amin Gutiérrez de Piñeres is dean of the Burnett Honors College and professor of public administration. Piñeres received her Ph.D. in economics from Duke University; M.A. from the University of Chicago; and B.A. from Texas A&M University.
Sheila joined UCF in 2018 following her role as executive vice president for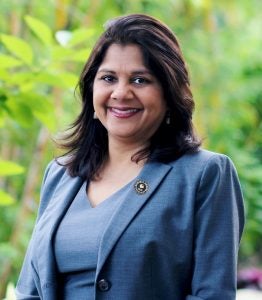 Academic Affairs and dean of Faculty at Austin College in Sherman, TX. Previously, she served as dean of Undergraduate Education and professor of economics at the University of Texas at Dallas. She is a founding member of the University of Texas System Academy of Distinguished Teachers. In 2011-12 she participated in the American Council of Education Fellows Program where she was hosted by President Emeritus John C. Hitt and former Provost Tony Waldrop at the University of Central Florida. She is also a Jacob Javits Fellow and Fulbright Research Scholar. Her academic research focuses on economic development and political stability in developing countries and is a cross section of economics and political science.
Piñeres enjoys spending time with her husband Victor, whom she met in Colombia during a student exchange program. They have two sons: Victor who works as a financial analyst in Dallas, and Sebastian, a student at the University of Tulsa. They also have one rescue puppy: Bella-Ella.
Graduation-Celebration Activities
As UCF continues returning to pre-pandemic operations, Summer 2021 graduates and their families will have the opportunity to participate in two celebrations.
Graduates are allowed to sign up for Grad Walk and in-person commencement, both of which will be held in the Addition Financial Arena. Recognitions for the about 2,880 graduates will occur Aug. 4-7.
Please note, students who do not sign up for either celebration will not be recognized during commencement events.
Students may order their cap and gown through online through Herff Jones now through July 2 for regular shipping. Orders placed by the final deadline of July 12 will incur expediated shipping costs. Herff Jones will also host a Grad Fair June 8-9 from 10 a.m. to 4 p.m. in the John T. Washington Center. Herff Jones reps will provide product demonstrations and to answer any questions students may have about regalia at this time.
A makeup commencement ceremony for Class of 2020 graduates who missed celebrations due to the pandemic has also been scheduled for Friday, Nov. 5. More details will be announced as they become available.
Grad Walk
From Aug. 4-6, UCF's Grad Walk will provide a smaller, more intimate graduation experience. Summer graduates will be able to schedule a time to cross a stage at the Addition Financial Arena with a group of eight friends and family members watching.
Students will receive an email on June 29 and must use their Knights email to register for a 15-minute time slot on the day and time of their choice. Please note graduates are not required to wear regalia during Grad Walk.
In-Person Commencement
UCF will offer three in-person commencement ceremonies on Saturday, August 7 at Addition Financial Arena. If you are unsure which college you are graduating from, please search the name of your major or program in the degree search, click on the page and it will tell you.
For each ceremony, graduates are required to dress in official commencement regalia while participating in the Pomp and Circumstance processional and crossing the stage to receive their degree cover while their name is called aloud. Additionally, keynote speakers who are to be announced will address the audience, providing words of inspiration to graduates and their supporters.
Each graduate will be allowed up to five guests in attendance. Tickets will be distributed virtually, and more information will be sent to students as it's available.
The health and well-being of all UCF graduates and visitors is our top priority. Face coverings are encouraged for unvaccinated graduates and guests during the indoor ceremony. Explore UCF's face covering guide for more information. We encourage our campus community and visitors to get vaccinated and follow CDC guidelines.
9 a.m.
College of Business Administration
College of Engineering and Computer Science
College of Medicine
College of Optics and Photonics
Rosen College of Hospitality Management
2 p.m.
College of Arts and Humanities
College of Graduate Studies*
College of Nursing
College of Sciences
College of Undergraduate Studies
*The College of Graduate Studies houses the following master's degree programs: Interdisciplinary Studies and Nanotechnology.
7 p.m.
College of Community Innovation and Education
College of Health Professions and Sciences
For more details and FAQs about Summer 2021 commencement celebrations, visit ucf.edu/lp/summer-2021-graduation-celebration. Please note more details about the Nov. 5 makeup commencement ceremony for Class of 2020 graduates will be released as they become available.
UCF Alumni Grad Cap Contest
UCF grads can win prize packs with UCF swag including: a UCF photo frame, a UCF tumbler, a black and gold tassel, and more, for their creativity in decorating their graduation caps. Visit ucfalumni.com/gradcapcontest for more details and contest rules.