Family members, friends and children of 123 UCF students joined a historic National Match Day celebration on Friday on the Tavistock Green at the College of Medicine. Inside the medical education building, the stars in the rotunda ceiling twinkled, the only day of the year they do so.
"At noon when you open your envelopes you will open the doors to your future," Deborah German, vice president for health affairs and dean, said to the students. "And at noon, when you open your envelopes, we will have crossed the 1,000 mark. UCF will have matched over 1,000 new doctors. So, you are my 1K class of newly minted physician Knights."
Almost 43,000 students nationwide matched into residency training programs during this year's National Match Day. Medical school graduates cannot practice medicine independently without completing a residency, which can be three to seven years depending on the specialty. During their fourth year, students interview with residency programs across the nation. They rank their choices; programs do the same. A computer then matches both lists. The results for most specialties are kept secret until noon EST on the third Friday of March — known as National Match Day.
UCF College of Medicine graduates will complete their residencies at top hospitals across the city, state and nation. Thirty-seven will do some or all their training in Florida, including programs at AdventHealth, Mayo Clinic Jacksonville, Miami, Orlando Health, the University of Florida and the University of South Florida. Nationwide, UCF students matched into programs that include Cleveland Clinic, Emory, Harvard, Johns Hopkins, Mayo Clinic, Stanford, Vanderbilt and Yale. Their specialties include emergency, family and internal medicine, OB-GYN, pediatrics, psychiatry, radiology and surgery.
UCF-HCA Residency Matches
This year's matches also include 211 medical students across the nation who will join UCF-HCA residency programs in Florida. In March 2021, the UCF Lake Nona Hospital opened in partnership with HCA Healthcare. The teaching hospital is next door to the UCF College of Medicine. UCF and HCA have continued to expand their partnership through a graduate medical education consortium that now has 34 accredited programs across Florida, from Tallahassee to greater Orlando.
UCF medical student Carla Gonzalez was one of eight Knights to match into UCF-HCA residencies. Prior to matching with HCA Florida Osceola Hospital, Gonzalez completed two psychiatry rotations at the facility. She says the UCF-HCA psychiatry residency she's joining has already brought her mentors, teachers and friends.
This year's matches also include 211 medical students across the nation who will join UCF-HCA residency programs in Florida.
"It was such a nurturing experience, and they treat you as a person, which is very important to me," Gonzalez says. She also noted for her and her classmates, who faced the challenge and uncertainties of training during the COVID-19 pandemic, Match Day was the "culmination of everything we've worked for."
The majority of physicians begin their practices where they complete residency training, and the goal of the UCF-HCA consortium is to bring more doctors to Florida and also have them stay to train future physicians. The UCF-HCA graduate medical education consortium is one of the fastest growing in the state. This summer, when new residents begin their training, UCF-HCA will have almost 600 doctors in its programs. "Our goal is to recruit our best and brightest medical students into our sponsored residency programs, and then recruit them to be our faculty members," says Stephen Cico, assistant dean for graduate medical education at the UCF College of Medicine.
Residents in the Greater Orlando UCF-HCA psychiatry program care for patients at the Orlando VA Medical Center and HCA Florida Osceola Hospital. The program began in 2018 with six residents and five faculty. Since then it has added more faculty, built a new clinic, added several elective rotations, won a national award for its curriculum and has placed residents into fellowships at places such as Johns Hopkins. The first graduates of the program all passed their specialty board exams, "boosting our confidence in the strong educational program we provide to our residents," says Anuja Mehta, the program's director.
"This year's match is very special. We will have the privilege to train two of our own UCF College of Medicine students," Mehta says.
Newlyweds Match at Northwestern University
Gabriel and Oriana Krivenko are newlyweds, but until exactly noon on Friday, the two UCF medical students had no idea if they would spend the next three years of their married life together.
Then they opened their Match Day 2023 envelopes and learned they will both do residency training at Northwestern University, their first choice, he in pediatrics, she in OB-GYN. The couple, both first-generation students, grasped family members in joyful group hugs and wept.
"I am over the moon," Gabriel says.
Before opening their envelopes, the Krivenkos talked about another speech German gave previously. The couple noted that in her White Coat address on the first day of medical school four years ago, she told new students they might be sitting next to someone who would become a future spouse or best friend. That happened to Gabriel and Oriana. He chose pediatrics because he loves the resiliency of children. She chose OB-GYN because she wants to make women "feel heard, appreciated and cared for."
Matches With a Personal Significance
Medical student Lake Lindo matched into psychiatry at the University of Florida, his first choice. He becomes his family's second psychiatrist — his mother, Max Minto, is a child psychiatrist who inspired her firstborn to care for others.
"I was pregnant with Lake when I was doing my fellowship," she says after standing with her son he opened his match envelope. "He got all those lessons from the womb."
Lindo says his third-year psychiatry clerkship at HCA Florida Osceola Hospital solidified his specialty decision because it taught him how to connect with patients who are suffering, understand their traumas, and "help them create a plan for a better quality of life."
Dakota Salazar wore a mask, braved the flu and opened his envelope at an outlying table so he could attend Match Day with his classmates despite his illness. He too has a family story that influenced his choice of specialty. Dakota was a premature baby, born at just 29 weeks.
"I'm lucky to be here today," he says. "Doing rotations in the neonatal intensive care unit reignited the passion in me of what I want to do." Salazar matched into pediatrics at Stanford University.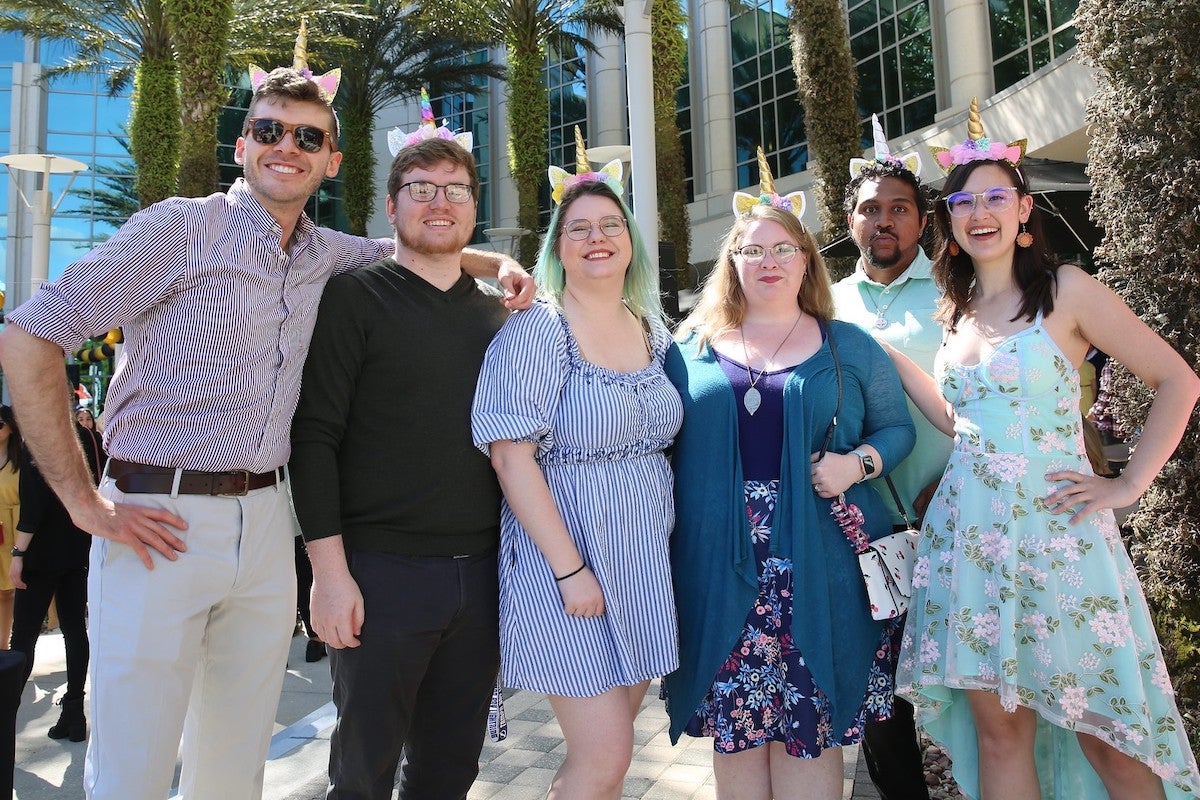 Caring for children has always been one of the most popular specialty choices for UCF medical students. This year, 16 students matched into pediatrics. UCF medical student Breanna Brown dressed herself, family and friends in unicorn hats, mirroring the pediatrics costume worn by ophthalmologist Will Flanary, who has a huge following on TikTok as "Dr. Glaucomflecken." She was ecstatic to learn she will do her pediatrics training at Oregon Health & Sciences University, her first choice.
Austin Wynn will do his residency in orthopedic surgery at Atlanta Medical Center.
"I've always wanted to be an orthopedic surgeon," Wynn says. "I just love the types of problems we deal with, I love the patients we get to treat and I love the procedures and solutions that we have for them."
The next step for the Class of 2023: commencement on May 19.