As growing interest in space exploration creates new interdisciplinary opportunities for workers of all trades, UCF is the site lead for a program intended to help inspire young minds to consider the career possibilities that industry developments could offer.
Lisa Martino '09 '12MA and Sara Shaw, both lecturers of career and workforce education in the Department of Educational Leadership and Higher Education, have developed the Middle Grades Career and Technical Education (CTE) Accelerator, a professional development program to help lead the charge into the next frontier. The program is intended to help middle school teachers learn how to incorporate space-related career exploration into their curriculum — thus increasing the talent pipeline to this emerging, high-demand field. This follows the push by the U.S. Department of Education and NASA to support space education in schools across the nation.
UCF and Old Dominion University in Virginia are the first schools in the nation to pilot the program thanks to a project grant from the U.S. Department of Education. Luminary Labs, an innovation consulting firm, is running the Middle Grades CTE Accelerator on behalf of the U.S. Department of Education and awarded Martino a $110,000 grant for this program.
The initiative has two parts: a two-week intensive professional development and one full year of mentorship and eight Zoom meetings throughout the year. Martino says the first week of the intensive focuses on what these educators need to know about these types of careers and how to guide students toward them.
"The second week, they're going to focus on developing lesson plans and assignments, and they're going to create their own curriculum for their specific classrooms related to space career exploration," she says. "Once they're done with the two-week training of intensive work, they're going to have this portfolio of deliverables, lesson plans and assignments."
The two-week summer intensive is specifically geared toward middle school teachers as it is important to start introducing students to this emerging industry early, Martino says. This is so they understand the courses that align with their career goals beginning in their freshman year of high school and will help guide them toward a space- or STEM-related career.
"Did you know that in space, you can't smell food in microgravity? So how do you prepare food that is appetizing?" Martino says. "There are all these things that people can do. You'll need chefs, you're going to need a tour guide. You can be a tour guide on the space shuttle, but you'll have to know the galaxy."
With the future commercialization of space travel on the horizon, Martino says there will be a greater need for people of various talents to work in this field to keep up with economic development, global competitiveness and national security.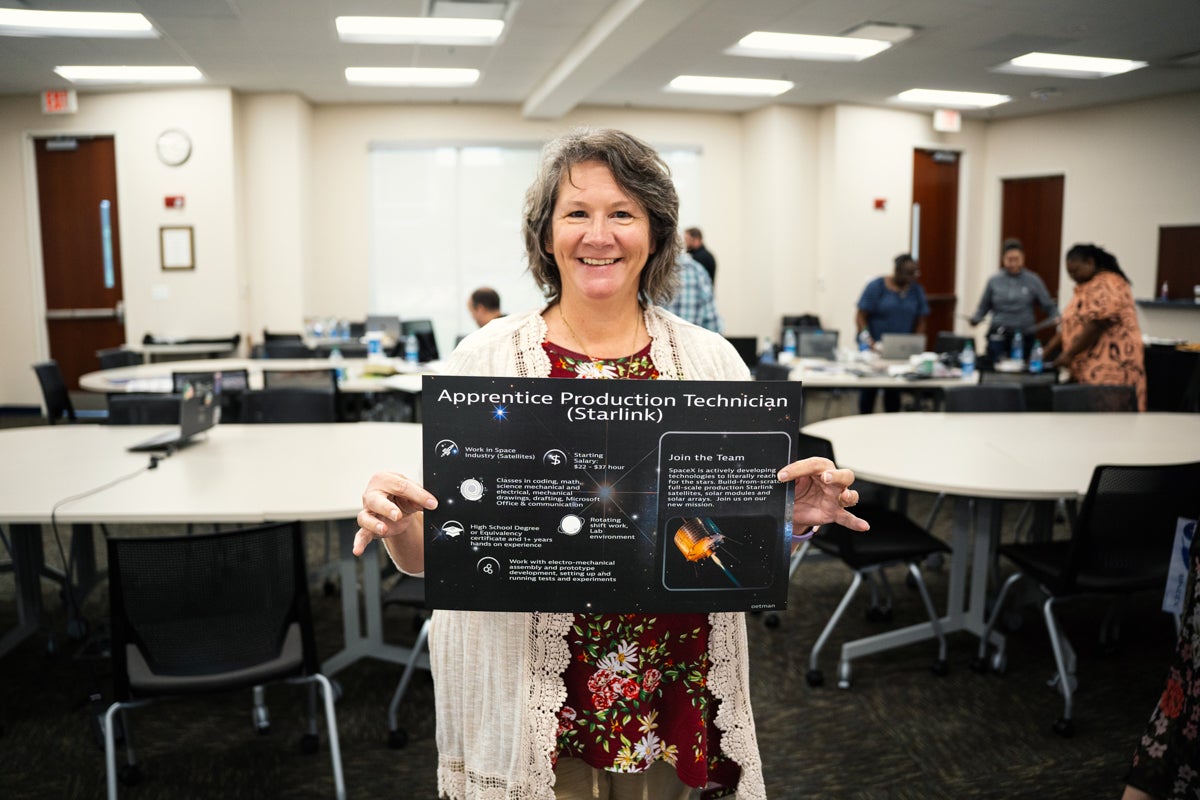 Each participating teacher receives a $2,000 stipend that includes $1,000 to cover their participation in the summer intensive and $1,000 to cover ongoing professional development in the 2023-24 school year. Upon completion, participants will receive a total of 8.8 continuing education units in the form of digital certificates from UCF's Division of Continuing Education.
Martino says she hopes the Middle Grades CTE Accelerator will continue to be funded after this year, especially because of the positive spotlight it has shown on UCF's CTE program.
"We don't get these opportunities often," she says. "In the past decades, a lot of attention was taken away from career and technical education. However, since the pandemic, that has changed. It has made people realize that we need CTE as it helps people get jobs."
Shaw says she is grateful for this opportunity, adding that "there is no question" why UCF was chosen as a hub given relation to the space industry and proximity to the Space Coast.
"This feeds into growing the mentality of giving these students opportunities and highlighting these high-demand, high-wage jobs in the space industry that are in Florida," Shaw says. "It was just a perfect match. Hopefully it can continue, because it's very important to have early exposure in middle school to these career paths."
"We are aligning with what our UCF president said at our last graduation — that for six years, UCF has been the nation's number one supplier of talent to the aerospace and defense industries," Martino says. "We're just happy to be part of that initiative and show the world that we have the programs and we can prepare teachers who prepare the workforce."
Martino has over 14 years of experience in career and technical education and has been a CTE teacher educator since 2012. Martino earned her bachelor's and master's degrees in career and technical education from UCF and her Ph.D. in career and workforce education from the University of South Florida. Her scholarly work includes research as well as conference presentations and papers in CTE teacher education, global competencies in CTE and comparative studies.
Shaw received her Ph.D. in curriculum and instruction with an emphasis in career, technical and postsecondary education from the University of Nevada, Las Vegas. Her research interests include female leadership in higher education, current issues in CTE, and inclusion, access, equity and diversity in CTE.