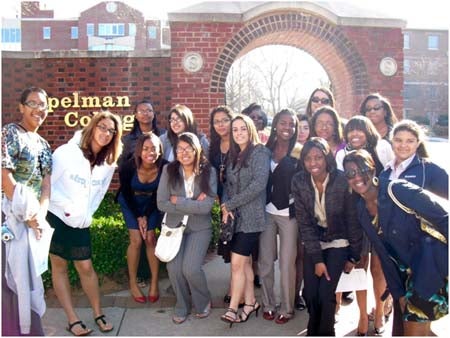 A group of students from the UCF Upward Bound Program (UBP) recently travelled to Atlanta to visit Historically Black Colleges and Universities (HBCU): Spelman College, Moorehouse College and Clark-Atlanta University.
They obtained information about the colleges, toured the campuses, ate in the dining rooms and conversed with school officials. "For many, this was a trip of a life time," said Rebekah McCloud, director for UBP.
In addition to visiting the colleges, students had the opportunity to tour the World of Coca Cola and the MLK Center for Nonviolent Social Change. Christina Canaveral, program assistant, noted that, "the Martin Luther King Jr. Center for Nonviolent Social Change was, for me, the most inspiring part of the Atlanta College tour. Being of a generation that did not directly participate with Dr. King's movement but definitely reaped the rewards throughout my educational life– the tour was of particular significance to me. As a child, I remember learning about Dr. King, Rosa Parks, and the Civil Rights Movement but it was not until I was in college and fighting for Affirmative Action and Retention measures that I truly understood what an invaluable contribution Dr. King and the movement made to my attending a university. Being able to visit the birth home of Dr. King, and having a tour guide that knew and lived the history of the Civil Rights Movement, made the experience that much more memorable. Visiting the Center also reminded me that the fight is not over and we must continue to fight for our right to live in a world free from oppression. As it is engraved in front of the eternal flame: The Eternal Flame symbolizes the continuing effort to realize Dr. King's ideals for the 'Beloved Community' which requires lasting personal commitment that cannot weaken when faced with obstacles."
Through comprehensive, holistic, co-curricular and academic programs, the UCF Upward Bound Program provides first-generation, low-income high school students with the tools necessary to access postsecondary education as full participants.
Upward Bound is an intensive college preparatory project designed to provide high school participants with encouragement and skills to complete high school and earn a post-secondary degree. The program is funded by the United States Department of Education. It is the oldest and most successful Federal TRiO Program.
The UCF Upward Bound Program is in the Division of Student Development and Enrollment Services.