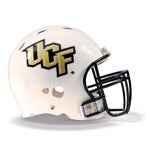 For nearly three quarters Saturday, the UCF defense contained No. 2 Texas' offense. Despite a valiant effort from the Knights, Texas used a score late in the third quarter and a pair of fourth quarter touchdowns to pull away from UCF and post a 35-3 win at Royal-Texas Memorial Stadium.
Texas led just 14-3 at halftime, and did not put the game out of reach until the 3:11 mark of the third quarter when Colt McCoy found James Kirkendoll for a 14-yard touchdown reception.
UCF was playing without starting quarterback Brett Hodges and starting tailback Brynn Harvey. Both sat out the game due to injury.
Starting in place of Hodges, Rob Calabrese guided the UCF offense to several promising drives, but the Knights were unable to find the end zone. UCF's lone score came three minutes into the game when Nick Cattoi hit a field goal to give the team a 3-0 edge.
Calabrese finished the game 10-of-19 for 76 yards. Filling in for Harvey, Jonathan Davis had 22 carries for 71 yards.
Cody Johnson had two rushing touchdowns in the first half for the Longhorns. Texas appeared to be heading for another score towards the end of the second quarter, but Josh Robinson picked off McCoy at the UCF 14 to halt the drive.
UCF and the Longhorns were meeting for the second time. In 2007, Texas escaped with a 35-32 win in the inaugural game at Bright House Networks Stadium.
Trailing 21-3 early in the fourth quarter, the Knights appeared to stop Johnson in the end zone for a safety. The play was reviewed, and the ball was placed on the Texas one. Three plays later, McCoy found Jordan Shipley for an 88-yard touchdown pass.
Texas totaled 470 yards through the air, and just 67 on the ground. McCoy completed 33-of-42 attempts in the winning effort.
Cory Hogue paced the Knights with 12 total tackles. In addition to two sacks for a loss of nine yards, Jarvis Geathers added six sacks.
The contest served as UCF's final non-league game of the season. UCF will return to Conference USA play next week, hosting 13th-ranked Houston for Homecoming at Bright House Networks Stadium.