You've probably heard by now that ESPN's College GameDay is coming to campus and the undefeated UCF football team has a big primetime matchup against conference foe Cincinnati on Saturday at 8 p.m. on ABC.
Below is a timeline of some special events leading up to Saturday that you should also know about — each is a great opportunity for Knight Nation to welcome the ESPN crew by showcasing its passion, sportsmanship and UCF pride.
You'll also find logistical information about game-day parking, tailgating, tickets and more.
Schedule of Events | Parking, Towing and Shuttles | Tailgating | Tickets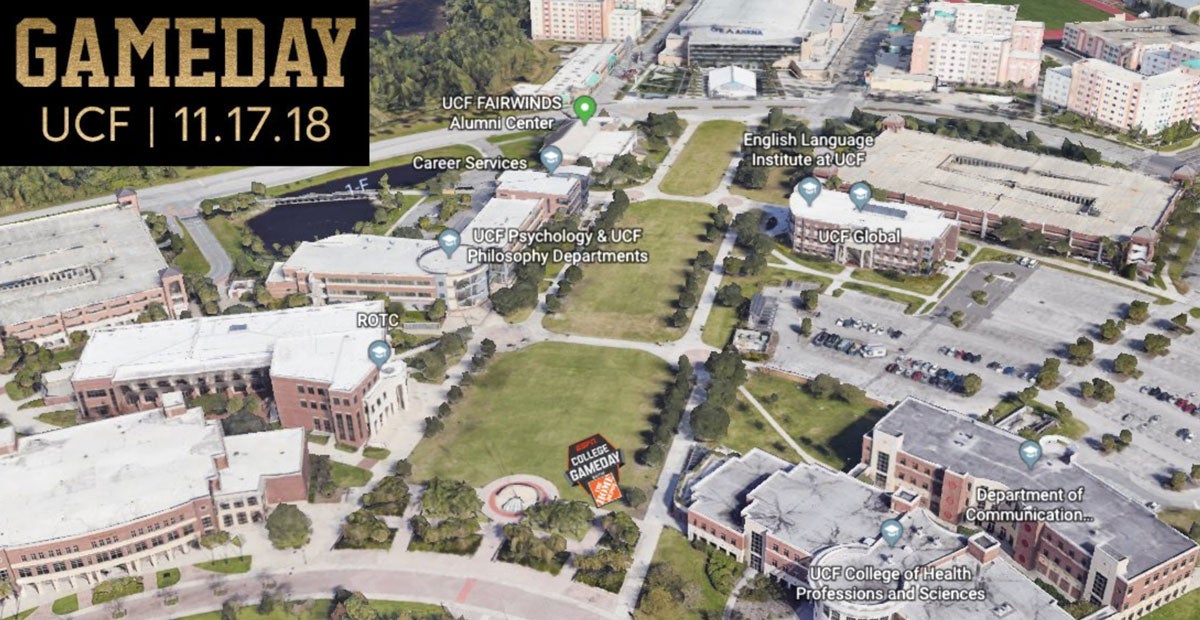 Schedule of Events
Thursday, Nov. 15
Noon
A photo opportunity with a College GameDay desk will be open from noon until 5 p.m. on the north end of Memory Mall near the Victory Knight statue by the UCF FAIRWINDS Alumni Center.. Tag your photos with #UCFGameDay when you post on social media!
2 p.m.
Fans are encouraged to greet the College GameDay bus when it rolls into campus at 2 p.m. at the corner of East Plaza Drive and Gemini Boulevard near Barnes & Noble (this is an update from its previously announced location on Memory Mall).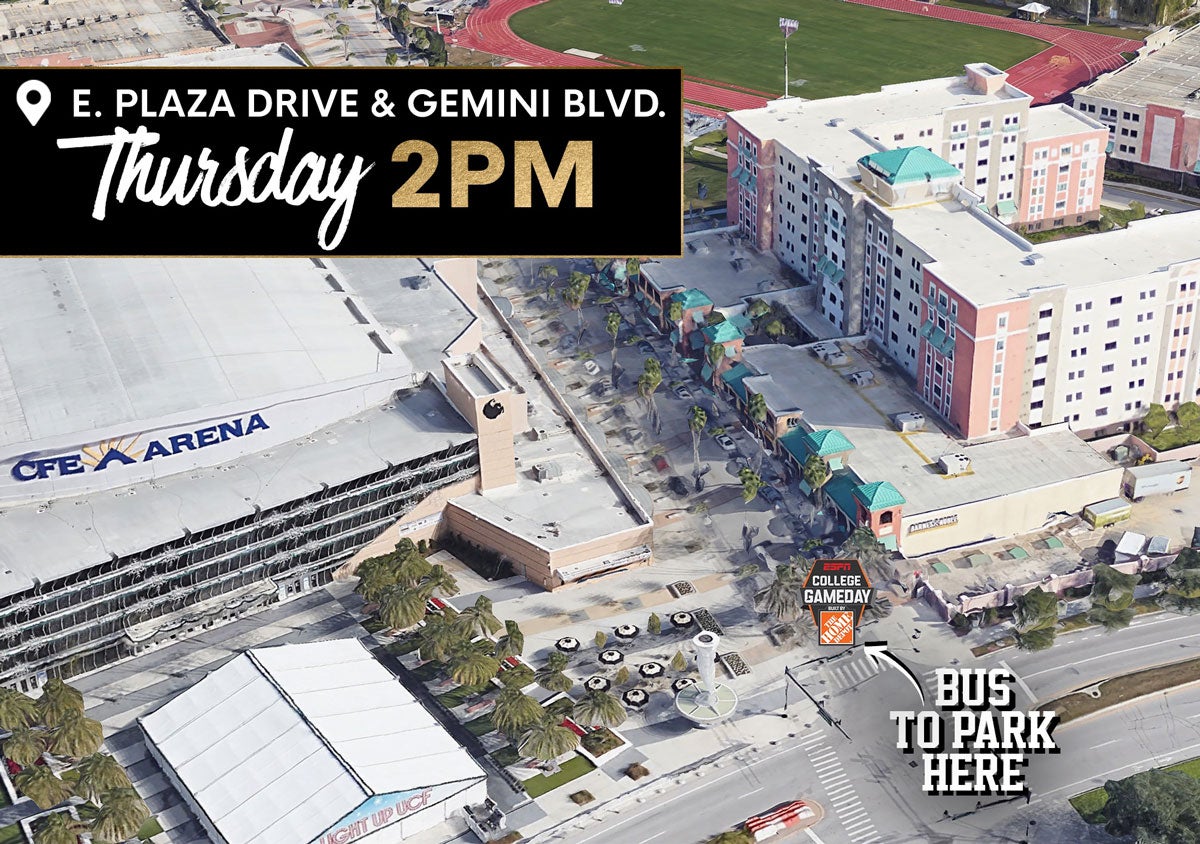 Friday, Nov. 16
9 a.m.
A photo opportunity with a College GameDay desk will be open from 9 a.m. until 4:30 p.m. on the north end of Memory Mall near the Victory Knight statue by the UCF FAIRWINDS Alumni Center. Tag your photos with #UCFGameDay when you post on social media!
2 p.m.
The Home Depot is hosting a cornhole tournament at the ESPN College GameDay broadcast set. You can win one of eight sets of the official College GameDay cornhole boards, and the winning team will win four backstage passes to ESPN College GameDay on Saturday morning.
To sign up your 2-person team, post your name and your partner's name on the Facebook event page. Only 64 team slots are available. Your registration will be confirmed by one of the tournament organizers through a comment on your wall post. Make sure to indicate you are "going" to the event in order to get notifications for any updates. Sign-in for the tournament will start at 2 p.m. and the tournament will start shortly after.
3:30 p.m.
A taping of ESPN's College Football Live will take place from 3:30 p.m. until 4 p.m. at the College GameDay setup on Memory Mall. Deck out in your best black and gold and give television audiences around the country a glimpse of what to expect when they tune into ESPN on Saturday morning. The show's staging area will be located on the southeast corner of Memory Mall near Starbucks and the Veterans Commemorative Site.
A limited number of tailgate spaces will be available on Memory Mall close to the College GameDay staging area. These spaces will be assigned on a first-come, first-served basis starting at noon Friday in the northwest corner in front of the psychology building. These tents are allowed to stay overnight and into Saturday for the College GameDay broadcast.
In order to claim one of the limited spots, these tailgaters must be able to:
Provide a UCF-spirited tent
Have their tent set up by 3 p.m. on Friday
Leave their tent on Memory Mall overnight
Be in their space no later than 7 a.m. Saturday morning
Saturday, Nov. 17
9 a.m. — It's showtime for College GameDay
ESPN's iconic college football preview show, which will air from 9 a.m. until noon, will make its first-ever appearance at UCF. UCF is the 71st different school to host College GameDay and Orlando is the 83rd different city to host the show during its 25-year tenure.
ESPN will open the pit behind the stage at 6:30 a.m. In addition to the following guidelines regarding the pit and signs throughout the GameDay broadcast, you can read this story about some pro tips from an alumna who has experienced GameDay before.
Pit Rules
By entering the pit, fans are agreeing to allow ESPN to use captured media such as video or images without compensation in their broadcast and marketing of their show.
No food or drinks are allowed in the pit. Please plan to dispose of them before entering.
No bags are allowed in the pit. This includes but is not exclusive to backpacks, book bags or purses.
No markers, pens, pencils or dry erase boards.
Signs in the pit may not be attached to poles, sticks or other extensions.
Signs are subject to approval by ESPN and UCF personnel and those attempting to enter the pit may be denied entry should their sign be deemed inappropriate. The individual must discard the sign at their own risk.
All persons entering the pit are assuming risk and are subject to search or removal by security personnel.
Signs
Fans may bring their own signs.
No derogatory, vulgar, or political messages are allowed. Signs may be removed at the discretion of ESPN or UCF personnel.
No sponsored signs or any references to .com's or other websites.
While signs with poles, sticks, or other extensions are permitted behind the pit, those extensions will NOT be allowed in Spectrum Stadium.
8 p.m. — Kickoff: UCF vs. Cincinnati at Spectrum Stadium
The No. 11 Knights will square off against the No. 19 Bearcats at 8 p.m., and aim to clinch the American Athletic Conference East Division Championship and a berth in the American Athletic Conference Championship game for the second consecutive year. The game will be aired on ABC.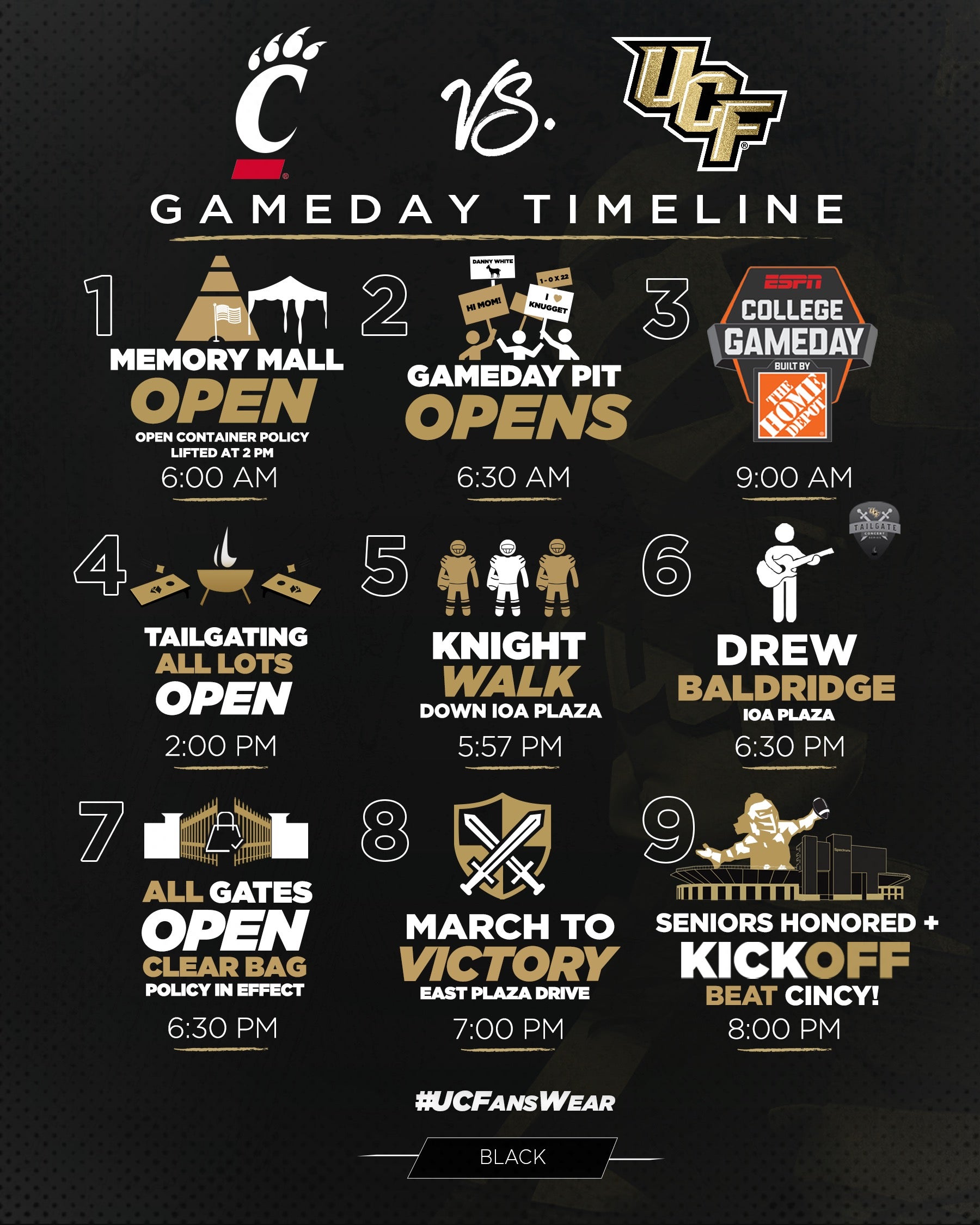 Parking, Towing and Shuttles
Parking
Some parking policy changes will be in effect due to College GameDay's presence on campus.
Gold Zone Parking Passes
All those who hold parking passes for the Gold Zone lots of Garage C and D, as well as Lots C2, C3, D1 and D2 will have access to these lots beginning at midnight Friday night/Saturday morning.
All those who hold parking passes for the Gold Zone E Lots, Garage F, Softball Lot and Baseball Lot, will have access to these locations beginning at 6 a.m. Saturday.
Fans with Gold Zone parking that would like to park in Garage D to be closer to College GameDay, you are able to park there, beginning at midnight Friday night/Saturday morning. However, vehicles must be moved to their regularly assigned Gold Zone parking location by 12:30 p.m.
Parking Without a Permit
Cars without permits will be allowed to park in the areas listed above until 12:30 p.m. Any car without a visible parking pass hanging from its rear-view mirror is subject to towing after 12:30 p.m. Saturday, following the conclusion of ESPN College GameDay.
Anyone without a parking pass can park anywhere on campus for free except Garage H on College GameDay, but if you park in a permitted lot, your car must be moved by 12:30 p.m. Saturday.
Cash parking will be available in Garage H beginning at midnight Saturday. The cost is $20, and fans who pay can remain in the garage for the entire day. As they do on all game days, proceeds from Garage H support first-generation scholarships.
Accessibility Parking
For the GameDay broadcast, individuals with disabilities can use accessible parking spaces by displaying a valid ADA hang tag or license plate. In the event that no designated accessible spaces are available, parking in a valid non-reserved, non-marked parking space close to your destination is allowed.
For the game itself, parking for guests with disabilities is available on the first level of Garage D with a proper Florida Department of Highway Safety and Motor Vehicles permit on a first-come, first-served basis. The individual who was issued the permit must be with the vehicle. Garage D is located at the intersection of North Orion Boulevard and Gemini Boulevard East. A free shuttle for patrons with disabilities and fans who accompany them will be provided from Garage D to Spectrum Stadium (Gate 13). Those shuttles will run from two hours prior to kickoff until two hours after kickoff. Throughout the game and postgame, shuttles will be available, picking up from Gate 13, to return guests to Garage D.
Additional accessible parking spaces are available throughout the campus, and all of these spaces are available on a first-come, first-served basis to any guest with a disability who displays a valid permit; however, no direct shuttle service will be available for these spaces.
Shuttles
Shuttles will be operating on their normal game-day schedule. Fans can avoid traffic by parking at Research Pavilion and catching a Park and Ride shuttle. Fans may park at the Research Pavilion building, located at 12424 Research Parkway in the Central Florida Research Park adjacent to campus, and be transported to parking lot D1 near Memory Mall. The shuttles start two hours before kickoff and end two hours after the game ends.
Shuttles will continue to pick up students from all the apartment complexes around campus that are normally serviced, except for NorthView, Tivoli and Northgate because they're close to the stadium. Student shuttles start five hours before kickoff and end two hours after the game ends.
Other shuttles will service the Rosen College campus and Palm Valley community.
Click here for more details regarding game day shuttles.
Tailgating
Memory Mall and the E lots will be open for tailgating Saturday morning. However, tailgating in all other areas of the campus will not be permitted until 2 p.m., which is the usual start time of six hours before kickoff.
For the entire campus, the open container waiver will take effect at 2 p.m. Alcohol is not permitted before then.
Tailgating will conclude at 7 p.m. on Memory Mall and Lake Claire to help ensure that Spectrum Stadium is full at kickoff for this important game.
The UCF Alumni Indoor Tailgate, which is free for all alumni and their guests, will start at 5 p.m. at the UCF FAIRWINDS Alumni Center.
For additional information on game-day policies and procedures, please visit UCFGameDay.com.
Tickets
You do not need a ticket to attend College GameDay.
Tickets for the game have been SOLD OUT since Monday evening — unless you're a student.
If you're attending the game, don't forget, a clear-bag policy is in effect and it's important to know your gate of entry. Express lanes are available for fans who don't have any bags. These can be found in all lanes for gates 5 and 9 and some lanes in gates 12, 13 and 18. The clear-bag policy is effective for all sporting events at Spectrum Stadium. While fans are encouraged to not bring any bags, those that do can review the policy.
UCF students can still claim their tickets through ucfstudenttix.com. (Note: claiming a ticket does not guarantee entry.) Gates open at 6:30 p.m., but early arrival to the stadium is strongly encouraged as seating is first come, first served. Students MUST have a UCF student ID and mobile ticket upon arriving at the gate.
Student guest tickets are also officially sold out.
What to Wear
Fans going to the game are encouraged to "black out" Spectrum Stadium. You can find apparel, including special edition UCF-themed College GameDay shirts (while supplies last), through shopucfknights.com.