When College GameDay was on location in Jacksonville for the Florida-Georgia football game on Oct. 27, a group of Knights from the Jacksonville UCF Alumni Chapter made sure their black-and-gold signs and flags were front and center throughout the broadcast.
Becky Koziuk '03, who graduated with an organizational communication degree and works as the office manager for real-estate appraisal firm The Sage Group, serves as the chair of the Jacksonville UCF Alumni Chapter and has first-hand knowledge on how to make the most out of your College GameDay experience.
From finding the perfect flagpole to strategizing where to stand for the most TV air time with your sign, here are her pro tips:
Arrive early. Like really early.
Luckily, we were in a unique situation in that GameDay in Jacksonville was a neutral site. We arrived at 6 a.m. and there were less than 100 people waiting to get in the pit (the area directly behind the stage), so we had basically our pick of spots. Normally, the College GameDay camp-outs start at 3 a.m. or earlier. If you want in the pit, I would suggest arriving by 3 a.m.
Follow these do's and don't's if you want to stand in the pit.
There is staff that will check your sign and determine if it can go in. The signs need to stay away from politics and can't promote websites. You can't bring markers or pens or blank signs in with you, and signs can't be on poles/sticks. Food and water, along with bags of any kind, are not allowed. Every person gets patted down and wanded by security, and they make you prove there's nothing hiding under your hat.
There are equally good spots to set up and be seen outside of the pit.
The main stage obviously gets most of the focus, but there are other opportunities for people to get their signs seen. There is a round stage where the hosts do some of the show's segments, as well as the smaller turf stage. After the Jacksonville show was finished, I watched the recorded broadcast, and I was able to see my sign at two of the three locations.
Between the pit and the general open area is a barrier large enough for the mobile cameras to walk through, so if you're outside the pit and have a sign, getting near the barrier is a great spot to be seen.
We set up right at the barrier, dead center behind the stage. It was right next to the entrance to the pit, and our signs and flags were seen the entire broadcast from the main stage.
Make your sign stand out.
The funnier/wittier the signs are, the better. They need to be mostly clean — it is a live broadcast after all. If you stand outside of the pit, they don't specifically "approve" those signs, and your sign is also not going to be prohibited from being on a pole or stick.
Stocking up on the right supplies is crucial.
If you're not within the barricades of the pit, sign/flag poles are fair game. I purchased a 27-foot painter's pole from a hardware store. Someone that came up from the Volusia/Flagler UCF Alumni Club bought a flag pole online for $50. Both worked great. Another person bought an inexpensive 10-foot piece of PVC, drilled holes in it, and filled it with spray foam. All seemed to work pretty well. Just depends on the height you want. Pro tip: If you're using an extendable pole, don't extend it to the max. Leave about 8-10 inches of each section inside the previous section. This helps give it stability and prevent it from breaking/snapping due to stress at the joints.
Gorilla Tape is seriously strong and is probably the best tape to use for mounting your sign to a pole, and I recommend using a lot of it, especially if it's going to be windy. Zip ties are also a great way to attach signs or flags to any of the poles. Depending on the height of the poles and the weight of the flags, if they catch a good breeze it will catch you off guard. We had one of the very large UCF flags similar to what the cheerleaders carry, and when it caught the wind, it was like a sail. Definitely not for the weak.
Plan your bathroom break.
GameDay is a great experience, but it's also a long one that starts early, so you're going to be tempted to pound some coffee and water in the morning. Just remember, you may not get too many opportunities to actually use the restroom while in line or during the broadcast. Good luck!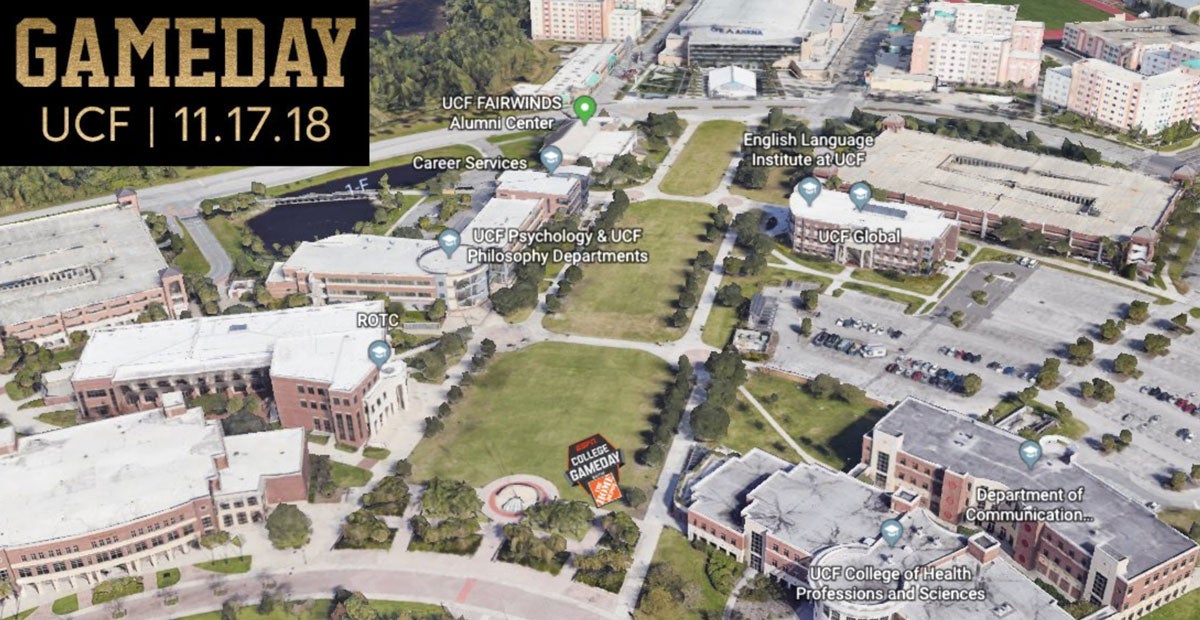 More information about ESPN's visit to UCF's campus — including a complete timeline of events, parking and other logistical information — can be found on this College GameDay guide.