Knights Wake, the UCF Wakeboarding team, recently won its third national championship in four years by defeating the USF Bulls at Quest ATX Cable Park in Austin, Texas.
This is the third time this year the UCF Recreation and Wellness Center is celebrating a club team national championship. UCF has now won 14 club national championships since 2004.
The club trains at The Orlando Watersports Complex off State Road 528 between the Florida Mall and Orlando International Airport. Team members use a short and wide board to perform maneuvers in and above the water while riding behind a boat or on cables at a waterpark.
During the championships, each team had eight competitors go on three runs around the cable park. The runs consisted of two full laps around the park and included kickers at the beginning and the end of the runs. The kickers are ramps in the water and allow the wakeboarders to perform stunts in the air. Judges base each run on required skills each wakeboarder has to perform during the run.
Shawn Rysak, a junior from West Palm Beach and team president said the scoring rewards wakeboarders who rank the highest after the runs.
"Each rider gets their best of three runs recorded," Rysak said. "The team with the most points wins."
Rysak, a business finance major at UCF, was a casual wakeboarder while growing up in Knoxville, Tenn., and then in South Florida. He said he honed his skills after joining Knights Wake in 2014.
"You don't have to be good to join," Rysak said. "No one is watching, expecting you to throw any crazy tricks. I would say 75 percent of our club is made up of beginners, people who come out a couple of times per semester just to have fun."
The UCF Student Government Association funds sport clubs including some money for post-season travel, but the club members are responsible for raising most of the money on their own. The Wakeboarding Club raises most of its travel and competition money through T-shirt sales.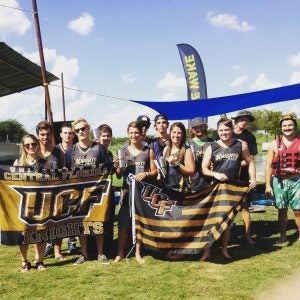 For more information on the program contact coordinator Andrea Snead at 407-823-2408 or email her at andrea.snead@ucf.edu.