UCF Police Department Major Scott Freeman '11 recently returned from the FBI Academy, a 10-week program featuring advanced communication, leadership, and fitness training for law enforcement executives.
This prestigious training, which was held in in Quantico, Virginia, is internationally known for its curriculum and is extremely competitive. Fewer than 1% of officers have the opportunity to attend the program.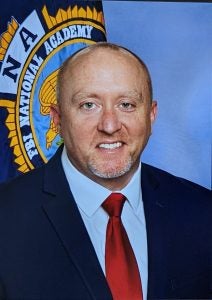 And it's no walk in the park once you get there, either, according to Freeman.
"The setup is like going back to the police academy," Freeman says. "It's dorm-style living with a roommate and it's very structured, with physical fitness classes and graduate level coursework, and every day is packed full."
Freeman says the most challenging part was being away from his wife and two kids and work for so long.
"It's a big commitment to be gone for 10 weeks, and I mean you're essentially off the grid, so that was tough," he says. "You've got to be ready to put all your effort into it and be as committed as you can be to get everything out of it that you can in those ten weeks, because while it feels long, it goes by quickly."
Law enforcement executives from across the globe attend this training, and Freeman says of the most important things he gained from the experience was perspective.
"I always say that perspective is one of those things you don't have until you get it and then once you get it, you wish you could give it to everyone else," he says. "And what I mean by perspective is that I learned how lucky I am to work for the agency and leadership I work for and for the community that I serve."
Freeman and other class participants would often discuss initiatives and campaigns their agencies were part of, and he was surprised to hear that many of the basic practices and policies at UCF aren't common in other parts of the country.
"It made me realize that we're [UCFPD] doing things really well," he says. "Sometimes you forget how innovative and professional we are and how important our policies and procedures are. Being able to compare that to other agencies from across the nation is so unique and it's going to guide my decision-making from here on out."
Freeman iss only the second law enforcement professional from UCFPD to attend the FBI National Academy; former UCF Police Deputy Chief and current UCF Chief Information Security Information Officer David Zambri was the first to attend.
Freeman joined UCFPD as a civilian Community Service Officer in 2005 and was sponsored by UCFPD to attend the police academy in 2006. Since being sworn in immediately after graduating from the academy, he's worked his way up the ranks from patrol officer to his current role as major, where he oversees patrol and operations for the agency. Freeman is also a UCF alumnus with a bachelor's degree in criminal justice and a graduate certificate in police leadership. He plans to continue working toward is master's degree after his FBI National Academy credits, which were through the University of Virginia, are transferred to UCF.
"Just the close quarters of being around 250 other law enforcement executives from across the world was so incredibly rewarding and impactful," says Freeman. "But it still made me want to come right back to UCF and put everything I learned into practice."