Luis Rabelo, an associate professor in UCF's College of Engineering and Computer Science (CECS), was honored this month at a national conference recognizing the accomplishments of Hispanics and other minorities in the science, technology, engineering and mathematics (STEM) disciplines.
UCF was academic co-host of the Hispanic Engineer National Achievement Awards Corporation (HENAAC) Conference in Orlando, organized by Great Minds in STEM. CECS faculty, staff and students joined UCF leaders at the conference and later toured a U.S. Navy submarine.
The event came on the heels of CECS being named the nation's third-best engineering grad school for Hispanics by Hispanic Business Magazine.
Rabelo received the HENAAC Education Award for his career accomplishments.
He joined CECS's Department of Industrial Engineering and Management in 2001 with expertise in control engineering, artificial intelligence, simulation and technology management.
Originally from Panama, Rabelo said he was born to be an engineer. At age 7, he gazed into the sky with a telescope, in awe of NASA sending astronauts into the universe and wanting to be a part of it someday. When he was a high school sophomore, he enrolled — and excelled — in summertime college math and engineering courses. He later earned bachelor's degrees in electrical engineering and mechanical engineering at the University of Panama, and then headed to the United States to continue his education.
He holds a master's degree in electrical engineering from Florida Institute of Technology, a master's and a Ph.D. in engineering management from the University of Missouri, and dual master's degrees in engineering and management from Massachusetts Institute of Technology.
In addition to his academic work, he is living his childhood dream as a NASA project manager. He also holds three aerospace industry patents.
"The HENAAC Education Award is important to me because it allows our Hispanic students to see that faculty who look like them — people who understand their culture and background — are real-life examples of Hispanics in higher education achieving success," said Rabelo. "It also encourages universities to seek out outstanding Hispanic educators who can serve as role models and encourage young Hispanics to pursue engineering and other STEM disciplines."
"This award allows the world to see our accomplishments, and brings important recognition not only to the Hispanic community but in the engineering and science communities as well," he added.
CECS Students and Faculty Tour Navy Submarine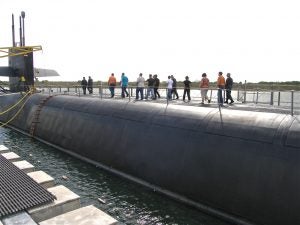 Also during the HENAAC conference, 45 CECS students and two faculty members enjoyed a tour of a new U.S. Navy ballistic missile submarine. The Navy (a HENAAC Conference sponsor) encouraged invited guests to marvel in the vessel's engineering and technology, and interact with young sailors for a glimpse of submarine life.