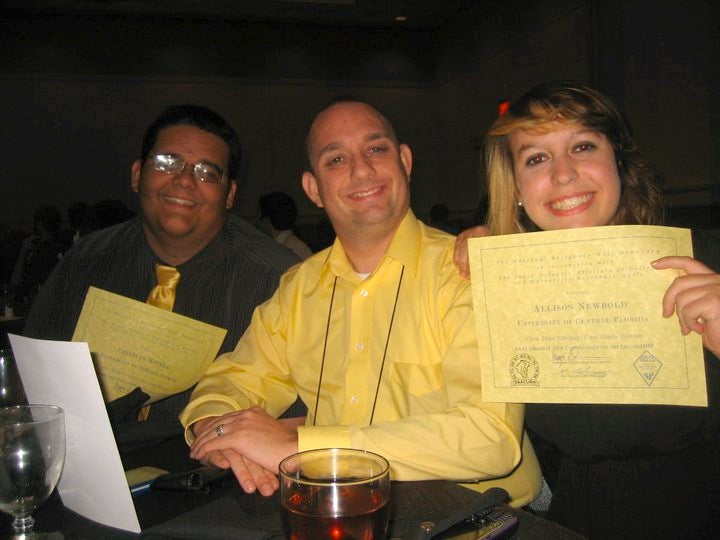 Nike Community area coordinator and advisor of the United Resident Student Association (URSA), Corey Tickner was named "Norbert W Dunkel Advisor of the Year" at the Florida Association of Residence Halls (FARH) state conference. URSA student leaders submitted a bid to the state organization in recognition of Tickner. "Corey has been an amazing advisor," the bid insists, "He is willing to help anyone in need whether it is for academic reasons or social or personal problems; if you advice and help if needed."
Sarah Oleksy, assistant director in Housing and Residence Life who supported the bid with a letter of recommendation, "In the time I have known Corey, I have found him to be a dedicated and hard-working individual. He truly cares about the students that he supervises and advises."
Tickner says he was honored and to win "was a very humbling experience because we, as student affairs professionals, often do not get to see the end result of the impact we have. By winning this award it was validation and motivation for the work that I do."
With support from URSA President Alex Arroliga and Oleksy, Tickner will bid to become Regional Advisor of the South Atlantic Affiliate of College and University Residence Halls (SAACURH) at the fall conference. Tickner has been an area coordinator at UCF since fall 2008.
UCF's delegation also took home several other awards at the FARH state conference:
First Year Student Award – Allison Newbold and Cristian Rivera
FARH Recognition of Outstanding Growth – Evin Ershock
FARH Scholarship Award – Selina Mullenax
The URSA is UCF's second largest student organization on campus representing over 6,000 on-campus residents and is affiliated with state, regional and international student leadership organizations.
Housing and Residence Life is in the Division of Student Development and Enrollment Services. For more information visit: ursa.housing.ucf.edu.