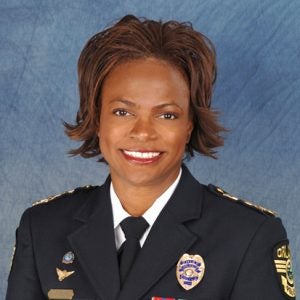 Congressional candidate and former Orlando Police Chief Val Demings headlines a line-up of guest speakers at UCF's Recreation and Wellness Center's "Live at the RWC: Charge the Yard!" The event is:
Wednesday, February 8, 2012
12 p.m. – 3 p.m.
Near the Leisure Pool on the east side of the RWC.
The Black History Month event is collaboration between the RWC and the Mu Iota Chapter of the Delta Sigma Theta Sorority, Inc.
Demings is the first female Police Chief in Orlando's history. She took office in 2007 and was the city's top cop until May 2011. Two months later, she announced her plans to run for Congress as a Democratic Candidate for Florida's Eighth Congressional District. Demings is a mother of three sons and the wife of current Orange County Sheriff Jerry Demings. She holds a B.S. in Criminology from Florida State University and a Masters in Public Administration from Webster University.
"Live at the RWC: Charge the Yard" is an opportunity for students and faculty hear guest speakers, register to vote and learn about the programs offered at the RWC. The event is free to students and UCF faculty. Flippers Pizzeria will cater the event and the RWC is providing live music.
RWC is funded by the Student Government Association. Comprehensive and diverse programs like "Live at the RWC: Charge the Yard," are part of the RWC's mission and goals to continually enrich campus life and advance UCF's educational mission.
RWC is a department in the Division of Student Development and Enrollment Services.