Juanita Green joined the University of Central Florida nursing program in January 1980, becoming not only one of the College of Nursing's founding faculty members but also the program's first Black faculty member. She reflects on her time at UCF, overcoming discrimination early in her nursing career and her advice for Black nursing students.
The first nursing students began classes at UCF in Fall 1979, and you joined the faculty after that first semester. Why did you join the program and what was that experience like?
My passion for nursing had always been community health — even as a nursing student. At that time, I had just moved to Rockledge, Florida, from Miami with my husband for his job at Kennedy Space Center and there were no opportunities for community health. I had taken a job in occupational health at Kennedy Space Center, but had always wanted to try teaching in higher education. So, when I heard about the opening for an assistant professor in the nursing program at UCF, I applied.
I had never taught nursing students before and was initially a little stressed. But the founding faculty members and director were remarkable, and they mentored me as a new instructor. We each were a lead in our area of expertise — and for me, it was community health.
It was a phenomenal experience, and I have profound gratitude for the support those faculty members gave me. In fact, we still keep in touch today.
How diverse was the college and university at that time?
There were high standards to get into the nursing program, and space was limited. There was only one Black student in each class for the first three or four years. But the university's goal was to increase diversity, and I served on a diversity committee.
*Editorial note: Today Black students make up 13% of students at the College of Nursing. Diversity continues to be a focus, and the college's Diversity, Equity and Inclusion Advisory Committee fosters an empowered community to advocate for equity and justice.
How important was it to you to be a mentor to Black nursing students?
I grew up in Miami when it was segregated. I experienced discrimination early in my nursing career. It was extremely important to me to reach out to those Black nursing students to share my experiences and outcomes with them, to mentor them, and to encourage them to mentor others in their career.
I still keep in touch with one of the Black nursing students. She graduated in 1983, and is still working in nursing on the east coast of Florida and still is passionate about the nursing profession. She attributes that passion and her success to the program at UCF.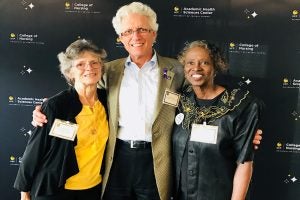 You paid it forward as a mentor. Who inspired or mentored you in your nursing career?
I knew only one Black nurse growing up. Mrs. James lived in my neighborhood and we attended the same church. She inspired me to become a nurse, and to work as hard as I could because it would take dedication and hard work.
Early in my nursing career, I worked in the health department and was mentored by a Black nursing supervisor. She saw to it that I got the promotions I deserved, and pushed me to advance and grow in my career — and I did.
I left warm, sunny South Florida to earn my master's degree in public health at the University of Michigan. I returned to Florida and began to work at the VA in Miami.
After serving on faculty at UCF for five years, you returned to the VA and retired after 26 years of civil service. You were also the first Black nurse manager at the VA in Miami. What led you to the VA and spend most of your career there?
It was always my desire and passion to return to the VA. Caring for our nation's veterans was fulfilling for me. They were always so appreciative of the care they received. They approached their care and treatment with positive attitudes, with a willingness to listen and to learn.
While the profession has evolved during your career, many Black nurses still face discrimination today. What advice would you give to Black nursing students and Black nurses?
First, I would say that if you see something you don't like, you need to speak up. That's what I did when I faced discrimination early in my career. There were unfair practices, and I approached my supervisors with professionalism and with the facts to bring about change and equality.
Next, I would tell nursing students to study hard, do your best, and to voice any concerns or questions to their instructors. They are there to help.
Finally, I would tell them to follow your passion and to do it well.