Forty-four years ago, Cheryl Evans Green became the first Black woman hired as faculty at UCF. She joined UCF to teach social work and true to her profession, she empowered students and colleagues to realize their potential. Green and UCF shared a mutual vision of developing wide-range contributions to the budding, diverse community. And although she died in 2007 due to health complications, her impact reverberates in the influence she had on other students and faculty of color by cultivating shared and inclusive spaces.
"We talk about women that make a difference and she was one that did through how she communicated with people — she was real and honest." — UCF Social Work Professor Sophia Dziegielewski
"We talk about women that make a difference and she was one that did through how she communicated with people — she was real and honest. She had a way of breaking things down and connecting to everyone, especially her students, it was so unique to who she was," says UCF Social Work Professor Sophia Dziegielewski, who was friend and colleague to Green for over 20 years.
It is possible that Green recognized her intuitive skill to help others when, as a chemistry major at Beloit College — her peers sought her out for counseling. Realizing this strength, Green changed majors and graduated at the top of her class with a bachelor's in sociology in 1968. And later went on to earn a master's in social work, and Ph.D. in social work administration, policy, and planning from Clark Atlanta University — the first African American school of social work to be accredited in the world.
Green's field experience was extensive and balanced a clinical and generalist approach to social work. Prior to joining UCF, she worked as a psychiatric assistant at Emory University Hospital, a director and therapist at a Volusia County Community Mental Health Center, and a training coordinator at the Florida Mental Health Institute in Tampa and the Center for Drug Free Living in Orlando.
Green was a change maker — even in circumstances that many would have shied away from. One of her assignments as a social worker was as a liaison between two gangs: the Bloods and the Crips. When she had a child, she knew she needed more stability and predictability, but was not willing to give up the positive impact she had on people through her career. Teaching other social workers was a perfect fit. And that is exactly what Green did at UCF. By instructing the next generation of social workers, Green exponentially increased the "good" she could do.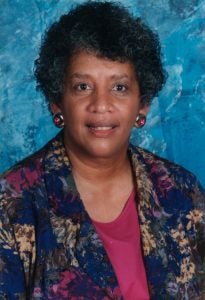 As the first Black woman hired as faculty at UCF in 1978, Green made space at the table for more people of color — including Mel Rogers, associate dean for student affairs at the College of Health Public and Affairs (COHPA, 1998-2018). "I was a new Black male on campus, there weren't very many of us – women or men, Cheryl made it a point to introduce herself and also to let you know: 'If you need help, I'm here.' She was an activist for every faculty member, especially women and minorities," says Rogers.
That is evident looking at Green's CV, where the many peer-reviewed publications, book chapters and seminars she authored and co-authored were on topics advocating for inclusion. Titles like, Who's Missing from the Classroom? The Need for Ethnic Minority Teachers: A Regional Response or Sisters Mentoring Sisters: Africentric Leadership Development for Black Women in the Academy, tell of the impact Green was focused on.
Green also led grant projects that supported juvenile health by partnering with local agencies. Her work with the Boys & Girls Clubs of Central Florida, helped minority children and their families make healthier lifestyle choices to improve long-term health and well-being. During this program, Green worked with UCF students, local pediatricians and other community hospital agencies that assisted children in need of social work services who otherwise probably would have gone unidentified.
A Teacher First
Green held an array of academic and administrative positions, including associate professor, field coordinator, and program director of the bachelor of social work program and assistant dean for student affairs at COHPA. She was also assistant to the Provost at the Office of Academic Affairs, where she was involved in the Strategic Planning Council Steering Committee, which worked to recruit, admit, retain and graduate minority students. Despite her many roles, Green was known to always be very student orientated. An excerpt from Green's own teaching philosophy states: "Outside the classroom, I attempt to demonstrate to students that they are not an interruption to my work, but rather that they are my work."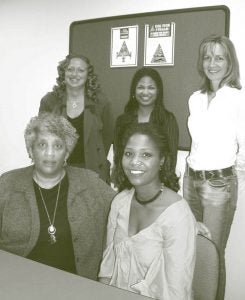 Green always made time for students and often had a long line waiting outside her office for guidance.
"Her desk was always full of papers and books, but as soon as I walked in, even outside of office hours, she would push them aside and generously ask me what I needed help with," says alumna Arlene Thomson '98MSW, '04EdD, who had Green on her dissertation committee and often sought the late associate professor's mentorship. "As an astute student, I was discouraged by a minor critique I received on my dissertation from another faculty member, Dr. Green told me not to worry about it and guided me through it."
Green has been recognized through many UCF awards and honors that celebrate teaching, including the Faculty Center for Teaching and Learning Faculty Fellow (2002-03), Excellence in Undergraduate Teaching Award (1999-2000), Teaching Incentive Performance Awards (1995, 1998, 2004), and Excellence in Academic Advising Award (1990). Her mentorship also extended to the many associations and committees she was a part of like, President of the Black Faculty and Staff Association (1993-94) and a member of the African American Studies Advisory Committee (2002).
The Beloved Community
Green worked with many UCF colleagues to give back to the community through efforts like participating in the Zora Neale Hurston Festival of the Arts and meeting with teachers at local schools to discuss overall student success using social work resources.
"Her skillset in social work really came in handy when getting people to understand the needs of our children and to understand that there is no 'bad child.' I remember listening to many speeches by Cheryl and it was about the future of our youth," says Rogers.
As an advocate for children, Green was a founding member and appointed to the Board of Trustees at the Nap Ford Community Charter School, which largely educates children from low-income families. At the time it was founded in 2001, Nap Ford was "Parramore's only public school since a 1972 desegregation ordered students to be bused out of the neighborhood," according to an Orlando Sentinel article. Before Nap Ford's development, for 43 years, the estimated 860 children living in the 1.5 square mile community of Parramore were "bussed," or sent, to eight different elementary schools as far as 5 miles away.
Working with city commissioners and local officials, Green not only served as the secretary on the BOT, but also fostered needed community support for the school, and was instrumental in training teachers how to serve inner-city students. Green recognized that external factors like lack of nutrition, healthcare, or basic items like prescription eyeglasses, also impacted a student's academic success. "She always did everything in her power to find the basic necessities for Nap Ford students and their families," says Thomson who is now an assistant principal at a school that also serves children from low-income families.
The service component of teaching was always the most important to Green who was a "boots on the ground" kind of social worker. "The sad part about academia is that we don't always recognize service as much as we should. She taught me that first we are teachers, and it is important to share our wisdom with others," says Dziegielewski.
Leading by Example
While Green was a mentor to many, her first mentor was her mother, Mattie.
"Mattie was a Black woman of all seasons, teaching Cheryl how to manage both success and failure," says Rogers.
This steadfastness may be best reflected by how Green coped with her illness. While it was physically hard on her, she never let the illness intrude on her ability to do good. And Green continued working until she died in 2007.
The UCF School of Social Work honors her legacy through a scholarship that gives students the opportunity to learn pertinent social work skills and eventually pass on their wisdom to others, like Green did.
"A scholarship honoring someone like Dr. Green, will mean a lot to the students who receive it. To know how impactful she was, to know the kind of person she was — so that they too can follow in her footsteps." — Arlene Thomson '98MSW, '04EdD,
"A scholarship honoring someone like Dr. Green, will mean a lot to the students who receive it. To know how impactful she was, to know the kind of person she was — so that they too can follow in her footsteps," says Thomson.
Green's daughter, Tadashi Aarika Poole says though her mother knew she was the first Black woman hired at UCF as faculty, Green did not focus on it or "brag about being the first at something." Instead, Green would "draw importance to what one did with that unique position and lead by example. She was very proud of the fact that there were more people of color coming in at UCF, that there were more faces that were not just the same types of faces," says Poole. It is no doubt that Green contributed to that growing space at UCF. It meant that more individuals like her, would be able to cultivate their own strengths and encourage others to find their own — echoing the African proverb she lived by, "Each one teach one."
To donate to The Dr. Cheryl Evans Green Memorial Scholarship, visit www.ucffoundation.org/green or email jennifer.wolf@ucf.edu for more information.