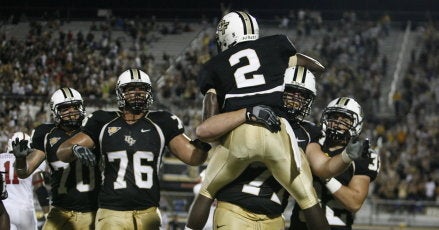 Following a sensational freshman season, UCF quarterback Jeff Godfrey (Miami, Fla.) was one of only 38 student-athletes who were selected to the 2011 Davey O'Brien National Quarterback Award Watch List Friday. Godfrey served as one of just eight sophomores in the entire country on the Watch List.
Godfrey, Quincy McDuffie, Darius Nall and Josh Robinson have all appeared on at least one Watch List during the summer.
UCF on Preseason Watch Lists
Jeff Godfrey – Davey O'Brien Award (Top Quarterback)
Jeff Godfrey – College Football Performance Awards Quarterback Trophy
Quincy McDuffie – College Football Performance Awards Kick Returner Trophy
Darius Nall – College Football Performance Awards Defensive Lineman Trophy
Josh Robinson – Thorpe Award (Top Defensive Back)
Josh Robinson – Bronko Nagurski Trophy (Top Defensive Player)
Josh Robinson – College Football Performance Awards Defensive Back Trophy
Josh Robinson – College Football Performance Awards Punt Returner Trophy
The O'Brien National Selection Committee compiled the list of 38 quarterbacks based on player performance during 2010 and expectations heading into the 2011 campaign. All FBS quarterbacks are eligible for the award until the field is narrowed to 16 semifinalists Oct. 24. The Davey O'Brien Foundation and the Selection Committee will announce three finalists Nov. 21, and the winner will be announced on The Home Depot College Football Awards show Dec. 8 on ESPN.
The reigning Conference USA Freshman of the Year, Godfrey earned a spot on the Phil Steele Freshman All-America team after leading all FBS freshmen with a 66.8 completion percentage. He also ranked second among freshmen with a 154.31 efficiency rating and 10 rushing touchdowns. Godfrey went on to set the UCF mark for a quarterback with 566 yards on the ground.
Godfrey became the first true freshman starting quarterback in FBS history to win a conference championship game when the Knights topped SMU, 17-7, for their second C-USA title since 2007. That enabled UCF to grab a berth in the AutoZone Liberty Bowl where it defeated Georgia, 10-6, for the school's first bowl victory.
Completing 2010 with 2,159 passing yards and 13 touchdowns in the air, Godfrey went 159-for-238 while starting the final 12 contests. He had a stretch where he threw for two touchdowns in five-consecutive games, and was the C-USA Offensive Player of the Week thanks to 294 passing yards and 105 rushing yards along with three total touchdowns in UCF's 40-33 win.
Godfrey and the Knights finished the year 11-3 and will enter 2011 with a 9-1 record in their last 10 outings, including a program-record four-straight road victories (not including the AutoZone Liberty Bowl).