As the men's and women's basketball teams gear up for another season on the court, fans should be aware of several changes that have been implemented at Addition Financial Arena due to COVID-19.
UCF Athletics is working with university leadership, the American Athletic Conference, the NCAA and public health officials on a return to competition that prioritizes the health and well-being of all involved. These and other precautions undertaken are consistent with the guidance of Orange County and the State of Florida.
UCF Athletics' A to Z guide has the most up-to-date information regarding the men's and women's basketball seasons. Some of the key changes are outlined below regarding what to expect for home games this year.
Can fans attend games?
Yes. Addition Financial Arena will open at 25% capacity to adhere to physical distancing guidelines and face coverings will be required of game attendees at all times while on campus.
Fans who purchase seats will select the section they would like to sit in. All tickets are general admission within your selected section. In order to maintain proper social distancing, not all rows and seats will be available.
Can students attend games?
Yes. For the 2020 season, student entry will be first-come, first-served to fill the limited capacity of the Knightmare student section in Addition Financial Arena. Currently enrolled UCF students will just need to login/create a Ticketmaster account with their Knights email and claim a ticket to the game(s) they are interested in attending this year before the stated deadline. Visit UCFKnights.com to learn more about this process.
Students will be required to enter Addition Financial Arena at the Knightmare entrance located on West Plaza Drive. Students will be required to show their mobile ticket and UCF student I.D.
Once in the arena, students will be able to select a seat in any of the designated student sections. Each section will be limited to 25% of its capacity.
How can I buy a ticket?
To offer greater convenience and safety, mobile-only ticketing will provide contactless entry to Addition Financial Arena for all 2020-21 UCF basketball games. Tickets for the men's games and women's games can be purchased at ucfknights.com.
Ticket-holders will access tickets through the UCF Knights app (supported on Apple and Android devices) and available for download via the App Store (Apple) and Google Play (Android). Tickets will also be available to download and save on your digital wallets. Tickets are also accessible through your phone's mobile web browser at www.UCFKnights.com/DigitalTix.
Fans who do not have access to a smartphone or would prefer a physical ticket may still pick-up tickets from the ticket office at Addition Financial Arena on game day. The ticket office will be open one hour prior to game time to help with any issues fans might have.
Do I need to wear a face covering to attend games?
All fans over the age of 2 will be required to wear a mask over the nose and mouth while in the arena and on-campus. Face coverings must be worn at all times except while actively eating or drinking in your seat, and you should be stationary and maintaining appropriate physical distancing. Physical distancing is required in seating and common areas.
Consider Armoring Up with an exclusive UCF face covering from Knight-owned business Rock 'Em Socks. Proceeds benefit the UCF Student Emergency Fund.
What is UCF's schedule?
For a complete schedule for men's basketball, visit: ucfknights.com/sports/mens-basketball/schedule.
For a complete schedule for women's basketball, visit: ucfknights.com/sports/womens-basketball/schedule.
What precautions will be implemented at Addition Financial Arena due to COVID-19? The Spectra-managed Addition Financial Arena has installed nearly 400 COVID-19 health and safety measures to prepare for the venue's reopening Nov. 25.
To prepare for its reopening with limited capacity, Addition Financial Arena has installed numerous sanitizer stations throughout the facility, hundreds of COVID-19 related signs and floor markings to promote physical distancing, protective plexiglass and additional physical barriers at all concession stands, and paperless loge/suite menus on the premium level. The arena has also gone completely mobile with event tickets. To help expedite the guest screening process upon entry, a clear bag policy will be in use.
Increased cleaning and sanitization of high touch surfaces will routinely be taking place during events and the addition of electrostatic sprayers to disinfect high contact areas will be used during event preparations.
Addition Financial Arena will remain vigilant with enforcing all health and safety guidelines put forth. Face coverings will be required upon entry into the facility and must be worn at all times except when actively eating and drinking in one's own seat. Physical distancing will also be heavily encouraged.
For a list of Addition Financial Arena FAQs, please visit www.AdditionFiArena.com/FAQs.
Is a clear bag policy in effect at the arena?
Yes. A clear bag policy is in effect to enhance existing security measures and expedite venue entry.
How will concession stands operate?
All food and beverage will be in closed-top boxes or individual packaging; condiments will be pre-packaged, and cutlery will be distributed with limited contact. Cashless transactions are encouraged, and food and beverages are to be consumed at seats.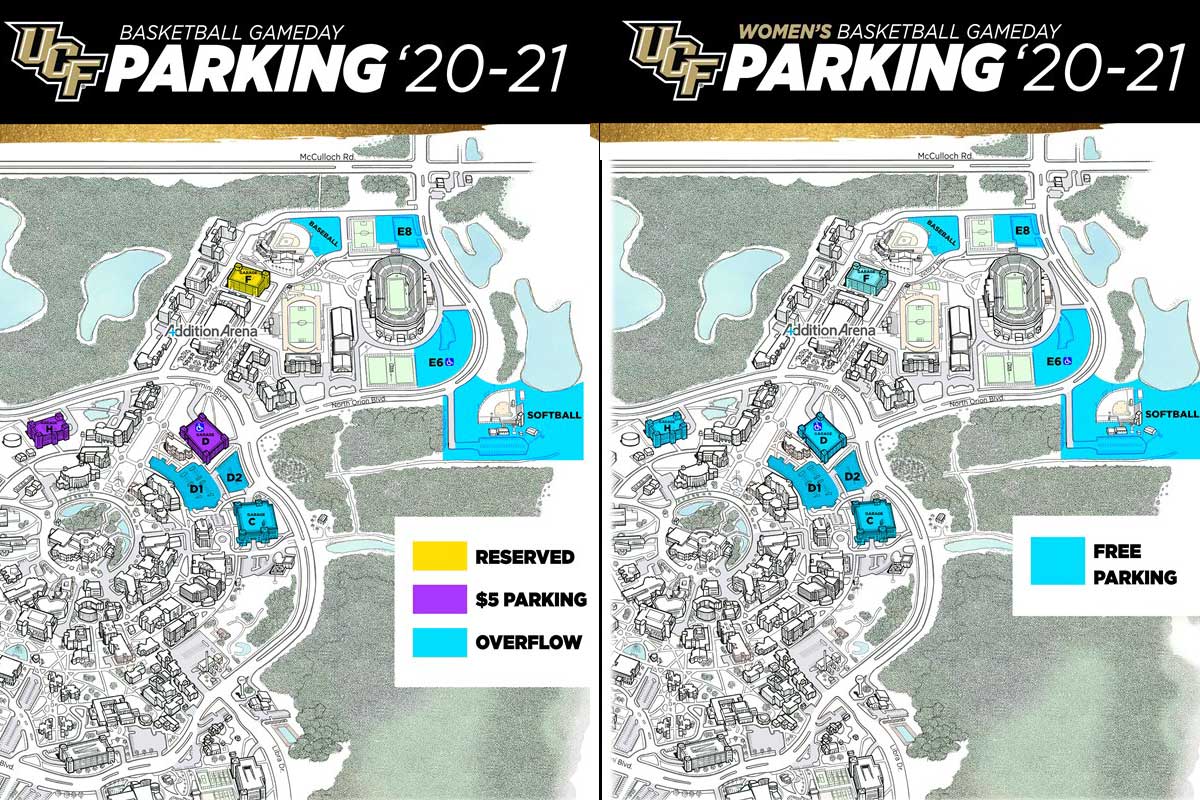 Where can I park?
For men's games, parking for East and West Zone Seating will be made available in Garage D. Parking on game day will be $5 per vehicle. Season parking passes are available by contacting the UCF Athletics sales and service team at 407-823-1000. Parking for premium seating (courtside, club, loge and suites) will be available in Garage F with a proper parking pass. Parking garages will open three hours prior to game time.
For women's games, free parking is available in Garages C, D, F, and H as well as the D1, D2, E6, E8, baseball and softball lots.
Will the Jammin Knights, Knightro and UCF spirit team be at the games?
UCF Athletics, the Jammin' Knights and the UCF spirit squad are taking guidance from health officials about game day participation. At this time the Jammin' Knights are not permitted to perform inside the arena. Spirit teams will be able to perform in the stands.
All on-court promotional activities and contests are prohibited and will be performed elsewhere in the arena.
Where can I find black and gold game day gear?
The UCF Bookstores at both the John T. Washington Center and Knights Plaza locations or online at shop.ucfknights.com.
If I can't attend a game, how else can I support the team?
The Keep Charging On Fund is a one-year fundraising effort to provide charitable support for UCF Athletics. It will provide funding to maintain the significant momentum built over the past four years, despite the budgetary uncertainty caused by the COVID-19 pandemic.