Manuel Carrazana teared up as he watched his identical twin daughters collect their white coats, marking their journey to become physicians — a career he gave up when he migrated from Cuba to pursue a better life for his family.
His daughters, Ana and Anela, are among three sets of siblings — including two sets of twins — in the Class of 2025. The 122 new students began their first day of medical school during July 26's White Coat Ceremony.
In Cuba their father was a general surgeon, but when he came to the U.S. his Cuban-issued qualifications did not allow him to practice medicine. Instead, he went back to school and became a nurse practitioner, and works at the Baptist Health South Florida in Miami. His wife Eliana, formerly an agricultural engineer in Cuba, now teaches kindergarten. The twins' older brother, Manuel Jr., recently completed his internal medicine residency with the UCF-HCA Graduate Medical Education consortium and is now a core faculty with the program based at Osceola Regional Medical Center.
"Seeing my kids getting through medical school is like a dream come true," Manuel Carrazana says. "When I talk about it, I get so sentimental because, I left everything in Cuba hoping to find something better for them, so for me this is a completion."
The twins studied nutritional sciences at the University of Florida and chose medicine because of their mutual love of helping others and also to honor their father's sacrifice. They are thankful to be attending UCF's College of Medicine as sisters.
"Medical school is hard, we're going to struggle," says Anela, "but the one thing we can control is our support system and having a built-in friend, study partner, roommate makes this journey even more special."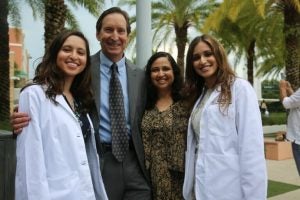 Like the Carrazana twins, fraternal twins Aliya and Safia Centner are also following in their parents' footsteps. Their mother, Dr. Shirin Hasan, is pediatric psychiatrist at Nemours Children's Hospital. Their father, Dr. Donald Centner, is an ophthalmologist in Orlando and served in the U.S. Navy for more than 30 years as a pilot, flight surgeon and ophthalmologist.
Growing up in Orlando in a family of physicians, the twins attended UCF for undergrad, and say they were drawn to medicine because they realized the impact their parents had on patients.
"One time, when we were around 5 or 6, we were in the clinic with our mom, and a young girl about our age ran to our mom, hugged her, and said, 'I love you Dr Hasan.' My mom gave her a hug back and said 'I love you too.' We were confused and asked her if she really loved that little girl," says Safia, who also wants to be a pediatrician.
It was then that their mother explained the special relationship that happens between a doctor and patient. That incident stayed with the twins who over the years also witnessed the numerous letters, notes and drawings their parents received from thankful patients.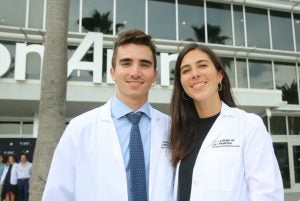 Siblings, Nicholas and Ashley Pekmezian.
Brother and sister duo, Ashley and Nicholas Pekmezian, are the third set of siblings joining the College of Medicine this fall. Nicholas, the younger sibling, knew as early as age 10 – when he broke his arm — that he wanted to become a doctor.
"I like the idea that in medicine you can meet a person on the worst day of their life and in some cases have an immediate impact," he says. "In my own case I walked into the hospital with my arm in two pieces and three hours later everything was back in position and I was in a much more comfortable state."
He was drawn to UCF after having the opportunity as a Stetson University undergraduate to take classes at the UCF College of Medicine's Anatomy Lab alongside medical students.
"I've always liked having Ashley ahead of me in school to help advise me on studying tips and what classes to take. It's going to be pretty cool to grind it out together in med school," Nicholas says.
Ashley is a Cornell University graduate who majored in biomedical engineering and once worked with a team of neurosurgeons to help design and patent a port system to drain fluids from the brain during surgery. She hopes to combine her love for engineering and medicine to pursue a career in surgical oncology or cardiology.
"I want a career that allows me to work with my hands and connect with patients," she says.