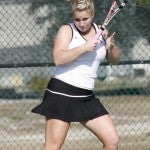 In the last home match of the dual-match season, the UCF women's tennis team walked away with a 4-3 victory over Memphis Sunday. The victory allowed the Knights to improve their record to 8-7 on the season.
Senior Jenny Frisell played her final matches at the UCF Tennis Complex Sunday. Frisell and junior Alexis Rodriguez collected the only doubles victory for the Knights as they defeated Kathleen Hawkins and Mariya Slupska, 8-4.
It was a long battle in singles as three matches went the distance as Josephine Haraldson was the lone Knight to wrap up her victory in straight sets. At the No. 6 spot sophomore Allison Hodges lost the first set, 6-4, but had little problems in the second and third sets as she only dropped two games, 6-1, 6-1. Fellow sophomore Jenna Doerfler battled with Stefanie Mikesz at the No. 3 position. Doerfler collected the first set, 6-3, but dropped the second, 6-4. In the third, Doerfler was down 3-1, but came back to win the match, 6-4.
It was Frisell at the No. 1 spot who earned the decisive point for the Knights. The senior won the first set 7-5, but fell in the second to Courtney Collins in a tiebreaker, 7-6 (7-4). However, Collins was forced to retire due to an injury in the third set, giving Frisell the victory.
The Black and Gold will now travel to North Florida Thursday and Stetson Saturday this week.
UCF will be hosting the C-USA Women's Tennis Championship April 21-24 at the Lake Cane Tennis Center in Orlando, and admission will be free for all fans.