Her success is a result of years of hard work — and opportunities. After graduating from the police academy, Verret spent four years as a patrol officer, followed by eight years as an undercover officer. She then pursued an opening for a detective. "I've not experienced racial or gender discrimination," she said. "If you're qualified, you'll get it."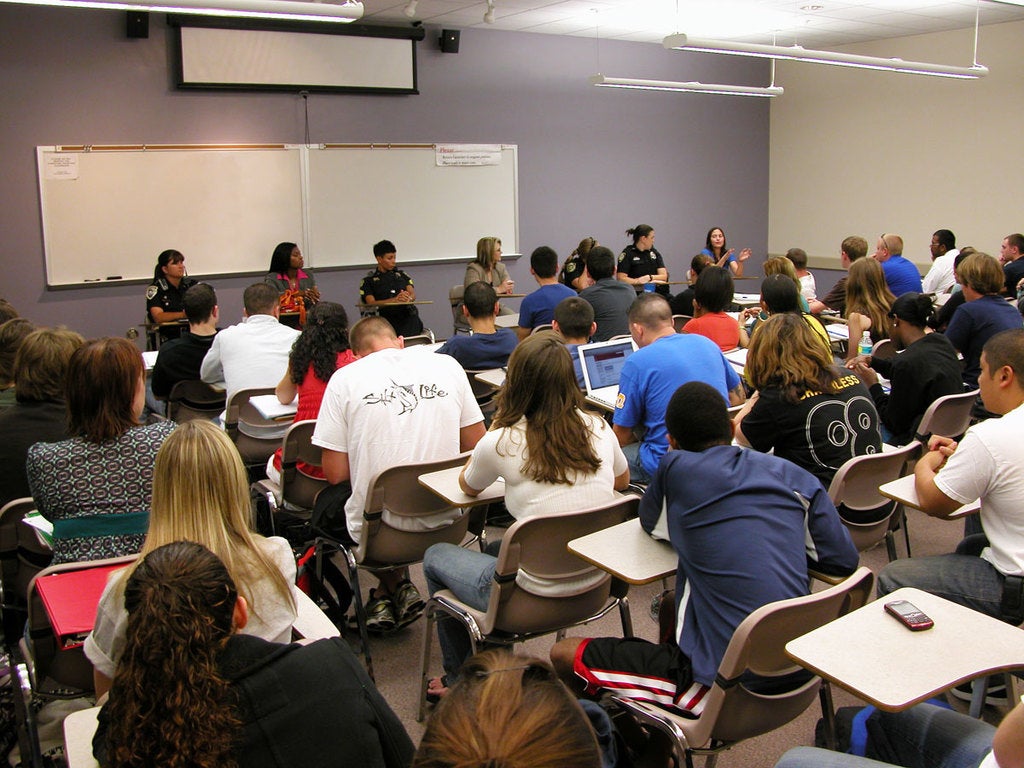 Verret's career reflects several themes that emerged in a recent panel discussion among seven women working in law enforcement during the course, "Police and Society": career growth is available to females in this male-dominated profession and law enforcement offers opportunities to move around within the profession.
Listening in to the panelists were more than 100 criminal justice majors. "I really enjoy giving our students a chance to pose questions about law enforcement directly to current practitioners," said Assistant Professor Ross Wolf. "Students often come away with a different perspective of policing from what they had previously, and their gender biases are often shattered."
Several of the panelists said they think being a women helps in their interactions with male criminals. As a patrol officer with the Orange County Sheriff's Office, Sarah Keefer always showed respect toward a man when she arrested him. "I had no problems," she said. "There wasn't an alpha male issue."
Keefer has since earned a master's degree in criminal justice at UCF and is now a property crime detective with the sheriff's office. Her husband also works in law enforcement, and they appreciate being able to go to one another for advice. Both are awaiting word of their acceptance to the FBI Academy in Quantico, Va.
Shelli Walters has worked in law enforcement for 23 years, the last 20 of which she has been at the Altamonte Springs Police Department, where she is currently commander. She also has been married for the past two decades, and she said her line of work does present challenges.
"My husband doesn't like that I spend my days with men," noted Walters, who as commander oversees 50 people. "But I've explained that I have a bond [with male officers], not a relationship, and he has accepted it."
Just a few years ago, Cheryl Newberry was a student in Wolf's "Police and Society" course, where she also heard women in law enforcement talk about their careers. The experience helped convince her to enter the profession, and today she is a patrol officer with the Orange County Sheriff's Office. "I love it," she said. "Everyday I put on my uniform, I have a smile on my face."
Newberry's sentiment was a shared one. When a student asked the panelists how many would go into law enforcement again knowing what they know now, all seven raised their hand.
The 2009 "Women in Law Enforcement" panelists were:
– Commander Shelli Walters, Altamonte Springs Police Department
– Detective Marie Verret, Orlando Police Department
– Sergeant Cindy Haley, Orlando Police Department
– Detective Debra Healy, Seminole County Sheriff's Office
– Deputy Cheryl Newberry, Orange County Sheriff's Office
– Officer Amber Silvia, UCF Police Department
– Detective Sarah Keefer, Orange County Sheriff's Office