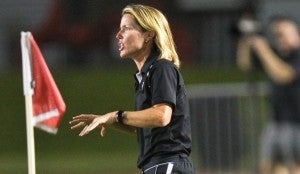 After leading UCF to one of its most successful campaigns in university history, women's soccer head coach Amanda Cromwell signed a four-year contract extension. The deal keeps the 13-year veteran with the Knights through at least the 2015 season.
Cromwell thanked UCF President John C. Hitt and Interim Director of Athletics Al Harms for the extension.
"I'm thankful to Admiral Harms and Dr. Hitt for their faith in our program and for valuing my staff and myself as coaches," Cromwell said. "It's an exciting time to be here – with hiring a new athletic director and seeing the growth of so much around us, not only with athletic facilities but academically, as well."
Under Cromwell's guidance in 2011, the Knights defeated No. 2 Florida and No. 3 North Carolina on a run to UCF's second Elite Eight appearance in team history. For their efforts, five members of the team were named to the NSCAA All-Central Region Team, which includes 2011 All-American Tishia Jewell. She is the third Knight to receive All-America recognition during Cromwell's 13-year tenure.
Cromwell also has demanded excellence in the classroom, as senior Aline Reis and Jewell were named to the NSCAA College Scholar All-America First Team in December. UCF has now had at least one player selected as a NSCAA College Scholar All-American in each of the past five seasons.
"Our potential here to recruit is great – we have a lot of opportunities nationally and internationally, so we know we can bring in the student-athletes who can help us win championships," Cromwell said. "We're not going to stop with the Elite Eight. We want to get to a Final Four and we want to win a national championship."
Since taking over the helm of UCF women's soccer in 1999, Cromwell has guided her team to a 186-78-24 record, 10 NCAA Tournament appearances, four Conference USA regular-season titles and four Atlantic Sun Tournament championships. The Knights have completed the past 11 seasons ranked among the top squads in their region, including a No. 1 ranking in the Central Region by the NSCAA in 2009.
Under Cromwell's leadership, Reis became one of five national players to be selected to the Lowe's Senior CLASS First team in 2011. The award recognizes achievement in four areas of excellence: community, classroom, character and competition.