WUCF TV, Central Florida's PBS station, won an Emmy last weekend for producing the one-hour documentary Space Chase USA, a look at the transformative events in Cocoa Beach in the 1950s and '60s during America's Cold War race into space.
The film was presented an Emmy from the National Academy of Television Arts and Sciences at the 43rd Annual Suncoast Regional Emmy Awards on Saturday.
Space Chase USA, explores the pioneering history that the city's residents found themselves engaged in as NASA and the space industry arrived on the Space Coast next to the small beach town. Interviews with residents, archival footage and home movies were used to provide a personal connection to the new space era in Cocoa Beach's history.
The film premiered in July as part of WUCF's Summer of Space.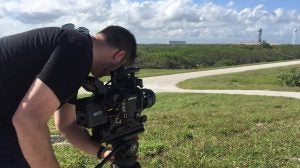 "WUCF is honored that the National Academy of Television Arts and Sciences recognized our work in celebrating the 50th anniversary of the moon landing with Space Chase USA," said Phil Hoffman, WUCF executive director. "Being Central Florida's storytellers, Space Chase USA was our way of highlighting the trials, tribulations and triumphs of this significant event that happened right in our own backyard."
Hoffman and Duilio Mariola were executive producers of the film and Megan Matier was production assistant.
The Suncoast Chapter of the National Academy of Television Arts and Sciences is a nonprofit corporation that presents the annual Regional Emmy Awards to television markets in Florida, Puerto Rico and southern regions of Louisiana, Alabama and Georgia.
To watch the film, go to Space Chase USA.