WUCF TV, Central Florida's PBS station, was recognized by the National Educational Telecommunications Association for its Summer of Space campaign. The station accepted the Community Engagement – National Project award Sunday at the 2019 NETA Awards in Washington, D.C.
During June, July and August, WUCF celebrated the Summer of Space with programming and community events to commemorate the 50th anniversary of the Apollo 11 moon landing. Programming included American Experience's "Chasing the Moon" and its own one-hour documentary "Space Chase USA."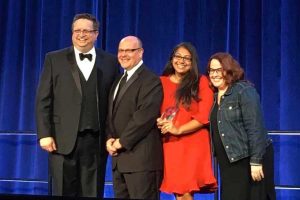 "We are truly grateful to be recognized by NETA for our work during the Summer of Space," says Phil Hoffman, WUCF executive director. "As Central Florida's Storytellers, the Summer of Space was the collaborative efforts of the WUCF team to tell the stories from our own backyard. We are honored to be recognized for our work within the Central Florida community on a national stage."
The NETA Awards honor public television's best work in education, community engagement, marketing/communications and content. Awards are judged by a group of expert panelists within the public media system, as well as industry professionals outside of public media.