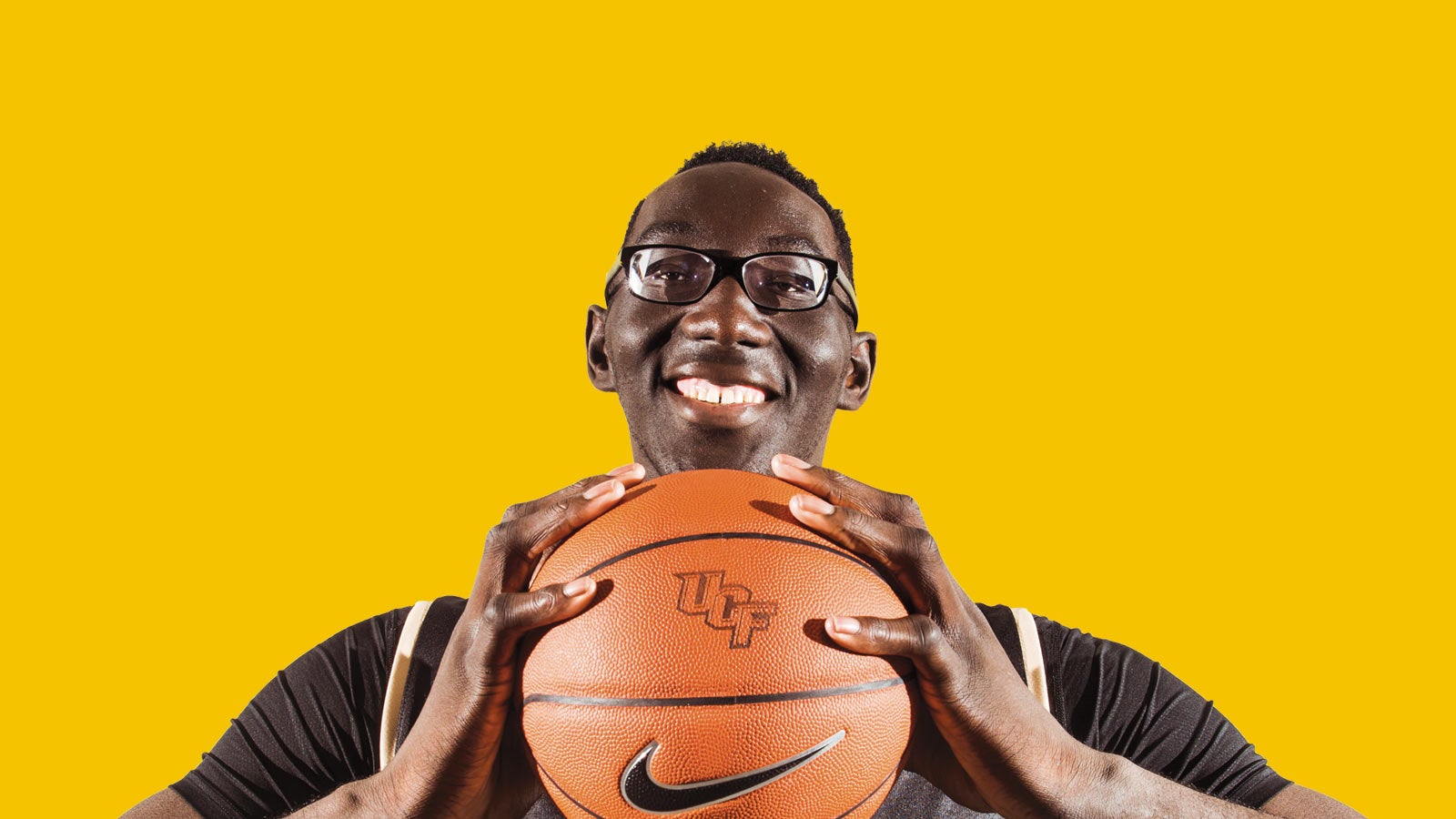 Tacko Fall – Mastering the Rebound
UCF basketball center Tacko Fall has never let a few near misses keep him down.

Spring 2016 | By Peter Kerasotis
Tacko Fall was 16 when he boarded a plane in Dakar, Senegal, for America. His only companion was another Senegalese teenage basketball player, Ange Badji. It was the first time Fall had ever taken a flight, and he had left his mother and younger brother behind. Wearing taped-up eyeglasses, Fall carried a single suitcase, holding clothes that barely fit him. On his feet were the only shoes he owned — sandals made by a neighborhood friend.
He spoke Wolof, his native language, as well as French, but very little English. He was moving to a country he'd never visited and a state where he knew no one.
Fall and Badji arrived in Houston with dreams of making it big as basketball players, a game Fall had never played. Fall was already over 7 feet tall and would grow to be 7 feet, 6 inches by the time he arrived on the court at UCF.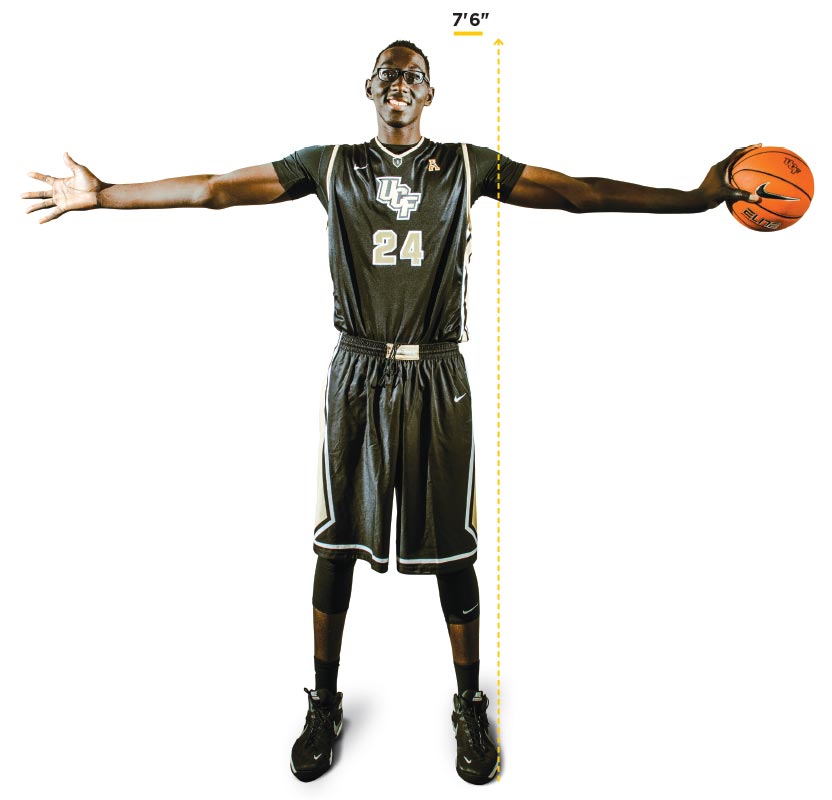 Support student-athletes
Your contribution of any amount can make all the difference for deserving students like Tacko, both in the classroom and on the court.
But back then, he arrived in America with little more than the hope of receiving a better education, and if he was lucky, of being able to provide for his mother and brother. Basketball would be his shot at a bigger life, but there would be some misses along the way.
The first setback was in Houston, where the sports academy he and Badji were to attend folded shortly after they arrived.
Fall experienced enough there, however, to believe that if he worked hard, his future could change. He met Hakeem Olajuwon, the former Houston Rockets superstar and fellow African, who showed Fall footwork techniques for big men. He went to a Rockets NBA game against the Los Angeles Clippers, and during the national anthem, he noticed 6-foot-10 forward Blake Griffin nudge his teammate, 6-foot-11 center DeAndre Jordan, and point to where Fall was standing. They smiled and gave him an approving nod.
It was the encouragement he needed. Fall hoped to move permanently to Cincinnati, where his father lives. But that fell through. Another miss.
Instead, Fall, a devout Muslim who prays five times daily, ended up at Liberty Christian Prep in Tavares, Florida. Mandy Wettstein, who does public relations for the school, and her family took in both him and Badji, a fortuitous rebound.
"There was not a lot of trust there when I met him, not a lot of self-confidence," Wettstein recalls. She treated them like any of her other children. "Nobody cares if you're tall," she'd tell Fall, "you still have to take out the garbage."
At Liberty, in addition to learning to play basketball, Fall pursued his passion for math and science and anything that had to do with computers and technology. When he daydreamed, he thought not of dunks, but of mathematical equations, testing himself to see how fast his mind could process multiplication formulas.
He decided on a goal of one day becoming an engineer, and he graduated from high school with a 3.6 GPA. He also adopted a personal motto that would provide him the insight to rebound on his own: "Your athleticism will fade one day, but your knowledge will last forever."
While at Liberty Christian Prep, he focused his energies on the classroom and the court, his brains and his brawn. He was learning new techniques to bring his dream to fruition.
"All he wants to do is help his little brother and his family," Wettstein says. "He has such an appreciation for what people do for him. He doesn't think he's owed anything."
Early on, Fall would text Wettstein asking if he could have something to eat. He wouldn't open the refrigerator door without her permission.
"One day, I came home from work, took him over to the refrigerator and told him, 'Stop asking. You don't have to ask. You can have anything in here. Anytime.' "
She laughs now at how her words backfired on her. "Boy, that kid can eat," she says. North of 7,000 calories a day, to be exact.
Fall grew to be not only 7-feet-6-inches tall but also 295 pounds, with an 8-foot wingspan and the ability to circle his fingers around a basketball rim while standing flat-footed. But would the gentle giant grow into a basketball player? Tony Atkins, Liberty Christian Prep's basketball coach, wondered.
What Atkins discovered is that Fall "is like a sponge. Everything you give him, he soaks in. … You tell him to work on something, he works on it. I told him he had to get stronger, and it wasn't long before he went from being able to do only four pushups to 35."
Fall continued to grow — mentally, emotionally and physically. "Most big guys like him can't move well, but Tacko can really move," Atkins says. "His agility was a real surprise."
Overcoming his gentle nature, at least on the court, took some doing. But Fall's competitive side emerged naturally, surprising Atkins at how passionate he became about winning.
Atkins said in Fall's ear, his mantra providing encouragement for mental rebounds: "Tacko, you can dominate! Tacko, you can dominate! Tacko, you can dominate!"
UCF head coach Donnie Jones took notice. Less than four years ago, he went to Liberty Christian Prep to see Fall. Jones kept an eye on Fall's progression on the court, and his loyalty paid off. When a trickle of interested schools grew into dozens, including Georgia Tech, Georgetown and Purdue, Fall hardly waivered from his desire to go to UCF. He felt comfortable with Jones and the Knights' coaching staff, and he knew the quality of UCF's engineering program. "UCF used to be called Florida Technological University," he says. "It has that reputation, that history."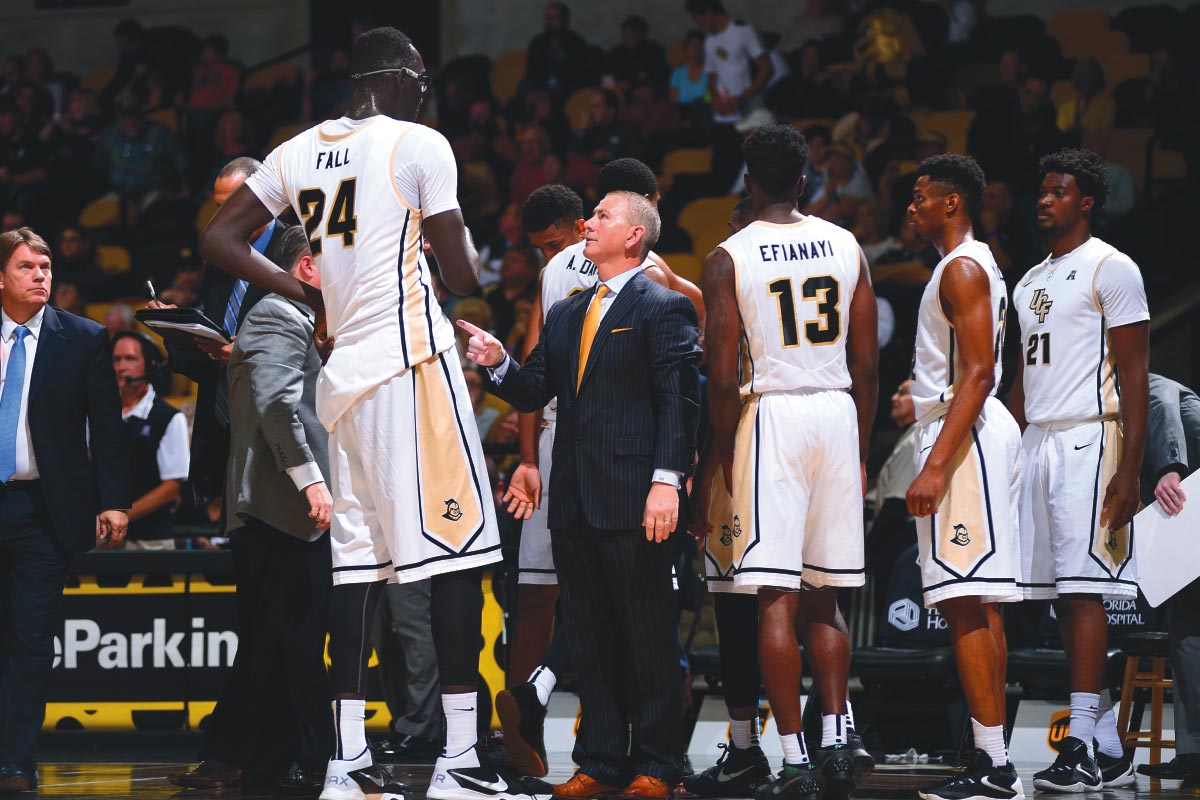 Fall also wanted to stay close to the Wettsteins. After visiting other Florida colleges, he announced to family and friends that, in his opinion, none were better than UCF.
By the time he arrived on the UCF campus this past June, he'd grown accustomed to the gawkers and the picture takers, as well as the occasionally cruel way social media and the anonymity of packed stands can embolden some. He's learned to roll with it, though at times he says it can be trying.
"Here is the thing," Fall says, his voice animated and his gestures suddenly spirited. "When I don't play well, it's 'Why is he so terrible? He's 7-foot-6.' And if I play well, it's 'Oh, he's 7-foot-6, he's supposed to be good.' What they don't see is the amount of work I put in."
---
"What they don't see is the amount of work I put in."

Tacko Fall
---
He smiles, shrugs his shoulders. "The more I see, the more I get used to it," he says.
That attitude was certainly put to the test during the NCAA's vetting period that rendered him ineligible while it background checked Liberty Christian Prep. Another near miss. Initially, the NCAA accepted only about half of the core courses Fall took at Liberty Christian Prep before clearing him to play for the Knights.
Through that ordeal, Jones observed that Fall "never, not once, expressed any bitterness; only thankfulness and appreciation for what everyone was trying to do for him. He handled it every day with a good spirit, a good attitude."
And every day, Jones says Fall had one consistent question for him: "Coach, can I practice with the team today?"
For a while, Fall could. But then he had to wait for the red tape to clear. Jones dreaded having to break the news to the freshman. He called Fall into his office for a one-on-one. But before he could get a word out, Fall excitedly told Jones, "Coach, you gotta see what I did." With a smile about as wide as his wingspan, Fall pulled an electronic car from his backpack. Then he moved around some of Jones' office furniture. Telling his coach he had built the car in his engineering lab, Fall demonstrated how, with sensors, it could maneuver around his office without bumping into anything.
"He was so excited," Jones says. "For about 10 minutes, he was telling me all the things he was learning."
When he was eligible to practice again and join the team for games, he started receiving positive encouragement from his new teammates, even the upperclassmen. "His coordination and feel for the game are things you can't teach," says Justin McBride, a 6-foot-10, 325-pound junior center. "I was amazed at how quickly he caught on to high-level post moves. He was doing a lot of things instinctively that I had to be taught."
Jones likes to say that's because Fall is an active listener. "That is the first example of someone who is willing to learn," Jones says. "They listen and ask questions, instead of saying nothing, moving on and then making mistakes. And he listens not only with his ears, but with his eyes. He wants to get better. … He's not looking for a way out when it gets hard. I see him improve every day."
Part of Fall's routine is rigorous, if not prodigious, film work. He'll not only watch film of opposing players and teams, but he'll watch entire games of upcoming opponents. He also regularly studies film of NBA centers, breaking down what they do and how they do it. "Right now, I'm watching a lot of film of rookies," Fall says, "to see how they've transitioned from college to the NBA."
That he is studying film of NBA rookies is telling. Fall likely will have the option to turn pro before exhausting his four years of college eligibility — though he has every intention of earning his degree. When asked about his dreams for the future, he smiles.
"I want to make it [as an NBA] professional, help my family," he says. Even now Fall sends a chunk of his monthly college stipend home to his mother — whom he hasn't seen in almost three years but talks to most every day — and his brother, Fallou, now 10. "Years later, after a pro career, with a degree and my family taken care of, I'd like to make the Hall of Fame."
His smile broadens. "Then, using the money I've earned, I want to start my own company: a company that makes electronics, things like tablets, but more affordable for people like those in my country."
He is still smiling, but he is serious. Nobody doubts him.
Jones recalls an early practice, when 6-foot-9 Knights forward Staphon Blair put Fall on his back. "He fouled Tacko hard," Jones says. "Tacko fell straight on his back. It must've been about a 10-foot fall, and he just [lay] there for about 15 seconds. I was worried; I thought he'd gotten hurt. But then he got up and started playing again. Then Justin McBride, on a play right after that, slammed him hard and knocked off his goggles. That time, he had to come out because a lens fell out. But as soon as he got his goggles fixed, he motioned to go back in, and on the very next time down the court, he went to the bucket with both hands and slammed the ball down hard. Guys were clearing out of the way."
Jones and the other wide-eyed UCF coaches gave each other knowing glances. "You look for that early on with kids, how they'll respond to adversity," Jones says. "He did it the right way, out of the right spirit. It's hard to find that."
A lot about Tacko Fall illustrates the right spirit, especially his drive to spring back smarter and stronger. That he's 7-foot-6 just makes it easier for him to rebound.