Updated: August 18, 2022
Originally Published: August 2019
By Stephanie Rodriguez, '20
Welcome to your new campus! Before you start this new chapter in your life, here are 7 key things you need to know about UCF Downtown to make your first week a breeze.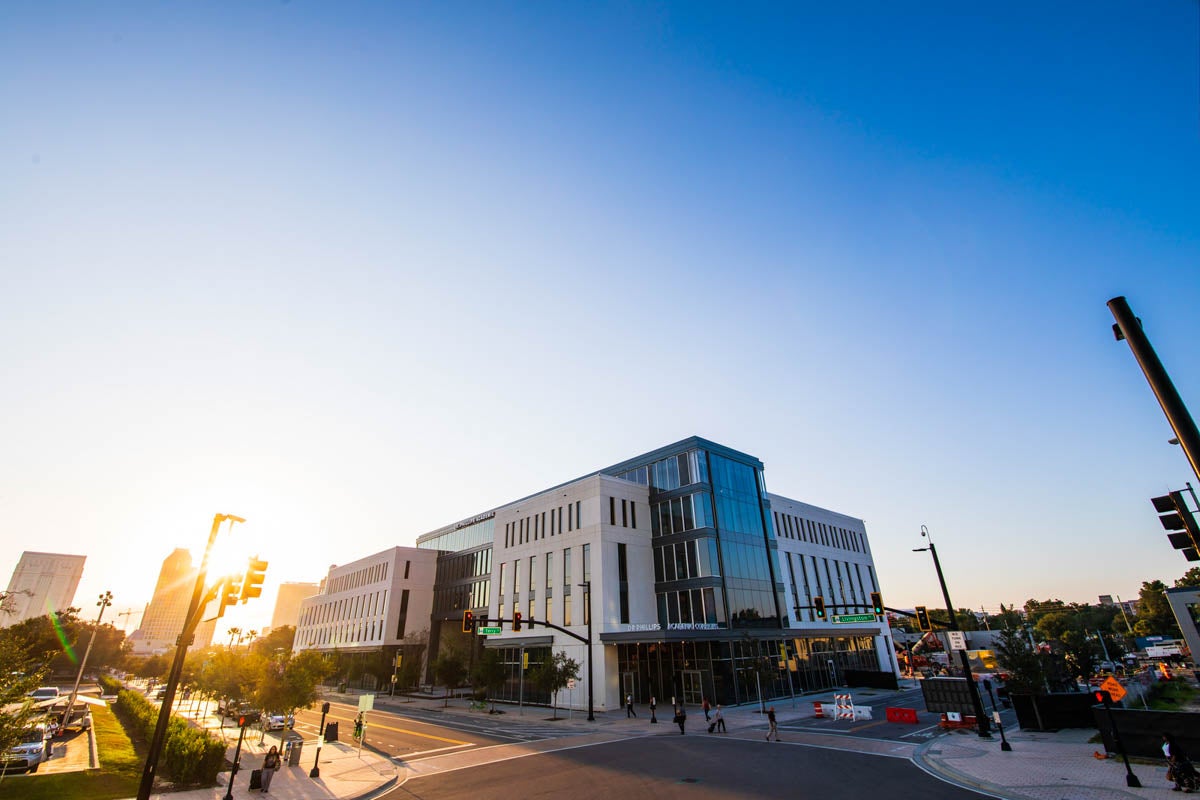 1️⃣ Transportation
Parking
The Amelia I Parking Garage (PG3) is the primary parking garage for "D" (green) and "R" (orange) permits. The Parramore Garage (PG1) is the secondary parking lot for "D" (green) and "R" (orange) permits. Just like the main campus, virtual parking permits are required to park in UCF lots and garages.
UCF Students
Valencia Students
In order to purchase a virtual parking permit, you will need your Atlas ID and Downtown Campus password.
Valencia: How to purchase a parking permit 
Parking and Transportation Services is located in the lobby of the Communication and Media Building and is open Monday – Thursday from 10 a.m. – 3 p.m.
Express Shuttles
If you are a UCF student and need to travel to or from main campus, there are 15 daily roundtrip express shuttles between the UCF main campus' Lynx Transit Center (between Garage A and Garage I) and UCF Downtown. The shuttles are open to UCF students as well as employees with a valid UCF ID.
The shuttles operate Monday through Thursday, from 6:30 AM to 10:30 PM and Friday from 6:30 AM to 8:30 PM, except on holidays or campus closures. All shuttles have WiFi and are ADA compliant.
Lymmo
Getting around downtown Orlando is easy with free Lymmo lines, and all UCF students, faculty and staff also receive free rides anywhere in Orlando on LYNX, the rapid bus transit system. There are four Lymmo line stops at UCF Downtown and LYNX Central station is just a short, five-minute walk from the campus.
The Lymmo lines operate from 6:00 a.m. to 10:45 p.m. on weekdays, with hours varying on the weekend. You can ride all over the downtown footprint at no cost.
SunRail
SunRail is a commuter rail system with 16 stations that run through Orange, Osceola, Seminole and Volusia counties. The closest station is at LYNX Central Station. SunRail trains feature free WiFi, power outlets, bike racks and more!
2️⃣ Dining
In addition to dozens of restaurants within walking distance of the campus, Dunkin', Subway and Vera Asian are open on the first floor of UnionWest at Creative Village.
3️⃣ Library
For help with research and a huge collection of books, visit the Addition Financial Downtown Campus Library in suite 265 located on the 2nd floor East Wing of Dr. Phillips Academic Commons. Other services available at the Library are:
Checkout of books, DVDs, and course reserves
Access to electronic resources, including databases, electronic books, journals, and videos
Printing, copying, and scanning
Research assistance via in-person consultations, online chat, phone, text or email
Borrowing from other libraries via Interlibrary Loan
Library Instruction
4️⃣ IT & Tech Lending
Downtown students have IT support and tech lending available on the 2nd floor East Wing of Dr. Phillips Academic Commons. Here, students can get help troubleshooting issues with their computers and borrow technology like cameras, MacBooks, laptops, cables and more! Be sure to bring your ID to check out a device.
5️⃣ Printing
Downtown students have access to both free and paid printing options on campus. Students may print for free on the 2nd floor of UnionWest with their UCF or Valencia card using print.sga.ucf.edu. Use your NID or Downtown Atlas ID to log in.
Paid printing stations are available in the east wing of Dr. Phillips Academic Commons on the 1st and 2nd floors. To use these stations, go to print.ucf.edu and use your NID or Downtown Atlas ID to log in. Costs are $0.08 for black and white and $0.30 for color prints or copies.  Scanning is also available for free at the paid printing stations.
6️⃣ ID Cards
Planning to ride the shuttle? Need access to buildings after hours? Make sure you carry your ID card with you at all times! Card Services is available at UCF Downtown, located in the lobby of the Communication and Media Building.
7️⃣ Well-Being
Whether you're feeling stressed out or have a cold, we're here to help! Located on the 2nd floor of UnionWest is the well-being area with staff to help you feel your best. Services include the Recreation and Wellness Center (with daily fitness and yoga classes), primary healthcare, mental health counseling provided by UCF Counseling and Psychological Services (CAPS), nutrition, stress reduction and sexual health services.