By: Jamie Giller
May 19, 2023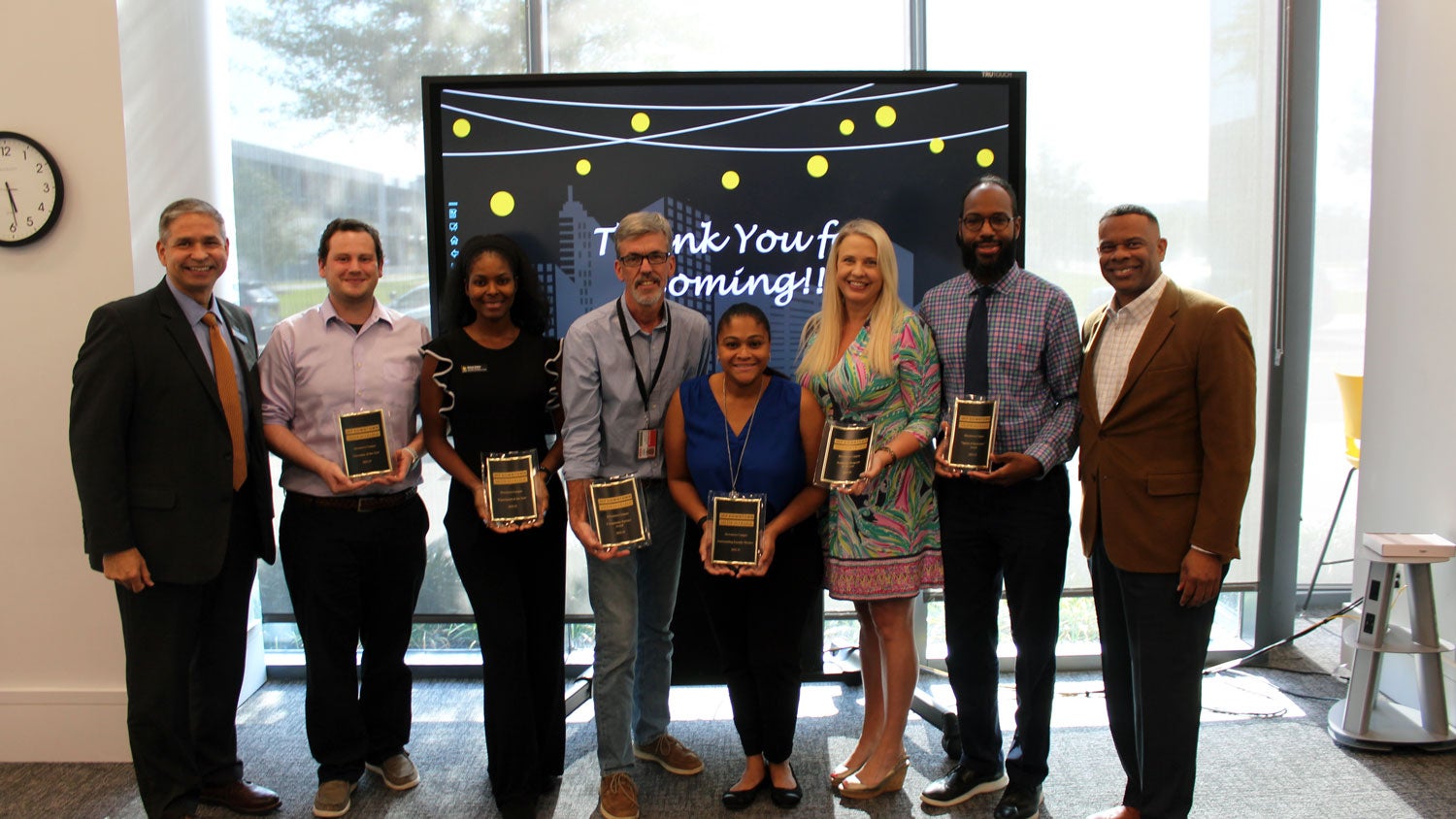 On Thursday, May 4, 2023, more than 120 faculty and staff gathered to watch eight UCF Downtown and Valencia College Downtown faculty and staff receive inaugural Downtown Faculty and Staff Awards. The winners were selected from nearly 80 nominees and are the first to receive the award, which will become an annual tradition to recognize outstanding employees and departments.
"We have incredible faculty and staff from both UCF Downtown and Valencia College Downtown to support the vision of the campus," says Associate Provost for UCF Downtown Ross Wolf. "The award winners exemplify the game-changer philosophy that our campus has worked to achieve. But every single person that was nominated also deserves recognition. Establishing these awards helps us to say 'thank you' to our incredible team. We hope to continue this for many years to come." 
View pictures from the event and learn more about the inaugural award winners below.
Downtown Campus Newcomer of the Year: Andrew Sullivan
The Downtown Campus Newcomer of the Year award recognizes the hard work and dedication of a new faculty or staff member at the campus, employed for one year or less, but has already made a positive impact within their team, department, or the campus as a whole. UCF School of Public Administration Assistant Professor Andrew Sullivan was recognized for creating welcoming environments inside and outside of the classroom for graduate statistics students. In addition, he regularly works with other faculty to provide continuity between the statistics courses on campus.
Downtown Campus Outstanding Staff Member: D.D. Moullet
Staff members nominated for the Staff Member of the Year award have had a positive impact on the campus during the current academic year and have supported the success of the students, staff, and faculty with whom they work. The UCF Nicholson School of Communication and Media's Academic Advisor D.D. Moullet was recognized as an outstanding advising professional who blends both developmental and intrusive advising styles, striving to remain in tune with the needs of all the students she supports.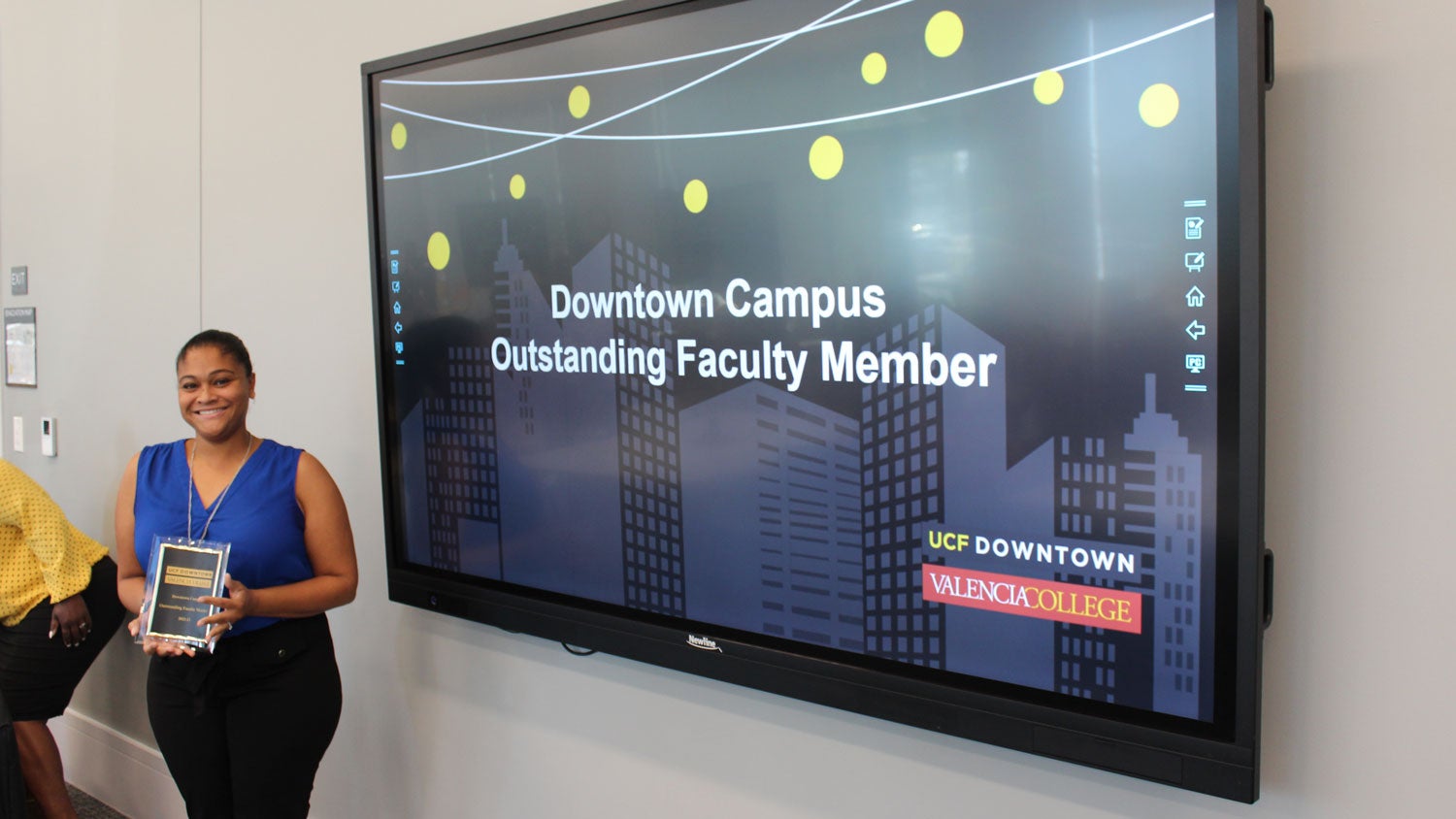 Downtown Campus Outstanding Faculty Member: Melonie Sexton
The Outstanding Faculty Member Award recognizes a faculty member who has gone above and beyond to create a vibrant learning environment and ensure positive educational outcomes for students during the academic year. Valencia Professor of Psychology Melonie Sexton has been with the campus since its inception. She was recognized for her work  to establish intentional relationships with her UCF colleagues on the downtown campus, leading to unique opportunities for students to reach their educational goals through a strong research emphasis.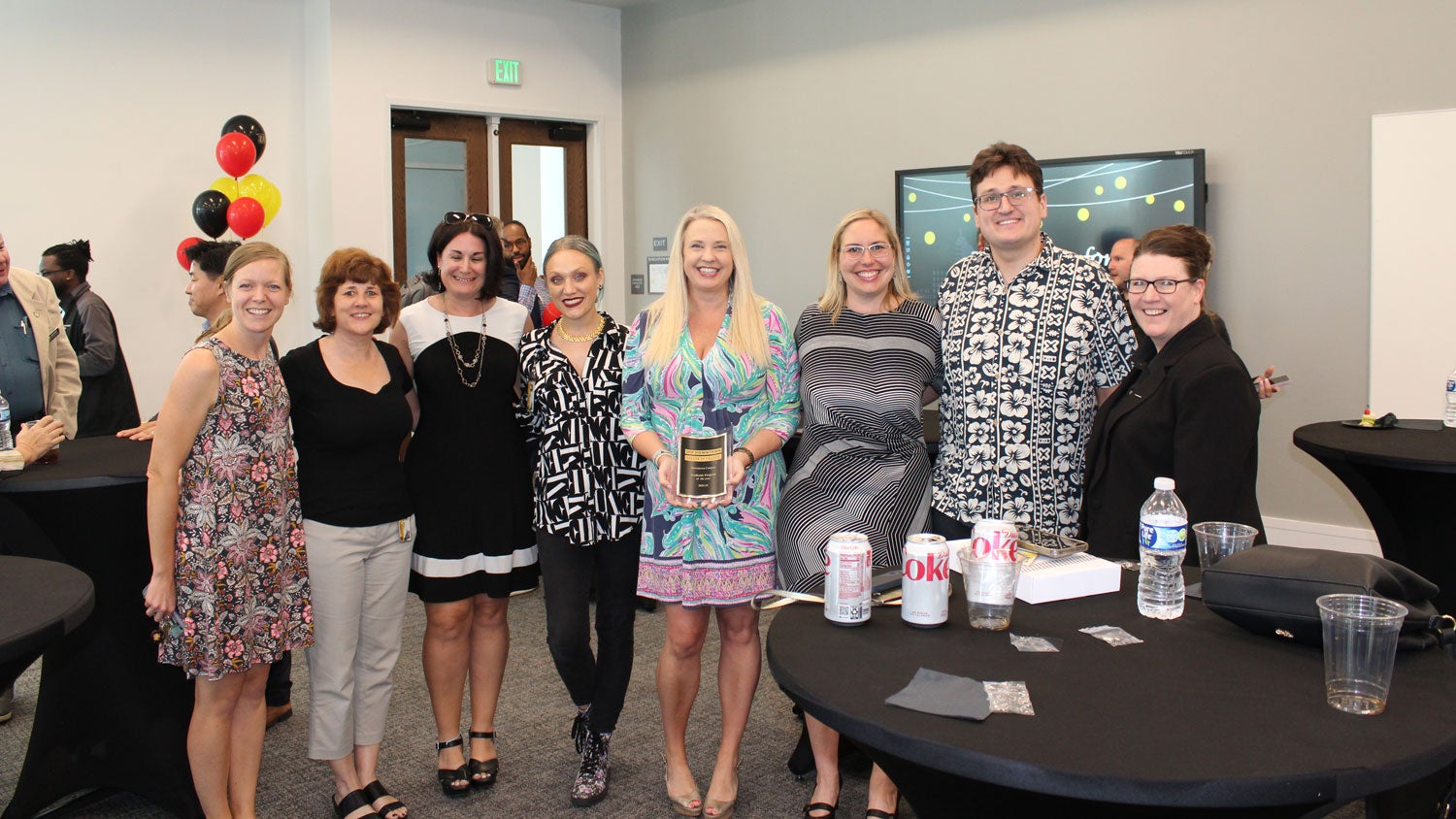 Downtown Campus Academic Department of the Year: School of Global Health Management and Informatics
The Academic Program/Department of the Year recognizes an academic unit for its outstanding contributions to teaching, learning, and research during the academic year. The School of Global Health Management and Informatics focused its work on a proverb featured on the campus's donor wall: "If you want to go far, go together." The school was recognized for creating a strong sense of community and fostering relationships among colleagues. The school furthered student success by achieving an Order of the Pegasus award winner and a record of seven Masters of Healthcare Administration students earning administrative fellowships.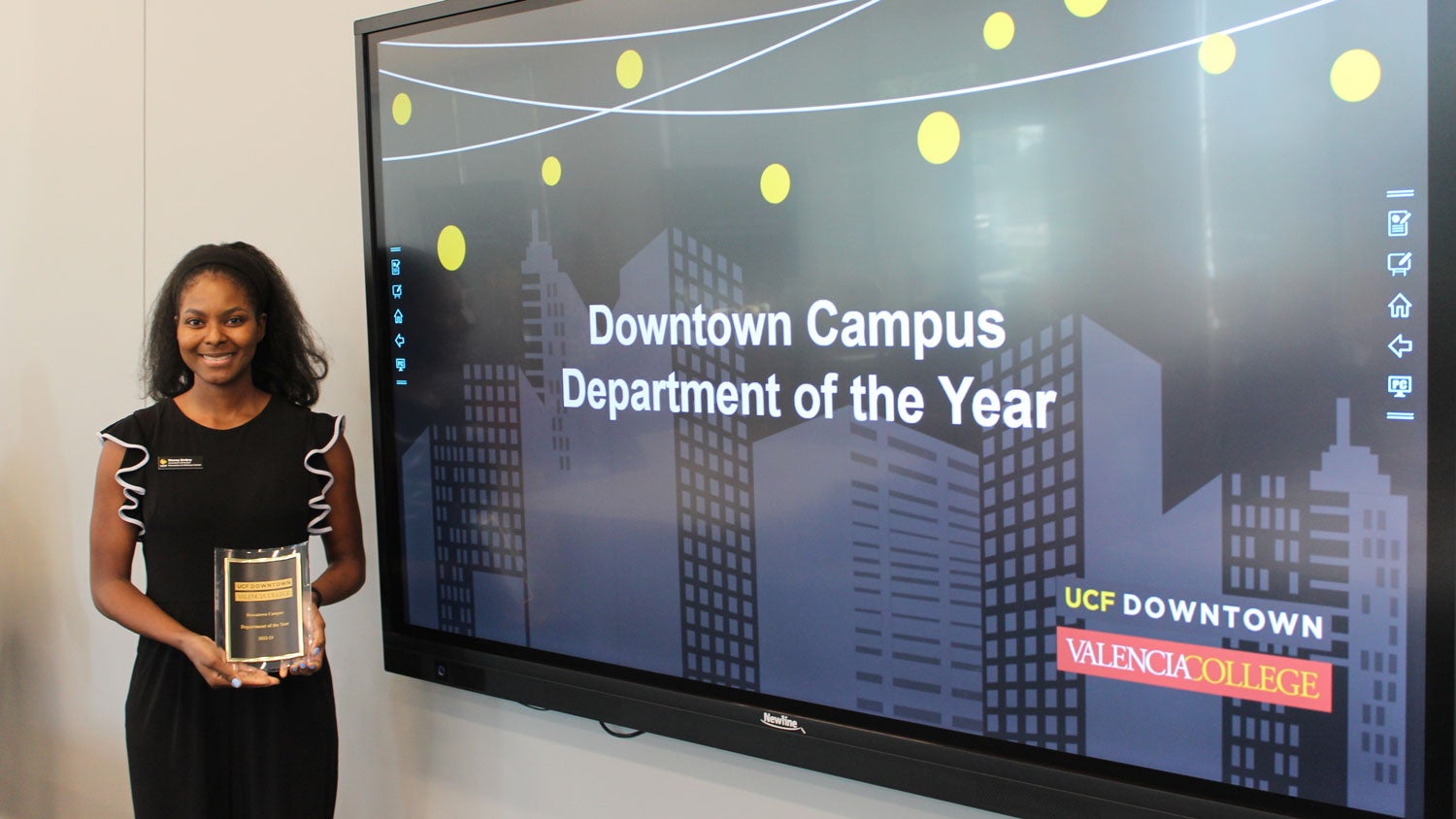 Downtown Campus Department of the Year: Recreation and Wellness Center
The Downtown Campus Department of the Year recognizes a downtown campus team for its contributions to the student experience and student success. The UCF Recreation and Wellness Center on the downtown campus focused on increasing student engagement in its fitness center and cultivating partnerships in the surrounding community. A few ways in which the team achieved this goal was tripling participation in group exercise classes and partnering with the IDEAs team to host students from the local Boys and Girls Club for various on-campus activities.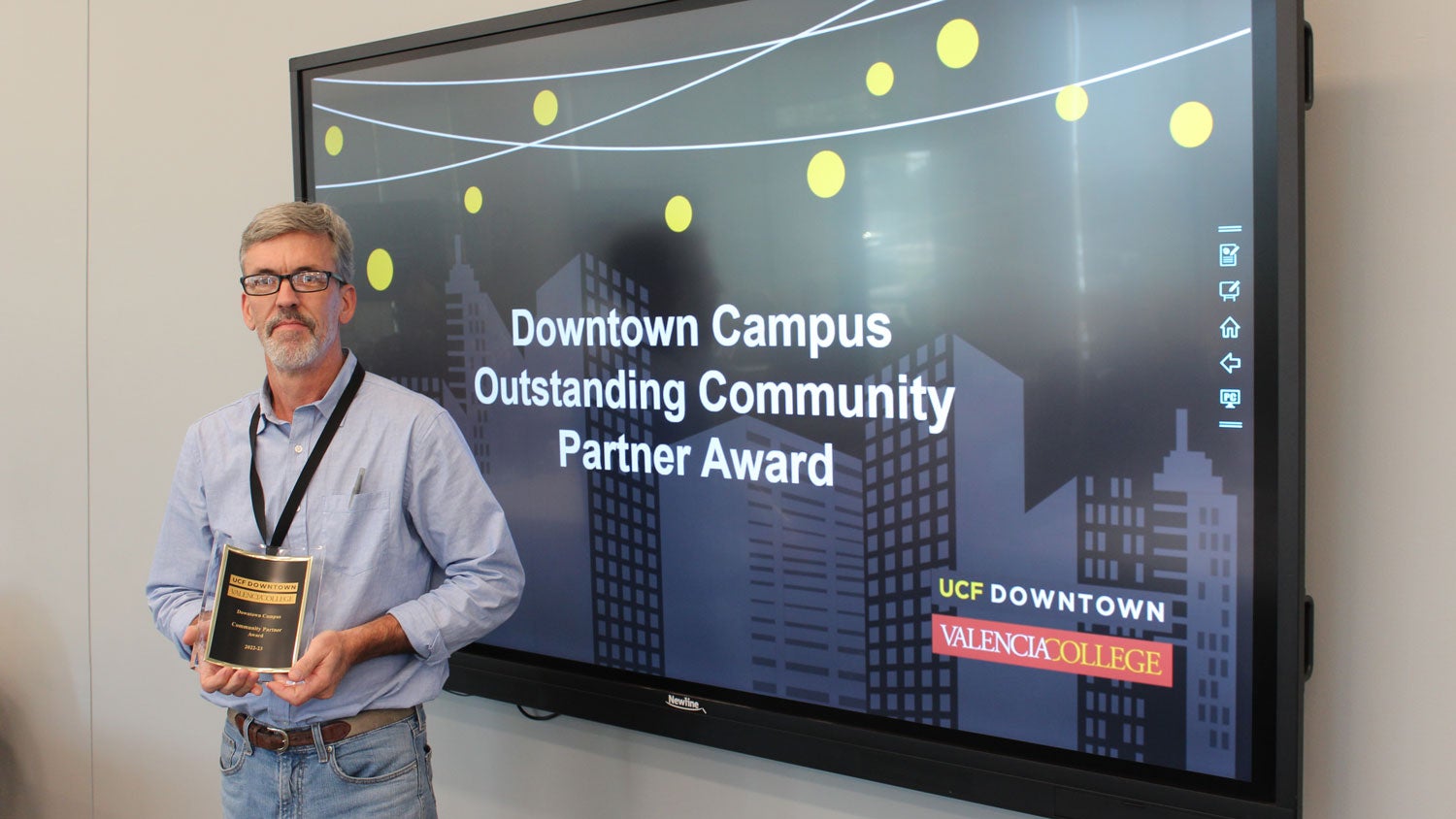 Downtown Campus Outstanding Community Partner: Ken Burgoin
The Outstanding Community Partner Award recognizes a faculty or staff member who invests in the downtown Orlando community above and beyond their role at the downtown campus. The Outstanding Community Partner excels at inspiring others to become engaged in service while also teaching them about the various issues in the community. Valencia Professor of Culinary Management and Chef Ken Burgoin is described as an inspiration to those in his department regarding community engagement. While he routinely participates in community service within our surrounding community. One example of a notable service includes volunteering with the ACE school every week where he teaches students in an after-school program how to not only eat healthy snacks, but to prepare them.
Downtown Campus "Champion" Award: Elizabeth Grace
The Downtown Campus "Champion" Award recognizes a UCF or Valencia employee who regularly champions the work, goals, and vision of the downtown campus to our educational partners outside of the campus and within the surrounding community. Director of Community Engagement Elizabeth Grace represents both UCF and Valencia in her work with the Parramore Community Engagement Council, along with numerous other events and groups that give back to the community at large. She works long, endless hours, and always does so with an infectious enthusiasm.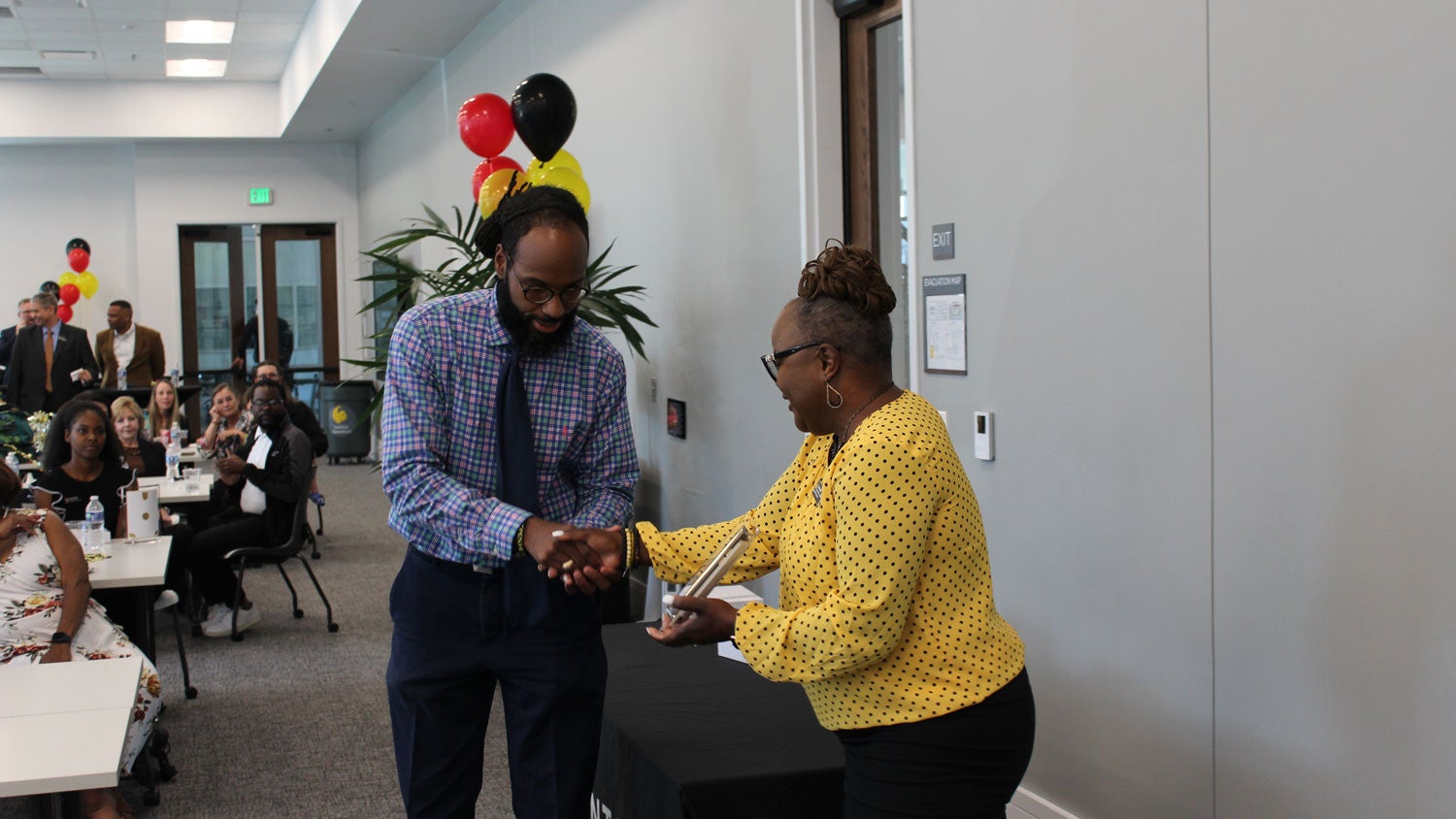 Downtown Campus "Spirit of Innovation" Award: L. Trenton Marsh and the H.O.P.E. (Healing Oasis for Peace and Empowerment) Circle
The Downtown Campus "Spirit of Innovation" Award recognizes a program or initiative that embodies the innovative nature of the downtown campus. This program or initiative's impact on our surrounding community or campus can be felt widely and is considered a staple of the work of UCF Downtown and Valencia College Downtown. UCF Department of Learning Sciences and Educational Research Assistant Professor of Urban Education L. Trenton Marsh co-developed and implemented the Healing Oasis for Peace & Empowerment (H.O.P.E.) Circle at the Central Florida Boys & Girls Club in downtown Orlando. The H.O.P.E. Circle is a predominately Black male youth-led participatory action research initiative, formed in February 2022 after the tragic, gun-related death of a Clubhouse member. The impact of this initiative has been shared at state and national conferences, providing an innovative practice model for youth-serving agencies and practitioners.