This story was updated on Jan. 12, 2021. This story was originally published on July 9, 2020.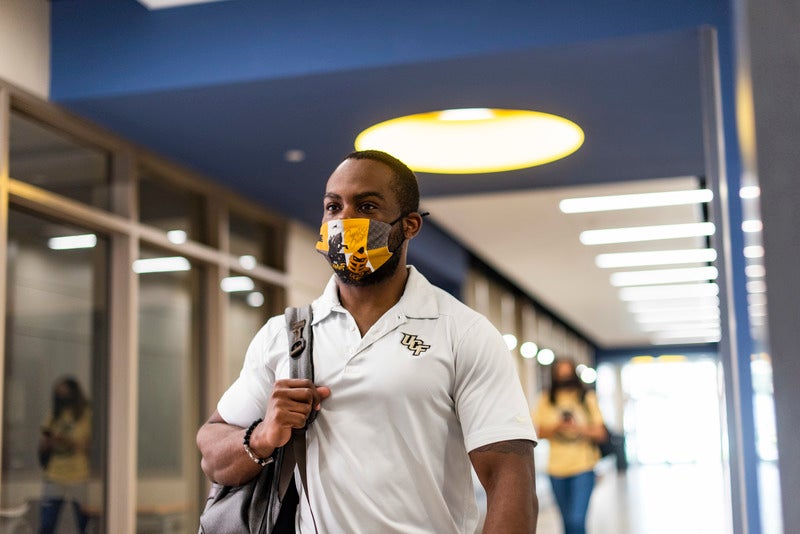 Do your part to keep yourself and other Knights safe now and when we return to campus.
Face coverings are just one of the critical prevention measures UCF is adopting on campus this fall. The coverings help contain small droplets that come out of your mouth and nose. If you have COVID-19 and are not showing symptoms, a face covering reduces your chance of spreading the infection to others. If you are healthy, a covering may protect you from those around you.
Starting Monday, July 6 2020, UCF Downtown will distribute one free cotton, reusable covering to those returning to UCF. You can visit campus within the hours listed below to pick up your free facial covering from two downtown locations:
Card Services Office Hours 
Monday through Thursday, 10 a.m. – 2:30 p.m.
Face coverings are also available in a vending machine located on the second floor of the DPAC near the Library.
Students and employees must have a valid UCF ID that can be swiped to receive the face covering. If you have lost or misplaced your ID, you can visit the Card Services Downtown office or contact them at 407-235-3655 or email CardDT@ucf.edu.
All persons picking up facial coverings must wear a facial covering while on campus and maintain 6-foot distance from others.
You can read more information about the face coverings, including the location of main campus distribution centers on the UCF Coronavirus website.